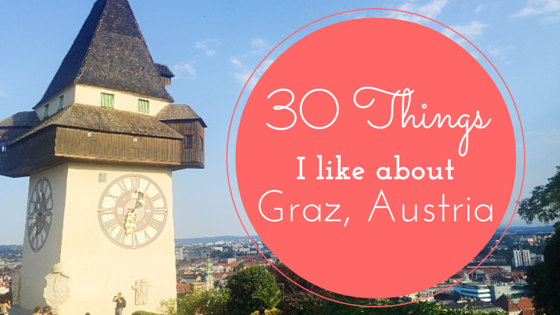 My husband and I spent 2 days in Graz — Austria's culinary and cultural capital– and I must say, we really enjoyed the city, even despite visiting during a heat wave. In addition to this, the 2 1/2 hour train ride from Vienna to Graz was like a fairy tale with farms, mountains and castles. We stayed at Mecure Graz City Hotel and were pleasantly surprised to discover our room had a nice view of the clock tower on top of the hill.
Also, I'd like to give a special thank you to Ashley from Viennella for recommending many of the hot spots in Graz!
Below I share with you the 30 things I like about Graz, Austria. Enjoy!
---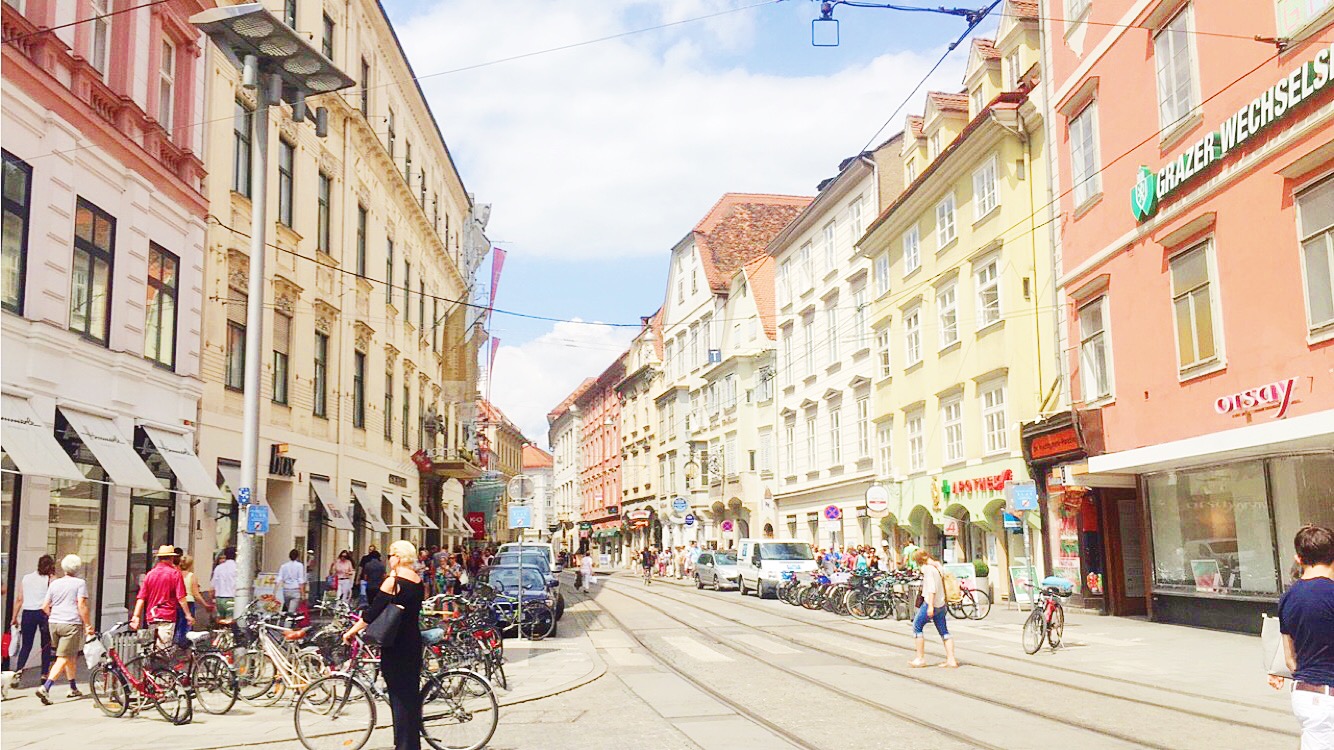 1) A charming city with a homey feeling
2) A bike friendly city (there are bikers everywhere!!)
3) The people/locals are quite friendly
4) The City Hall, which use to hold a prison until the 19th century, is different in architecture than Vienna's Gothic city hall and features statues and colorful flowers in front
5) The double spiral staircase, or the "staircase of reconciliation," which has two opposing spiral stairs that come together, separate and rejoin in the end
6) Having an Iced Chai Latte and lactose-free carrot cake muffin at Tribeka, a place known for having the best coffee in Graz
7) Walking up the 260 stairs (okay maybe I didn't like that SO MUCH…) but the views on the way to the clock tower were worth it and you feel quite satisfied with yourself
8) The Clock Tower, a fortified medieval tower from 1560 and a symbol of the city
9)  The Kunsthaus, also known as "friendly alien" by its creators,  houses contemporary art from the last decades and the architecture can catch anybody's eye
10) The little lizards that run across your path (okay, and maybe scare you a bit) as you walk up to the Clock Tower (they're cute, alright?!) 😉
11) Eating lunch at Frankowitsch, a restaurant and bakery over 70 years old and recommended by the locals. Frankowitsch is known for their open faced sandwiches (or sliced bread with special toppings). We got to try crab meat, Gorgonzola with celery, roast beef, lobster, and curry with egg– all very unique and tasty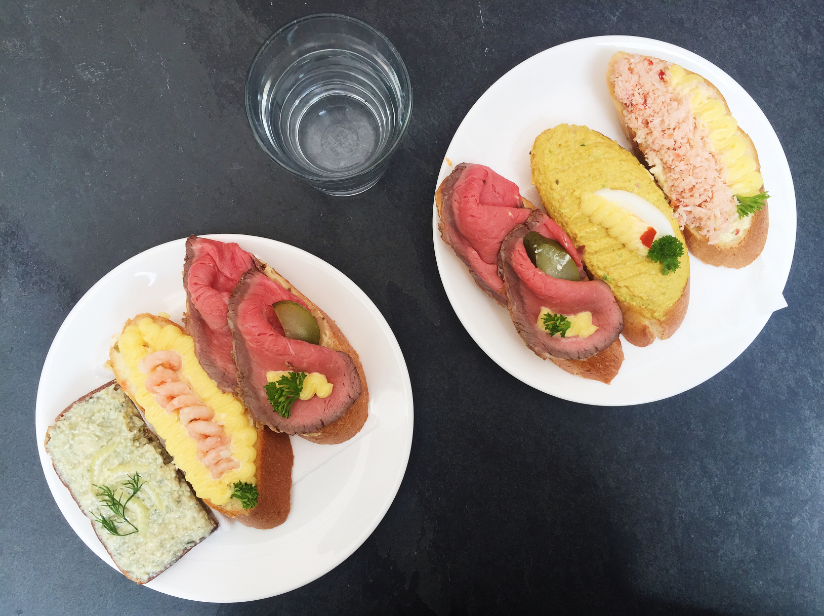 12)Taking night walks around the city!
13) Being the city were La Strada is held, a festival that collaborates with international artists who seek new forms of expression outside of established theaters and performances
14) Eating tapas made from local cuisine at Der Steirer 
15) Being another photogenic city (yay for Instagram-friendly photos!)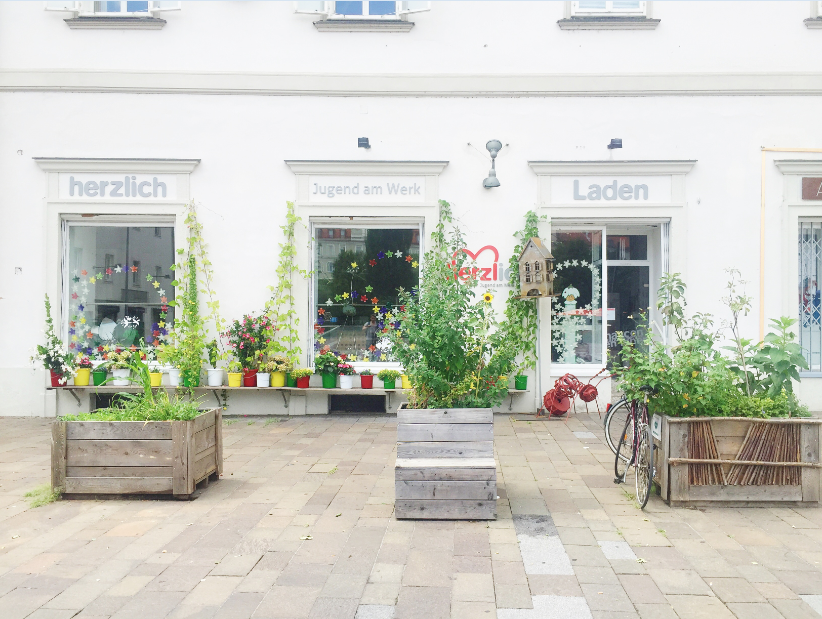 16)The Masoleum, an imperial place of rest, and an incredible sight, just like the Cathedral
17) Burgers at Beat with garlic aioli on the side
18) Taking a leisurely walk around the gardens of Schloss Eggenberg
19) Lemonade and a healthy vegetarian lunch at Mangolds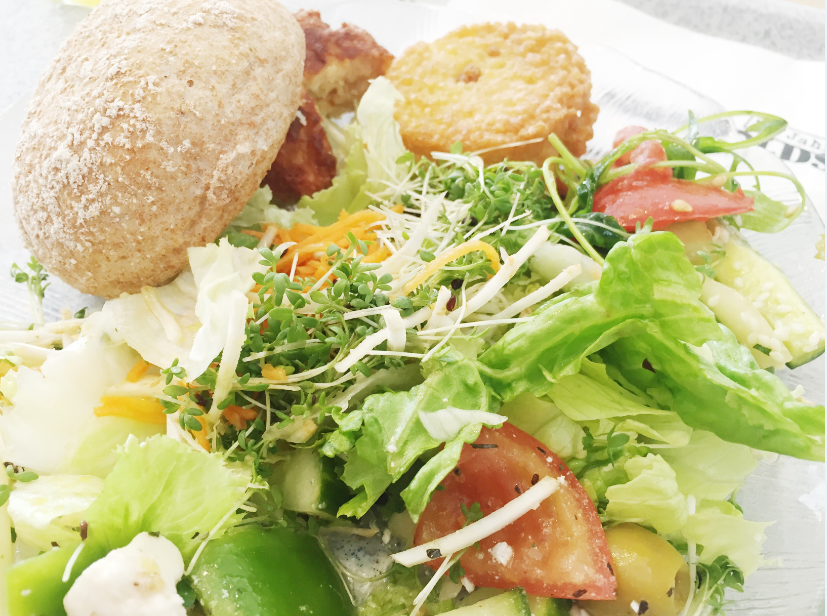 20)Walking through the Lendplatz farmer's market, observing all the fresh produce and items
21) The Armory Museum, known as Landeszeughaus, that houses the largest historic armory in the world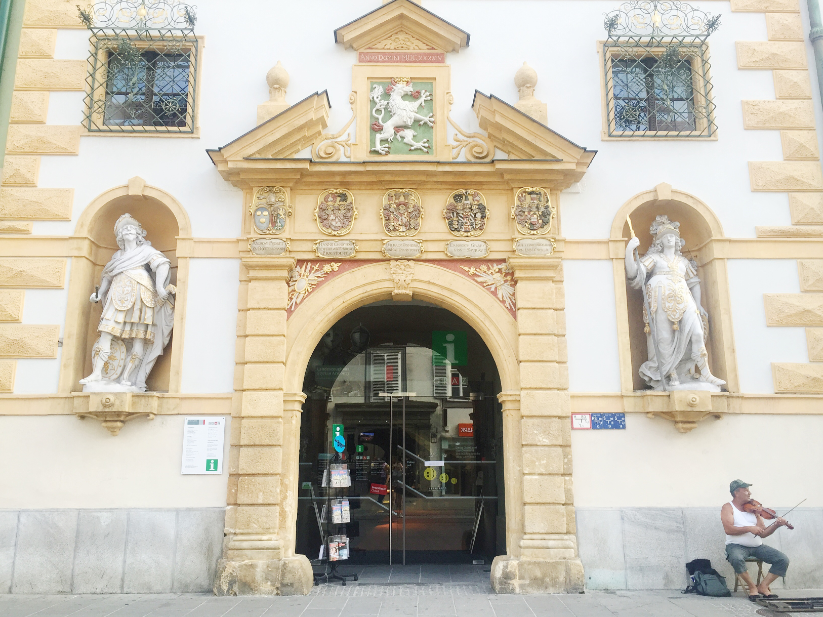 22)Window shopping in the heart of the city — Hauptplatz
23) Breakfast at Freiblick where the breakfasts are named after fashion designers and you get quite a nice view of the city from the rooftop. I got the "Karl Lagerfeld" with creamed spinach on a poached egg plus pancakes with fruit and whipped cream. Yum!
24) Landhaushof's courtyard, which happens to be my favorite feature of Graz because of it's beautiful Renaissance architecture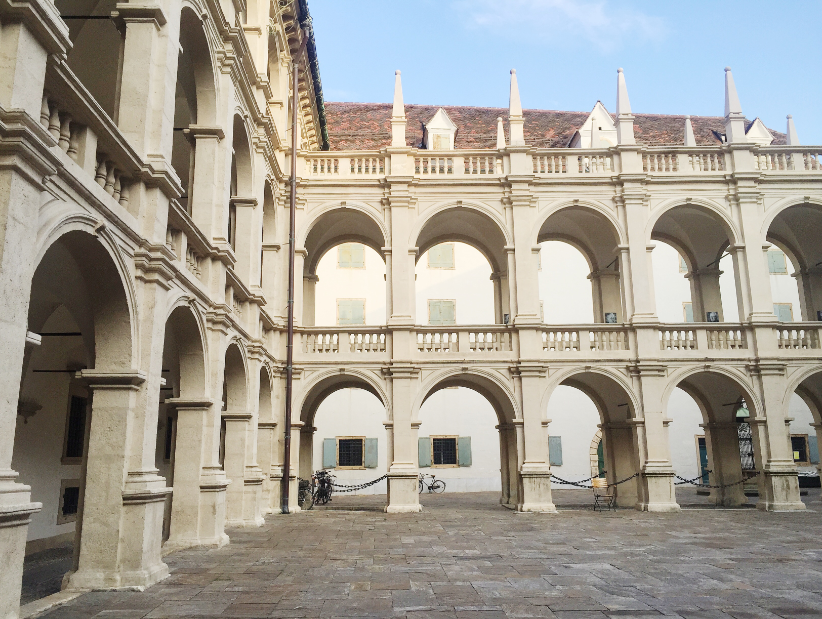 25) The Glockenspiel, a famous sight with 24 bells, where three different melodies play three times a day and statues of a young women and man dressed in traditional costumes dance
26) The Island of Mur, a cool creation/construction that sits in the middle of Mur River and glows in blue all night long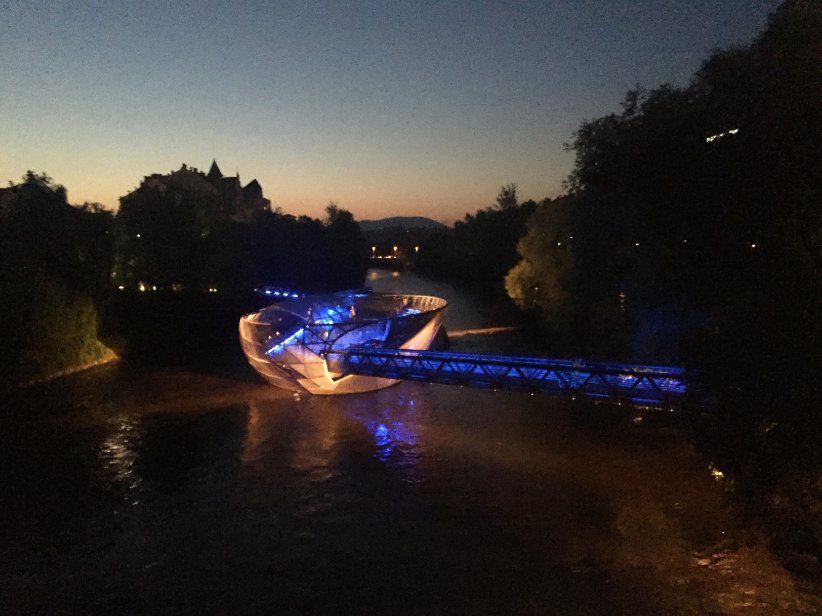 27) Watching the sunset on Schlossberg
28) Pumpkin seed oil, a local specialty of Steiermark (Styria) area which Graz is part of,  and it's my new favorite oil!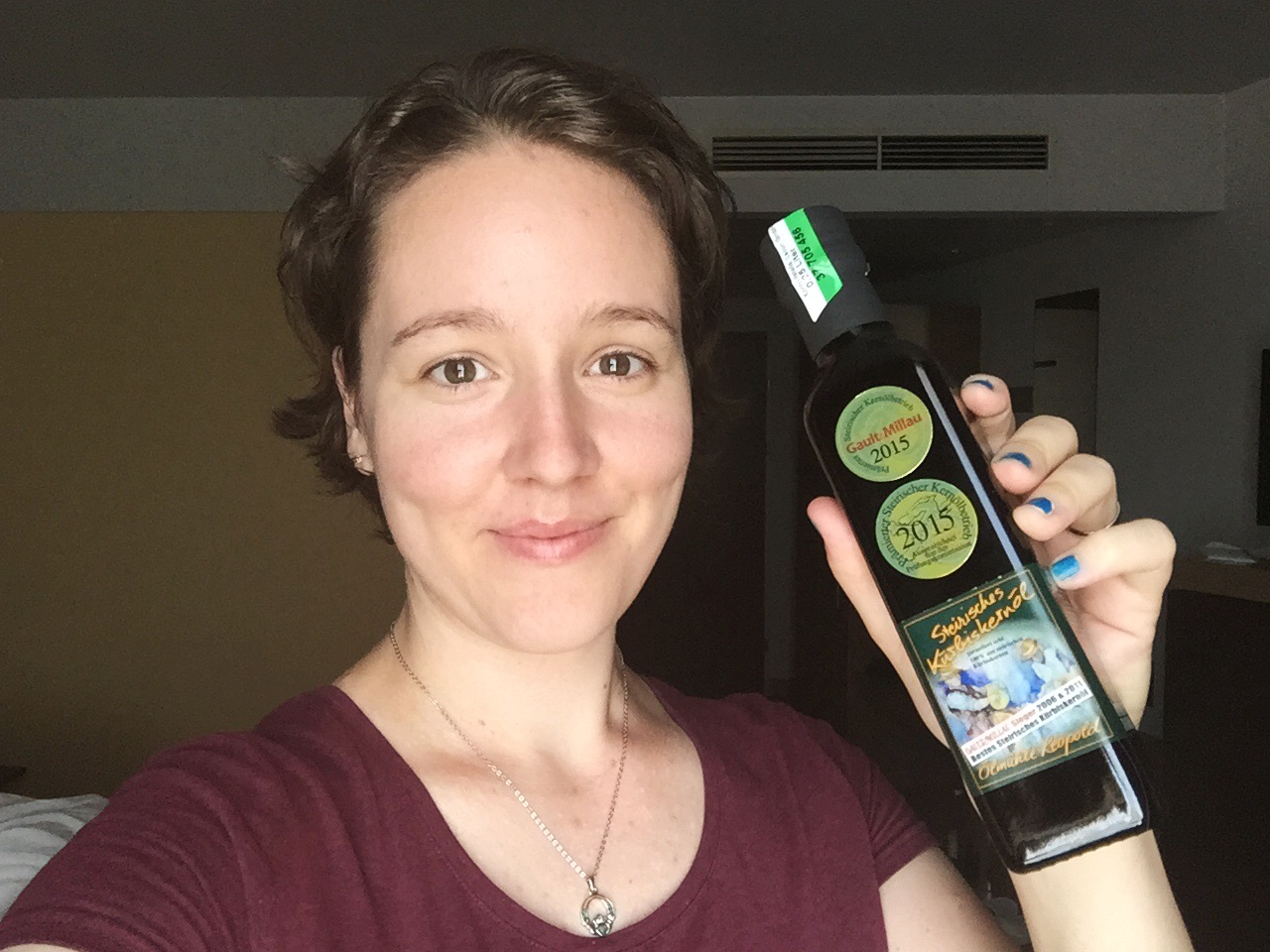 29) Walking through the wide piazza of Joanneum Quarter and admiring the futuristic glass window architecture that comes up from the ground
30) Graz being closer to Italy than Vienna (hehe)
---
Thanks for reading!