Going to Corns n Pops has been a funny story: My husband and I would try to go every summer for the last 2 summers, but it would always be around the time that the staff was on holiday. Fast forward to this summer when I'm walking down Gumpendorferstrasse (the street this place is on) and I see that they are open! I made a mental note to check this place out as soon as possible.
Due to our work schedules and my husband having to sleep in cause of his night shift week, I decided to meet a friend at Corns n Pops on a Saturday morning.
---
Corns N' Pops Vienna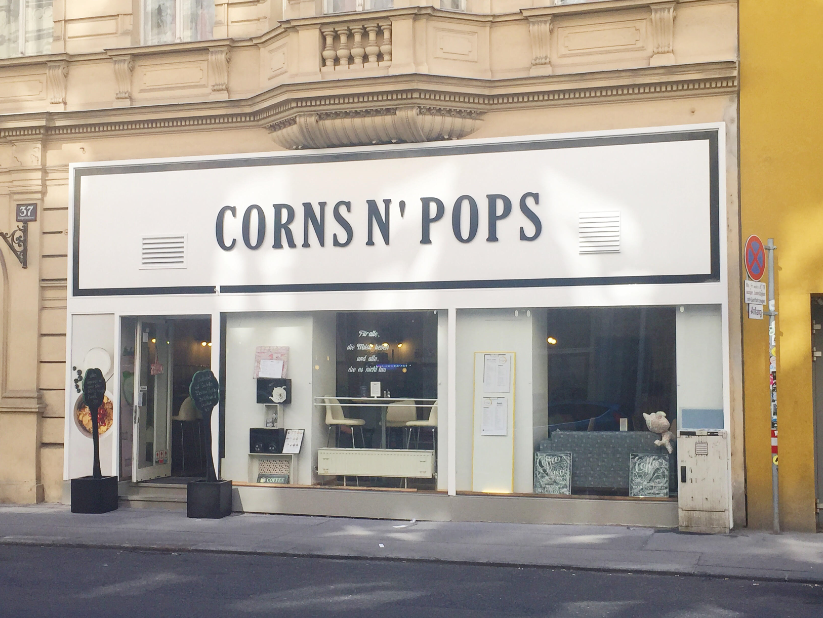 Corns n Pops is a cute cafe where the founders value the quality in their products; providing fair trade coffee, free-range eggs and whole foods cuisine.  Not only do they provide breakfast, but a fresh and ever-changing lunch menu on weekdays.  They have weekly specials like "bagel of the week" that includes a whole-wheat bagel with trout cream, lettuce, cucumber, apple and onion, or "pasta of the week" which is whole wheat pasta Carbonara style with ham, German turnip cabbage, and herbs. .  Many of these meals are vegan and vegetarian friendly.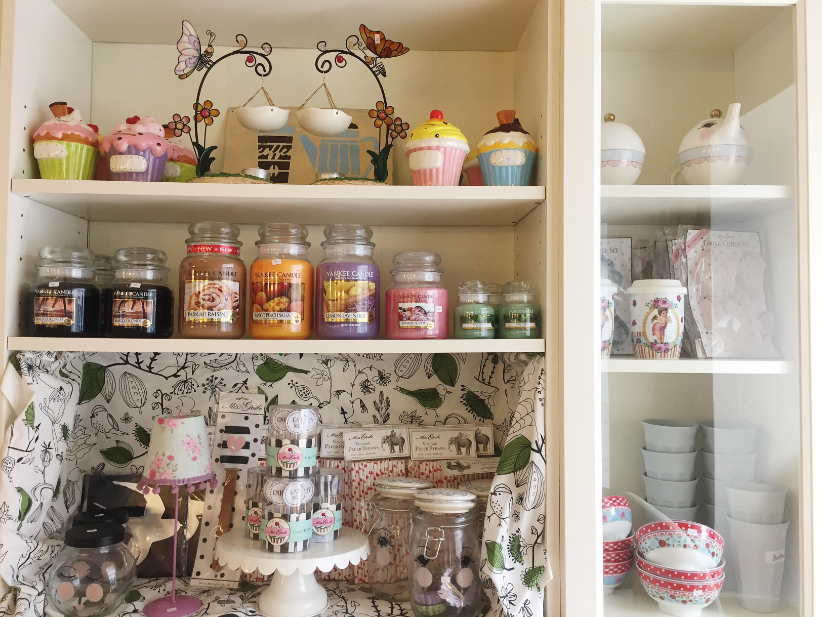 The Fun Muesli Bar
With no reservation, I was pleasantly surprised to see a few tables open as I walked in.  Greeted with a smile and an offer for an English menu, the staff were immediately friendly and attentive to me and my friend.
We both decided to have fun at their muesli bar:  For 6.50 Euro you are provided a bowl and have the freedom to choose from a variety of cereals, muesli, and over 30 toppings for your breakfast.  The staff at Corns n Pops take diet into consideration by featuring cereals and muesli that are sugar free, gluten free and wheat free.
For example, there are crunchy spelt, cinnamon squares, sugar free flakes, millet pops, buckwheat or corn flakes, and chocolate cereals.  Toppings include chocolate chips, hazelnuts, sesame seeds and many more. Plus, they have dairy-free and lactose-free milk for those intolerant to dairy (I got to enjoy my cereal with oat-milk which was pretty good!).  You also have a choice of yogurt and/or fresh fruit to top off your creation.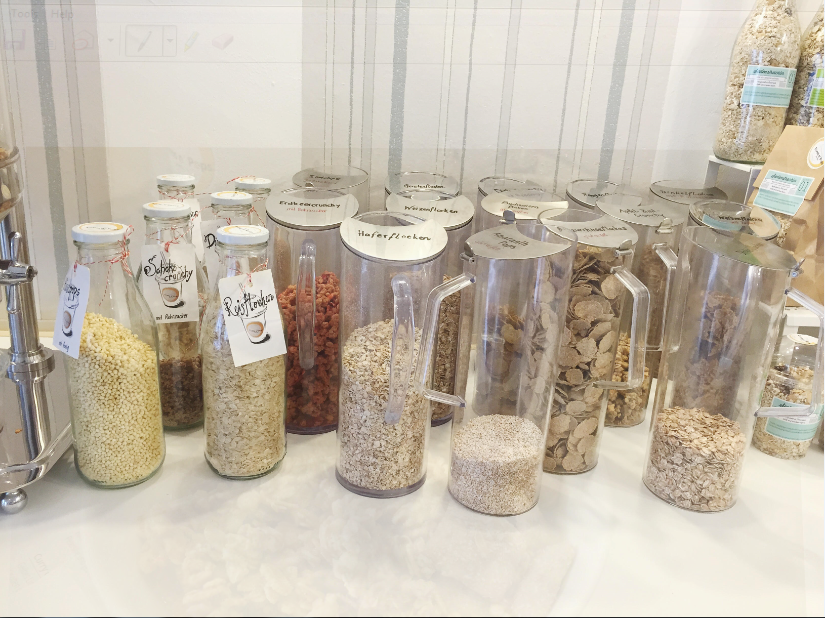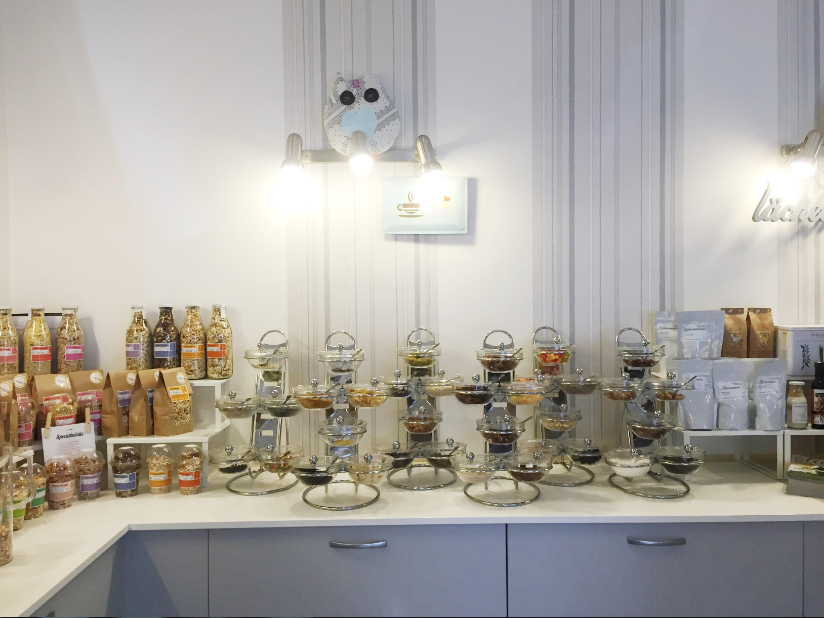 There are also special mixtures for dietary considerations: Mandel Crunchy, a crunchy almond mix that is gluten free, or the Lightweight that has rye and plum for the "weightless moments in life."
Muesli Person or Not?
Not a huge cereal or museli person? Not a problem.  They provide breakfast specialties like bagels with cream cheese, ricotta spelt pancakes, and waffles.
Need to take food to go?  Corns n Pops features a take-away option where you can create your own mixes for 4 euro or purchase prepared mixes.
Additionally, the staff make homemade pastries like Caramel Cake with Sea Salt and Hazelnut Spelt Shortbread, just in case you want an extra treat 🙂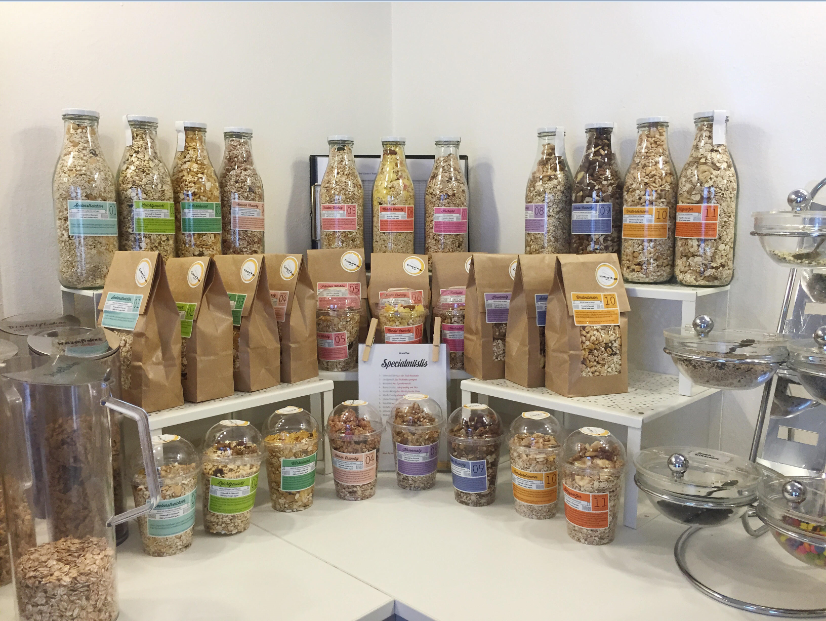 Recommendable?
Absolutely. I am even planning to take my family here when they visit me from the states, because they are pretty big fans of cereal.  I find Corns n Pops to be a fun place to take your friends and family too for a fun and affordable breakfast.