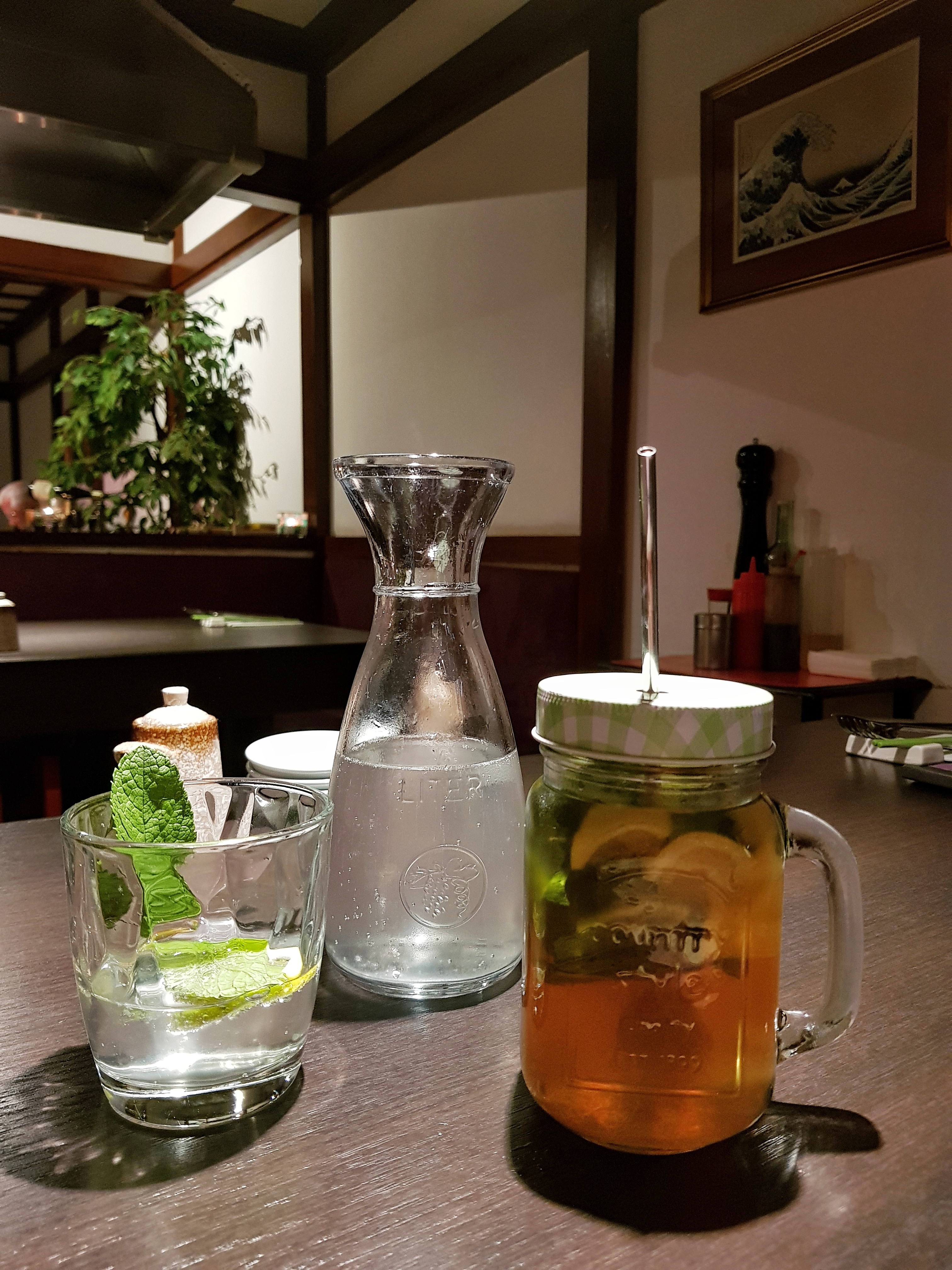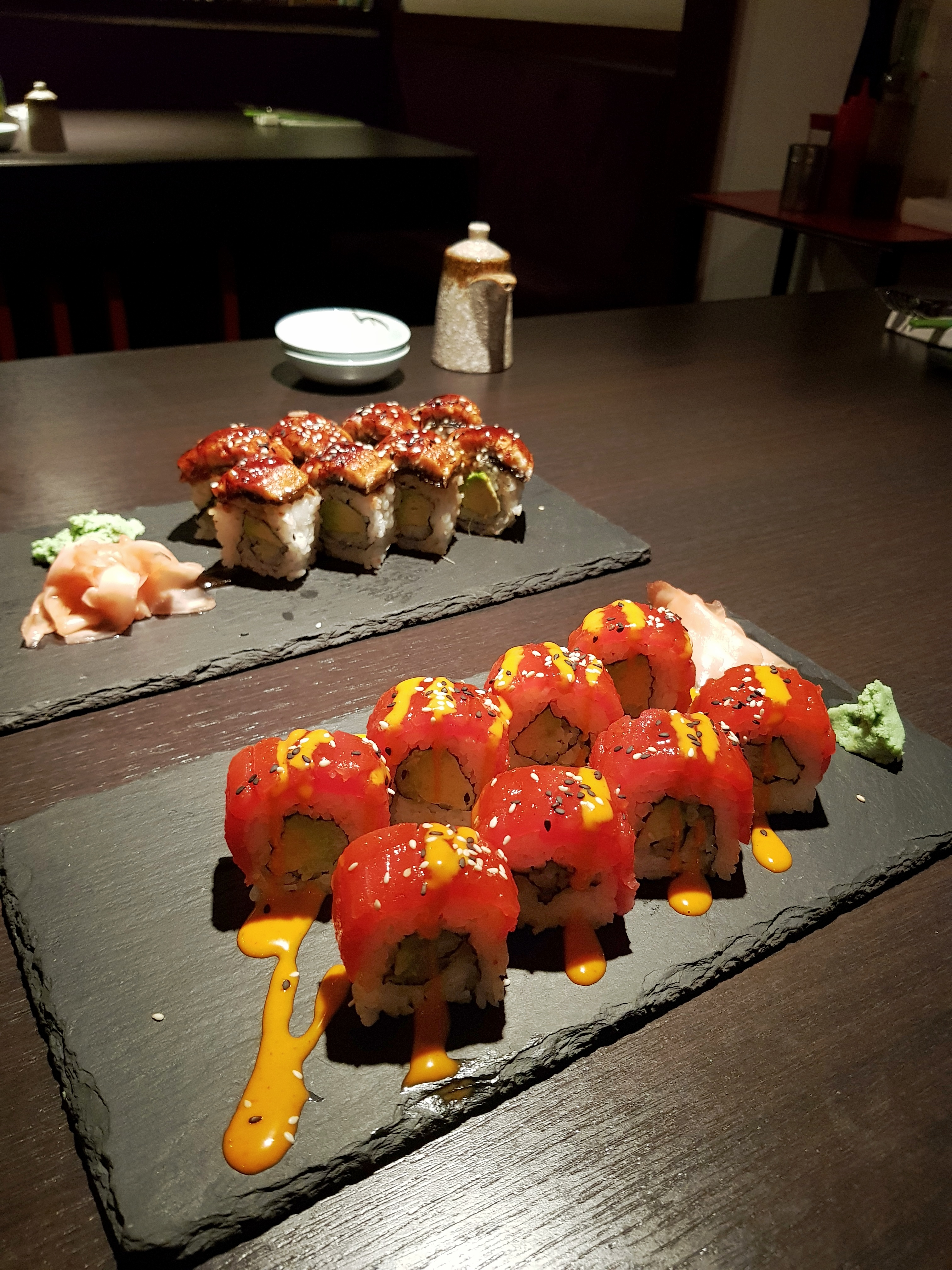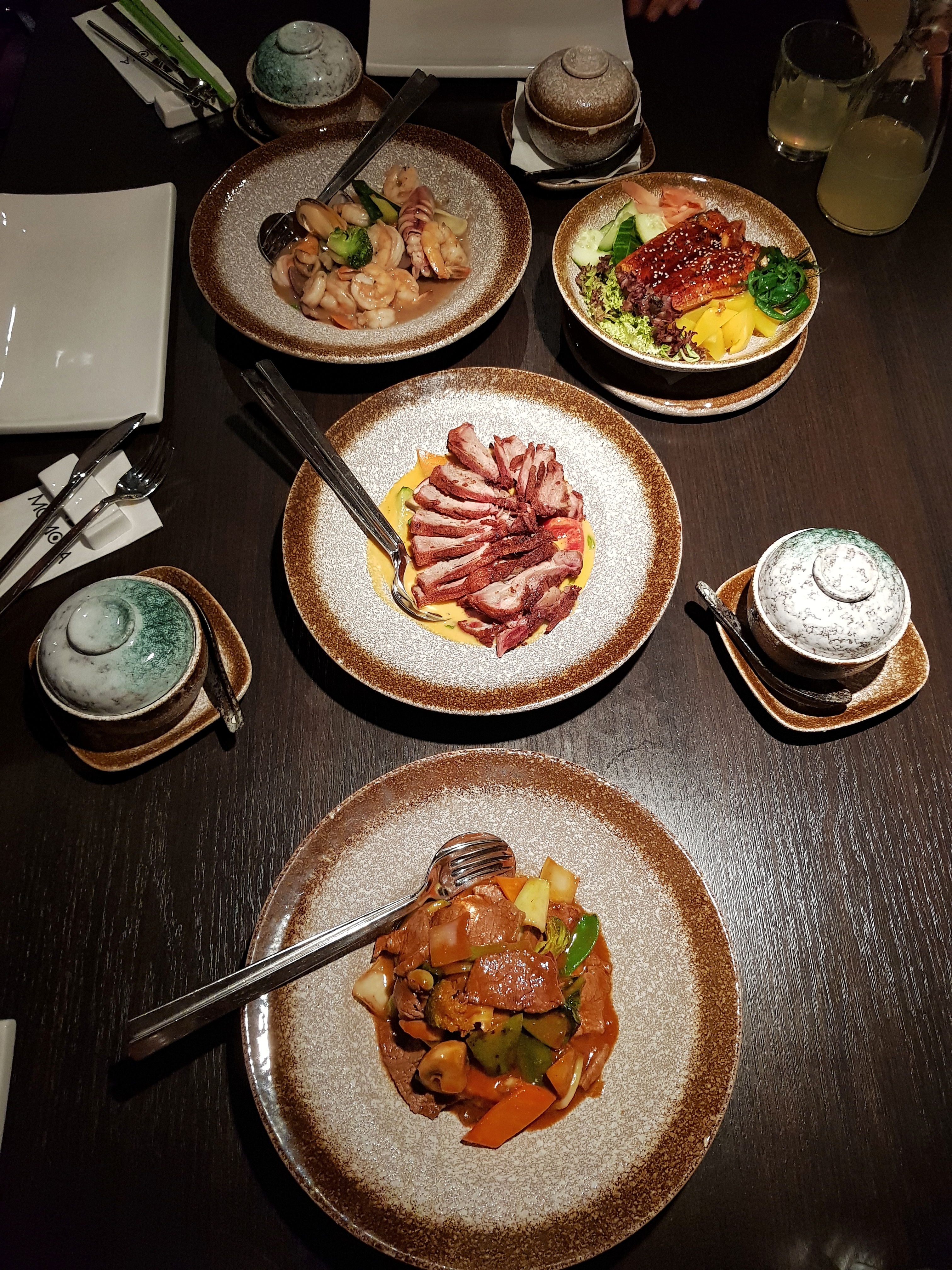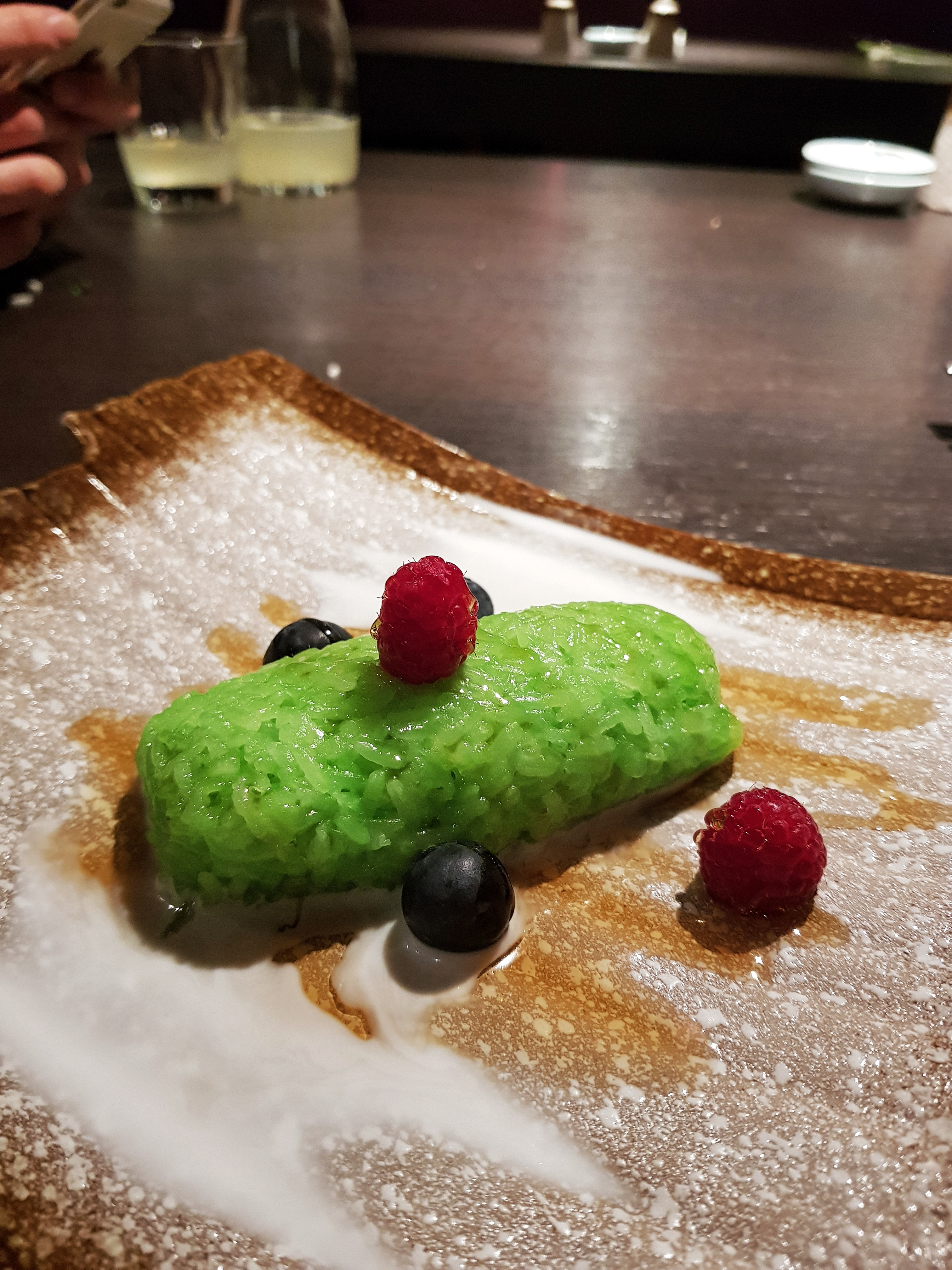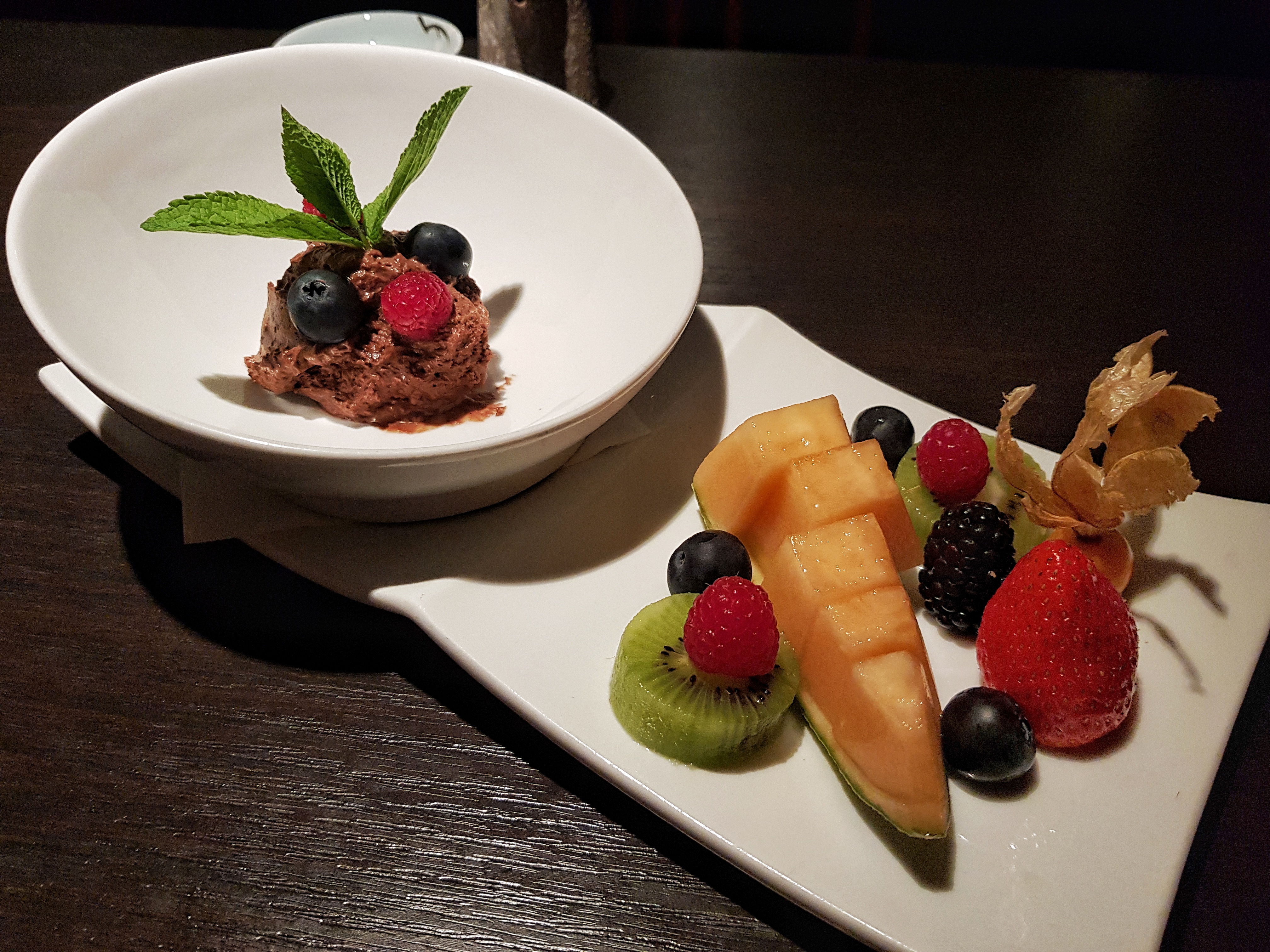 My Story with Momoya
I will never forget the first time I came to Momoya. It did in fact, spark one of my first blog posts for American in Vienna. In 2014, my husband Aldin and I, engaged, were in a dining phase. This phase came particularly from me, which Aldin followed along with; being new to Vienna, I had a voracious appetite to try, see and do so many things in the European city.  We were immature with our money and spent a lot of it dining out (now we enjoy the pleasures of cooking at home on most occasions).
So… we had a run of eating disappointing sushi in Vienna, and through some reviews on Yelp found out about Momoya.  Aldin and I went here for lunch, ordered their sushi and Bulgogi and fell in love with it. Flash forward to 4 years later and Momoya is still one of our personal favorites.
William and Jessica, husband and wife (and co-owners) of Momoya recently contacted me and Aldin to come again, this time to learn more of the backstory of Momoya, and try out their extensive menu for my readers. We all think you'd be interested in this… Enjoy!
The Story of Momoya
William and Jessica created Japanese-fusion restaurant Momoya 6 years ago. Why fusion? William has found out his customers prefer it – since the likes of traditional food have been declining.
"You have to sell what people like," he began. "The food has to be tasty so people come back." Makes sense to me.
The sushi, however, is a tradition. William, who's also the top chef of Momoya, studied cooking as a hobby in Singapore, but then became so inspired with food he traveled once a year to a new country to learn about food origin and philosophy. He would literally go to Japan, get to know the culture, and learn from a Japanese chef.
"The Japanese people have been making fresh sushi from the coast for hundreds of years…and I like to go back to Japan whenever possible…" But William, who's been a chef for over 10 years, will then take what he learns and throw his own philosophy for Momoya.
The menu changes 2-3 times per year, and there is even a special menu hidden from the general public.
"This menu is for the people who are homesick from their country, and want traditional food…food from home…" William and Jessica get diners, celebrities, and business folk from Asia who've heard about Momoya and craves original food from their country. So, the couple caters to that crowd.
"Momoya is built for European taste, but we sometimes make special food not on the menu…"
They keep their sushi fresh by purchasing the best – which comes at a cost. Their Momoya Rainbow roll is €15, but their lunch menu is more affordable.
"Learning sushi is an art. It takes many years to learn. When I was a student of a Master Chef in Japan, I had to wash rice for one year. And that was it. I was impatient to learn sushi, and the Chef saw this. He made me wash rice for a year to learn real patience and discipline. The key to cooking rice is to wash away the fat (starch) first, by mixing it around with your hands. This will produce good tasting rice, and experiment with what times are best for cooking since every type of rice is different."
Momoya's Food
We were served Momoya's sparkling lime and mint lemonade, made from homemade syrup and fresh mint. Deeeelicious.

Their colorful Dragon Roll was fresh and buttery, while their Spicy Tuna Roll with sriracha mayo sauce was delicate and flavorful.


Tom-Yam and Chili paste beef dishes were a playful mix of savory with spice.

The grilled salmon over salad mix was rich and satiating.

For dessert, don't get turned off by the bright green rice ball – it's a natural color after being carmelized! One of my fave Momoya desserts.

Their chili-chocolate ice-cream was a little too strong for my taste but really unique and fun to try.
Why Momoya
From my personal experience: This is a place I can trust for good food, period. I enjoy Momoya for its quality (and taste) of Japanese-fusion food, plus it's a super romantic location for a date, or to impress friends.
I hope you will like Momoya too if you ever visit. Otherwise, if you have been here, how was your experience? Do you like their food?
Thanks for reading 🙂
---
*This post is in friendly collaboration with Momoya**