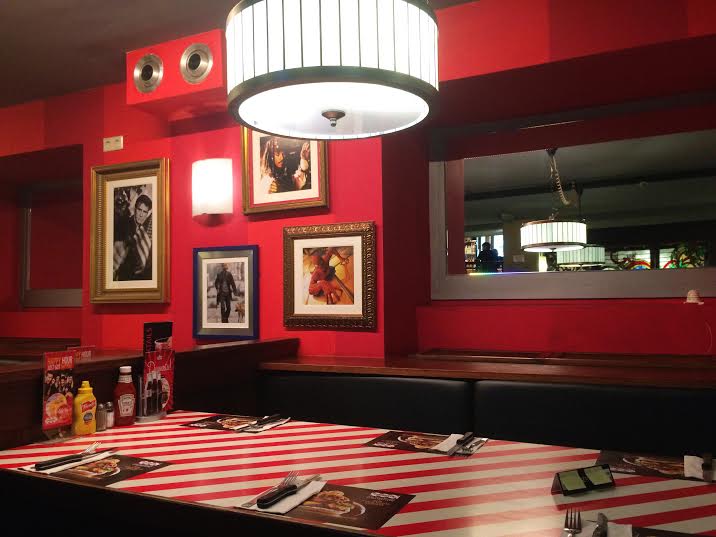 My husband and I were ending our afternoon walk when our conversation started like this.
"I'm hungry…"
"Me too…"
"Where should we go out?"
"I don't know, how about Italian?"
"Eh…no…how about Chinese?"
Pause. Then a crinkle to the face. "No…"
Then we started to list off restaurants, but nothing struck our fancy. Then my husband chimed "Hey, we haven't been to the TGI Fridays in a while…" And then we looked at each other in mutual agreement. YES. That's it. American food. We were hungry for American food.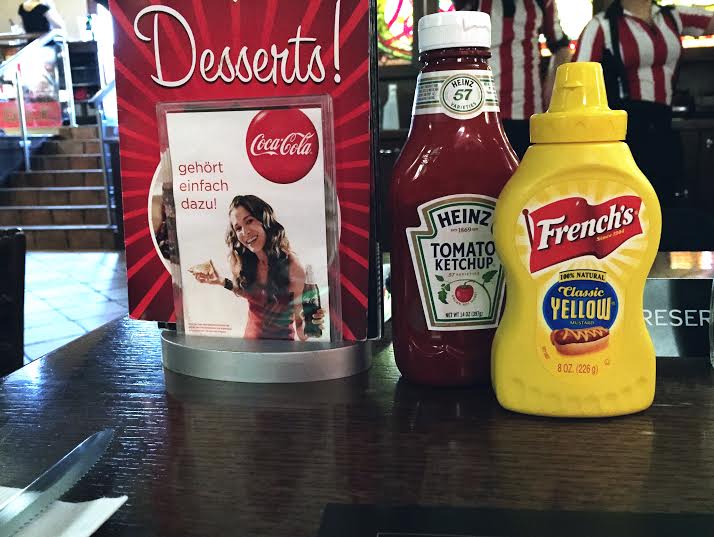 Sitting on the famous Ringstrasse, specifically on Schubertring is the American Steakhouse Restaurant TGI Fridays.  It is a chain restaurant in the states, but the only one here in a German-speaking country, which means you won't be able to find this restaurant in Germany or Switzerland for example — it's only here in Vienna.
The outside of TGI Fridays is so architecturally beautiful you almost can't believe an American steakhouse is inside.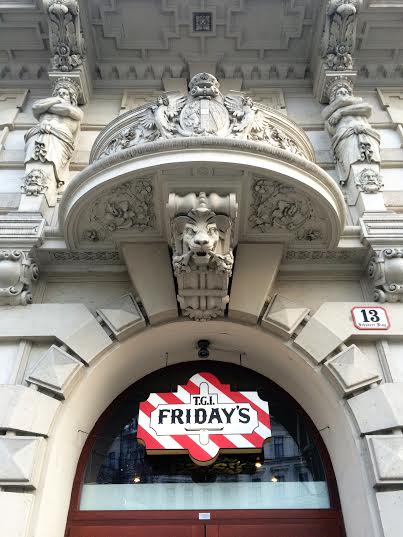 Once I got inside I took a look around and noticed the restaurant environment– TV screens with sports on, rock music playing in the background, decor of electric guitars and photos of rock bands displayed on the wall, servers in their red and white striped shirts hustling and bustling around. They really did a nice job capturing the American bar-restaurant feel and for a moment it was like I back in the states.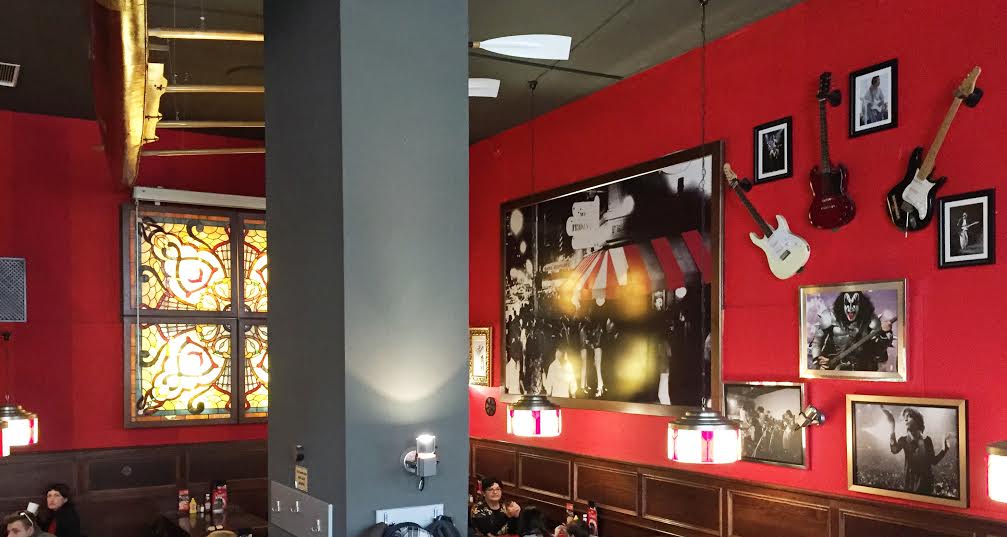 It was 3pm on a Saturday and we had to wait a few minutes to get a table. Once we did, we sat down, starving, and ordered a drink to share — Summer Cyclist– Orange sherbet blended with pureed strawberries, grapefruit juice and pineapple juice.  The "mocktail" as it is called was very strong in grapefruit, but otherwise a nice drink.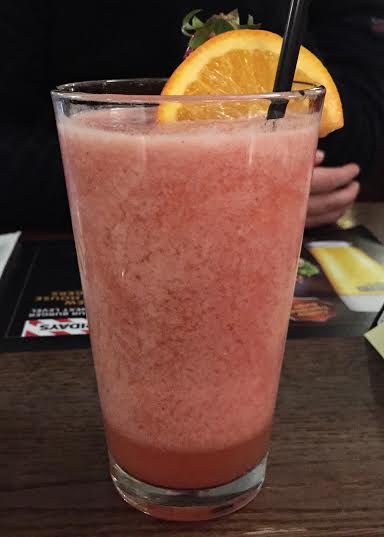 Then we ordered their share-size buffalo wings. Man, are these wings GOOD, and in my eyes a fine balance of being spicy but not too spicy. The wings also came with celery sticks and bleu cheese dressing, a yummy reminder of a common food pairing when you order buffalo wings in the US.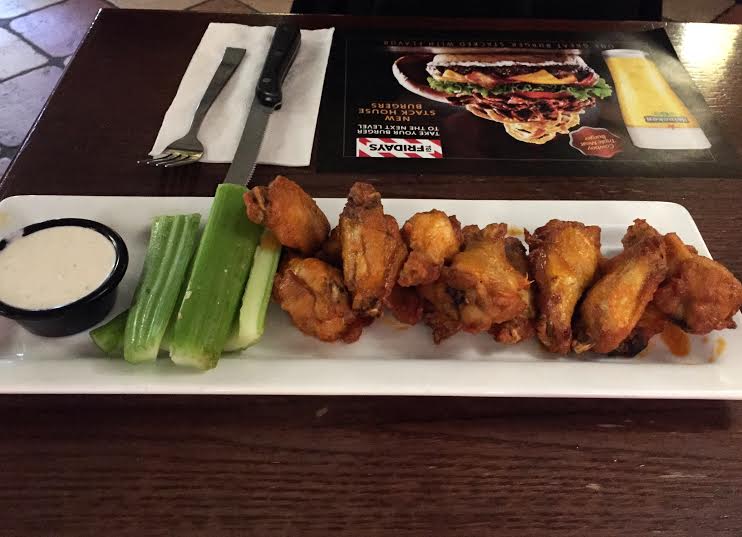 I got the Southwest Burger with guacamole on the side while my husband got their Jack Daniels. These burgers were cooked medium-well and served with fries.  We choose their sweet potato fries, 1.50 Euro extra because those are our favorite type of fries.  They were so delicious and a rarity to eat in Vienna.  My burger was great with a southwestern spiciness that didn't burn my mouth 🙂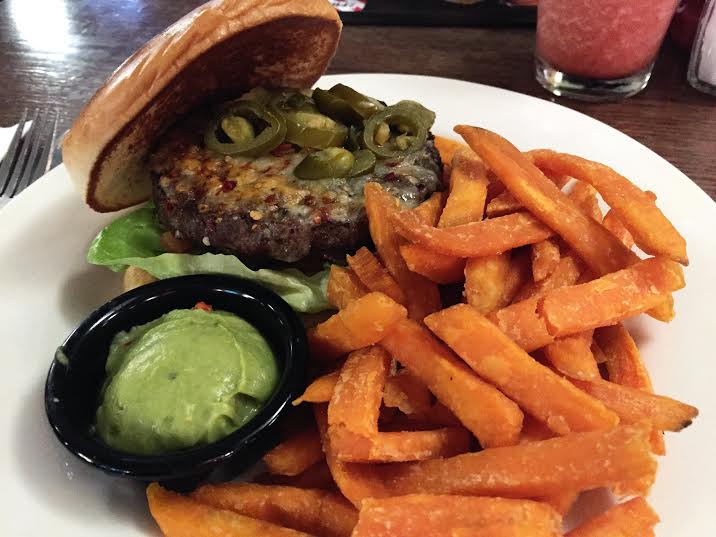 Because we were aware of the accumulating expenses, and our stomachs were full, we did not order dessert, but they had very delectable looking ones like New York Cheesecake and Chocolate Fudgy Brownie.  
Overall, I find this to be a great place to eat at if you're craving some American Steakhouse food and want to feel like you're in the states.  It's a fun environment and a cool restaurant to take your family and friends to. The portions can be huge (typical American), so make sure you come hungry or are willing to take some food home.  Plus, if you think you're going to come here often, you can sign up for their Membership Club (it's free and I've already signed up!) to receive vouchers/coupons and special offers.
More information on TGI Fridays Vienna here.