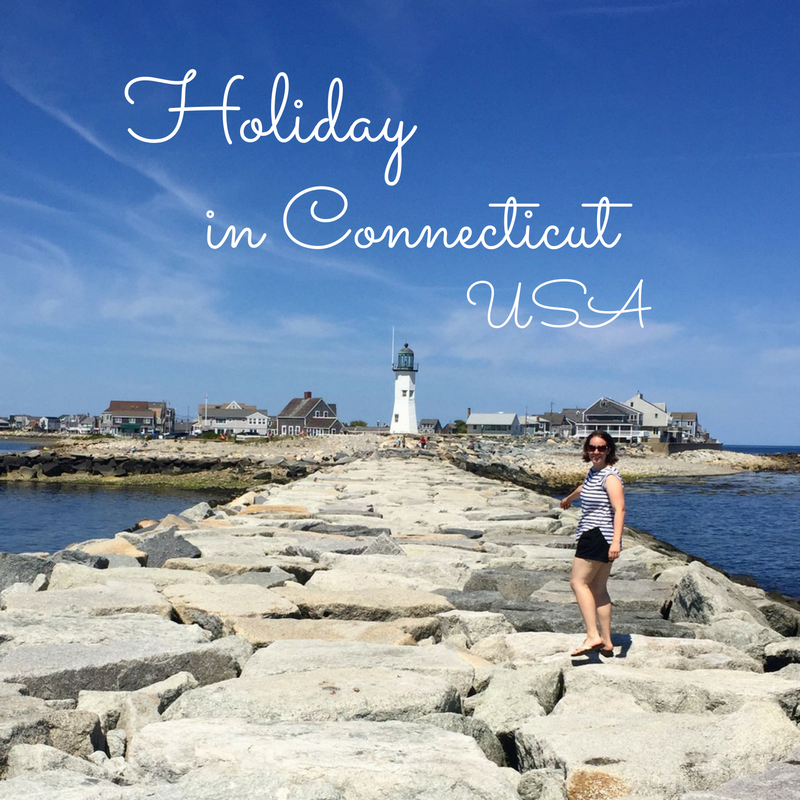 If you have ever been interested in where I come from and what my home-state has to offer – scroll down!
---
My husband Aldin and I had the opportunity to spend 3 weeks in my hometown in southeastern Connecticut, USA.  It was more of a holiday for him than it was for me, since I was going back to the place that I had lived in for 25 years and was already familiar with all Connecticut has to offer 🙂 
The state of Connecticut is situated between the cities of Boston and New York City, and gained its name from the Algonquian Native American tribe. Those who live in this state get to experience diverse landscapes of rolling hills, sandy coastlines, and rich forests, plus enjoy all the four seasons of the year – especially the prominent autumn season where maple trees change into blazing colors of reds and yellows.  This prompts many out-of-state tourists to visit (I really miss those beautiful autumn colors when I'm over here in Vienna!). The state and its capital, Hartford, have a lot more to offer – which you can check out here.
Aldin and I spent our holiday along the Connecticut shoreline (where my family lives) and we used our time to experience as much fun as we could.
---
Traveling to USA
We had to get up at 4am for an early flight. We decided on utilizing the Wien Transfer Service (highly recommended!) due to their availability and their incredibly professional service.  Even though we had some stress (from last minute packing and making sure we had all of our documents and passports in order), the limousine service was extremely comfortable and relaxing, which allowed for a pleasant ride to the airport (thanks Gerhard!).
We flew from Vienna to Madrid and then to Boston on Iberia Airlines.  In Boston, we had to wait about 45 minutes in the grueling customs process, but eventually got out of that, collected our bags and were greeted by my sister with a Dunkin Donuts coffee. We got into her new car and took the 2 hour car drive to my hometown where we were greeted with hugs and kisses from my parents.  We fell asleep in the early evening due to jet lag and woke up the next day excited to start our holiday.

---
First Week
Mystic, Connecticut: My favorite shoreline town in the state!  Aldin and I walked along the pier and watched the Mystic Bascule Bridge go up every time a boat wanted to pass through to the other side. We also browsed through the various shops and boutiques along the main street while we wondered if it was too early for ice-cream. Plus, we made a stop at Olde Mystik Village, my favorite shopping area of quaint walkways which lead to unique shops and restaurants.

Stonington:We visited Stonington Borough, a super cute, quaint town that was once bombarded by the British during the American Revolutionary War. Stonington has one of Connecticut's last fishing fleets, and I highly recommend driving down their scenic route of farmlands and roads lined with oak trees.
Enders Island:We explored this 11-acre Catholic-centered island in Mystic, CT. The grounds include a panoramic ocean view, beautiful walking gardens, a Seaside Chapel, and an outdoor Stations of the Cross.  The Chapel houses the incorrupt arm of St. Edmund of Canterbury
The Casinos:  Mohegan Sun was created in 1996 by the Mohegan Tribe of Connecticut and it is an amazing destination with some of New England's finest dining, hotel accommodations, retail shopping, live entertainment, and sporting events.  I went to Hash House a Go Go with friends and ordered their famous fried chicken and waffles. 
Foxwoods Casino is the largest resort casino in North America. Foxwoods offers a vast array of gaming in six casinos, AAA Four-Diamond hotels, restaurants (from gourmet to express dining), world-renowned spas, awarding-winning golf, state-of-the-art theaters, exclusive retailers, and a new indoor mall.
---
Second Week

Old Saybrook:We drove through and explored this beautiful shoreline town where the late actress Katherine Hepburn once lived. We had the best vanilla ice-cream with freshly-made whipped cream at The James Gallery and Soda Fountain.
New London: We walked along Main Street and drank a pumpkin spiced coffee at Muddy Waters Café, and visited Fort Trumbell and Fort Griswold; these two forts played a key role in the American Revolutionary War.

Thimble Islands:
Had the best experience on Captain Dave's tour! Got to experience a fun boat tour that showcased beautiful islands and million dollar homes (and it was Aldin's first time on a boat!).
---
Third Week

Niantic and the Boardwalk: Niantic is a sweet sea town with the best boardwalk in all of Connecticut, and only a 10 minute drive from my parent's place! They have cute shops and great ice-cream places.
Scituate and Plymouth, Massachusetts: Made a road trip to visit an old friend who now lives in Massachusetts. The Lighthouse and the waves at Scituate were awesome to look at. Seeing Plymouth Rock, (the landing place of the Pilgrims) was a little underwhelming, but never the less, we enjoyed a nice cold lobster roll lunch at the Blue Eyed Crab.
New Haven: Home to Yale University, awesome restaurants, unique shops, and free art museums.  This is my favorite city in CT and I definitely recommend a day trip to this vibrant and hip city.
---
Highlights of other personal activities and insights:
-Met my dad's coworker who is from Vienna. We made an Austrian dinner of Krautfleckerl, bratwurst, sauerkraut, schnitzel, and for dessert, sacher torte, apple strudel, and linzer cookies.

– How in the world can one person eat ''The Mess'' at the Shack? A plate piled high with potatoes, scrambled eggs, two biscuits, and then topped with gravy and bacon. Served with a side of cornbread and butter!

– Loving the fact that you can dress more casually in my small town, going out in sweats or gym clothes to a cafe without feeling out of place
– You will always know what country you're in because almost every restaurant, street corner, and shop has the American flag displayed. This is something I had never been aware of, until my husband (a European) pointed it out to me.
– Getting a taste of the country life, seeing wild turkeys, deer and sometimes a coyote or two, wander into your backyard in the early hours of the day.
– Super Walmart and it being open 24/7 is pretty freakin' awesome!
-The homemade donuts and bakery at Flanders Bakery are far superior than Dunkin Donuts and if I could, I would eat their chocolate with vanilla buttercream donut every single day.

-Taste buds and food expectations change — my desire to eat quality food has improved. I now choose restaurants based on quality and locally sourced foods, rather than processed fast-food establishments (goodbye, Taco Bell).

– I was surprised by how tired the food I ate made me feel. I had to pace and watch what I ate because of the many chemicals and sugars in the foods I ate. – After dealing with the real – that is to say, the grumpiness and unhappiness of some Viennese restaurant servers, I have now become a little uncomfortable with what I perceive as the fake friendliness of restaurant servers in the US. 
– Of course there is ''no place like home,'' but I also question what is "home"? Is it a place, or a state of mind/being? What does it mean when you say, ''I'm going home?'' 
---
Top Favorites in Connecticut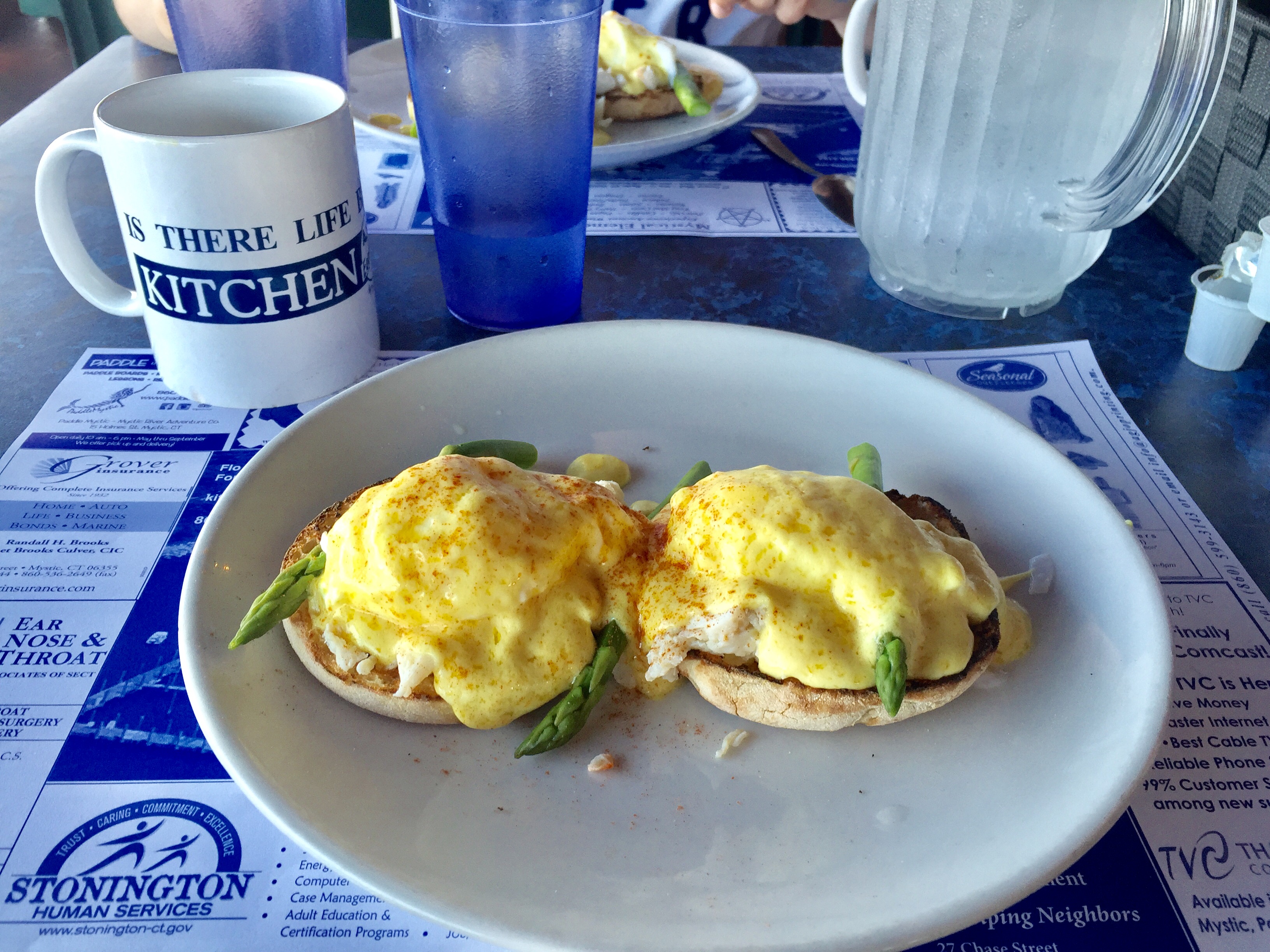 Top 7 Brunch Spots:
1. When Pigs Fly
2. La Belle Aurore
3. The Engine Room
4. The Little Kitchen
5. The Shack
6. The Yolk Cafe
7. The Tea Kettle
Top 7 Shoreline Towns in Connecticut:
1. Mystic
2. Old Saybrook
3. Old Lyme
4. Stonington
5. Niantic
6. Essex
7. New London
Overall 5 Best Foods I Ate:

1. Cupcakes from The Cupcake Lady
2. Hot lobster roll from Flanders Fish Market
3. Chocolate chip pancakes with maple syrup from The Yolk Cafe
4. Gramma's pizza at Illiano's
5. The Mighty Chicken and Waffles at Hash House a Go-Go
---
Conclusion:
Aldin and I were not done with our vacation when our time came to an end — we wanted to have more moments at the beach, more moments with family, eat more ice-cream, visit Rhode Island and do river tubing along the Connecticut Farmington River, but we could only do so much in 3 weeks…
Nonetheless, we had to say our goodbyes to family and wipe off the tears to journey on to the other side of the world. Fortunately our trip of Boston-London-Vienna through British Airways was smooth, and we were greeted with our driver Gerhard through Wien Transfer again who brought us back into the city safely and easily. The very next morning I had to go to work, and even despite no day off to rest, felt a sense of gratitude to be in Vienna again; it's a great city, but I know I will have my moments missing my home country of USA.
I hope you enjoyed reading this! Have a nice day 🙂
---
---