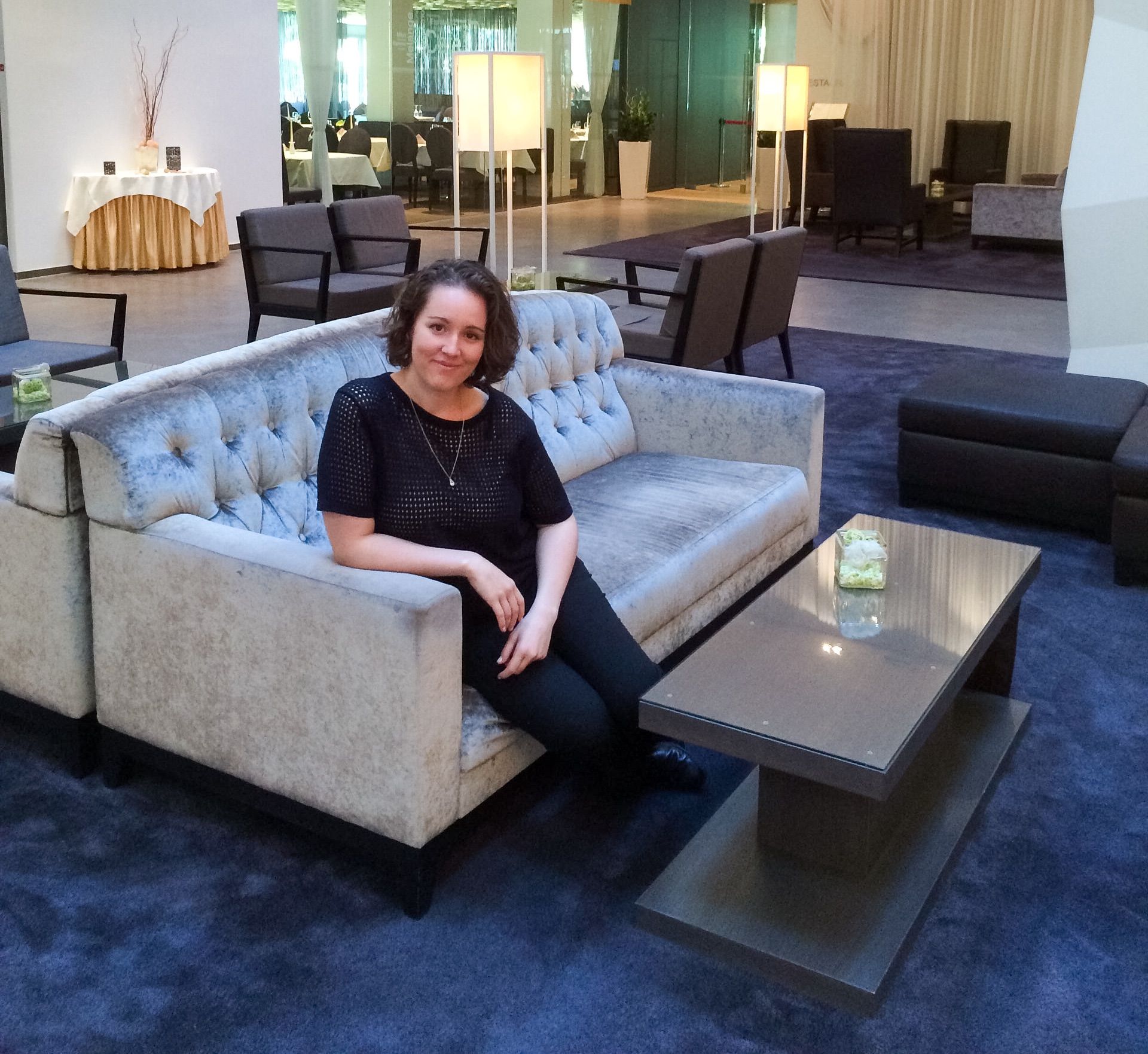 Over the weekend I had the opportunity to stay at Austria Trend Hotel Park Royal Palace Vienna.  It was a nice getaway from my room-mates where I got to spend some quality leisure time. Read below to learn more of the hotel and my time there!
A Young Hotel
Hotel Park Royal Palace in Vienna is a young hotel, next to the Technical Museum (Technisches Museum) and a ten minute walk from Schönbrunn Palace.  Across the street from the number 10, 52 and 58 tram which can assist you to get down town.
As you walk up to the hotel the large glass windows and a golden panels will catch your eye. This hotel stands out with modern elegance surrounded by trees.
Interior and Lounge Area
With its interior design of sand-colored elements, Hotel Park Royal Palace Vienna has a large, beautiful, classy yet modern lounge/waiting area decorated in gold and silver/gray highlights.
Executive Room
The executive room features a double bed (2 mattress) with a slightly firm mattress, soft comforter blanket with white bathrobes and slippers on top.  There is a flat screen TV placed on the wall facing the bed, or if you need to do work, you can do it on the table below.  The bathroom is clean (always a good thing).  The shower was really cool in my eyes — modern with a wall that juts out to act like a table for your soaps and shampoos.  Bogner soap, known to be a gentle cleanser is provided by the sink.  A mini-bar has alcoholic and non-alcoholic drinks and snacks for your consumption. There is also a safe if you need to secure items you have, and there is an extra pillow, laundry bag and sewing kit if you ever need them.
Fitness Center
The hotel has a fitness center of a small gym with up to date equipment (and personal training for a small fee).   There is also a sauna and steam room to release toxins, and massage services (for a fee) to rejuvenate and relax.
The Executive Lounge
This was my absolute favorite feature over my stay at Hotel Park Royal Palace Vienna.  It is a big lounge for those who are in executive rooms and suites.  The Executive Lounge provides unique breakfasts and lunch snacks consistently throughout the day.  Relaxing lounge mood music plays in the background while you can lay back on one of their couches or enjoy sitting outside on their balcony looking at the trees.  I find it quite a nice treat to indulge in some coffee as you listen to the birds chirping, and sure it can be a little noisy since it's by a busy road, but it's not so bad.  Oh, and I must mention that you have free access to their drinks, ranging from different kinds of coffee (cappuccino please!) to sodas, ice teas, juices and bottled water. I spent a lot of time here in the lounge, using their computer (they have 2 plus a printer) catching up on e-mails and typing out this blog!
Breakfast & Restaurant
If you stay here in the hotel you must have their breakfast. It is outstanding.  For the hearty eaters: Eggs, bacon, cheeses, roasted vegetables and sausage. For the light eaters: Cereals, muesli, granolas, yogurt, fruit and breads. For the sweet toothers: Pastries, croissants, nutella and butter.  Fresh pressed juices are provided. What  makes it extra special is that the food is organic and locally sourced. If you are on a special diet or have dietery concerns you can inform the dining staff and they can provide you with what you need (ie = gluten free bread and breakfast, etc).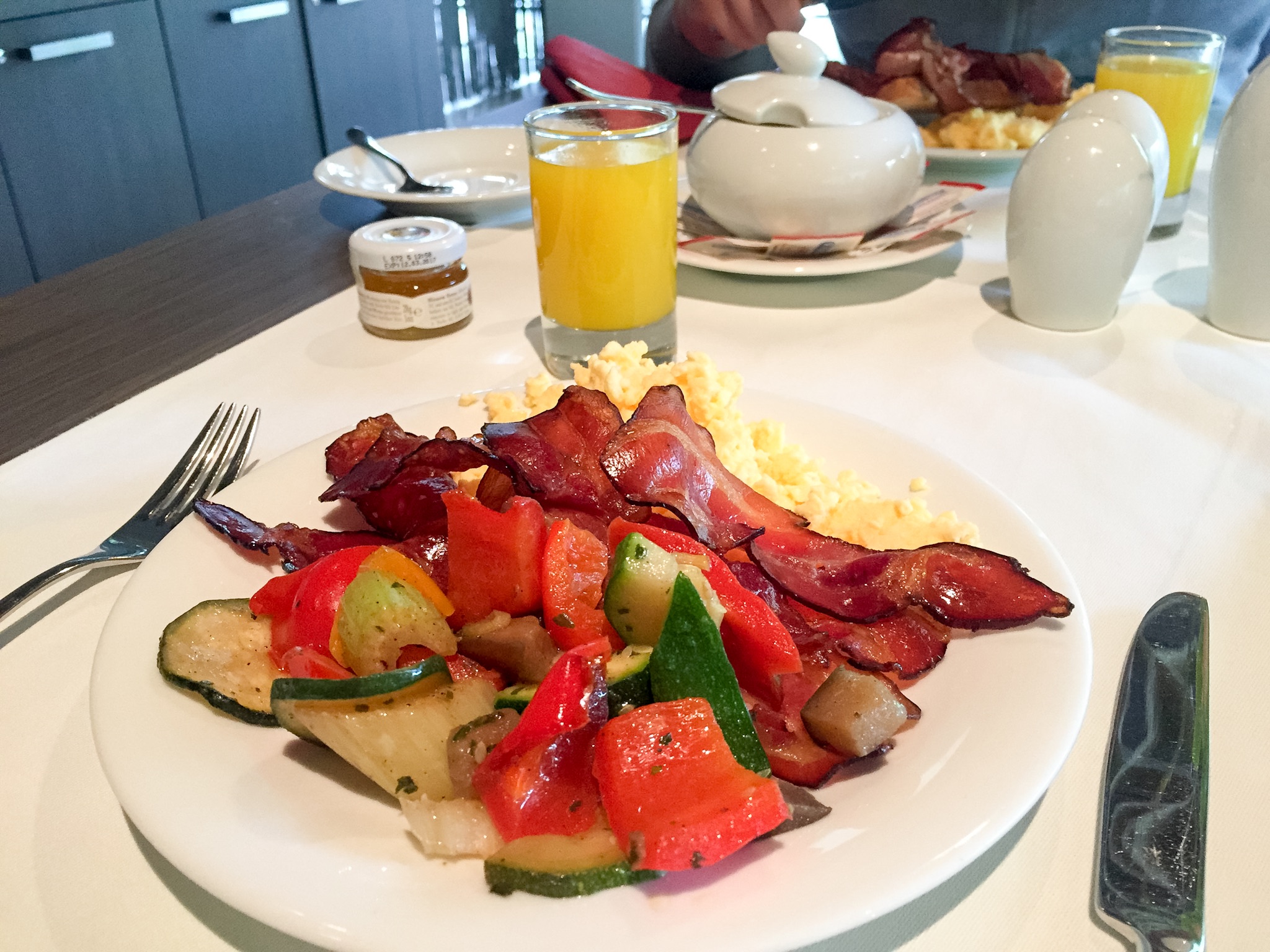 The restaurant also provides meals for lunch and dinner. Their menu changes depending on the season and what they have. I ordered their Wiener Schnitzel which came with a salad, seasoned potatoes and cranberry sauce… and it was pricey but delicious.
Other Notes
The hotel also features a conference center to hold meetings, wedding receptions and events.
Overall Impressions
Hotel Park Royal Palace is a really great 4 star hotel. I had such a nice time and very happy I got to stay here.
If you are interested in coming here I suggest to use this Booking.com link to gain easy access to book the hotel.  The prices of this hotel fluctuate and it would be great if you can book this hotel at a good deal.  It is a hotel booking site I definitely use and trust, so give it a shot if it strikes your fancy!
Austria Trend Hotel Park Royal Palace
Vienna, Schlossallee 8, 1140 Wien
Tel.: +43 (1) 89 11 0

---
**This post contains affiliate links. If you purchase something through one of the links, you won't pay a penny more, but I'll get a small commission that helps keep this site running. Thanks!**