Internations.org was one of the first membership organizations I joined when I moved here in Vienna. Through signing up for their Albatross membership, I got the opportunity to attend parties basically free of charge and offered welcome drinks.  They also have activity groups one can join in on, like a volunteering group that helps out at homeless shelters. Through Internations I made some nice friends and landed some babysitting jobs with families part of the Vienna community. So, I definitely suggest for you to check them out if you're going to be staying in Vienna for sometime and want to make some new friends and/or want to keep yourself busy.
I am so honored Internations has chosen me as one of their Recommended Expat Blogs for Vienna. Below is my interview with them and check out more on their website where other awesome Vienna bloggers are. Thank you so much Internations Vienna!!!!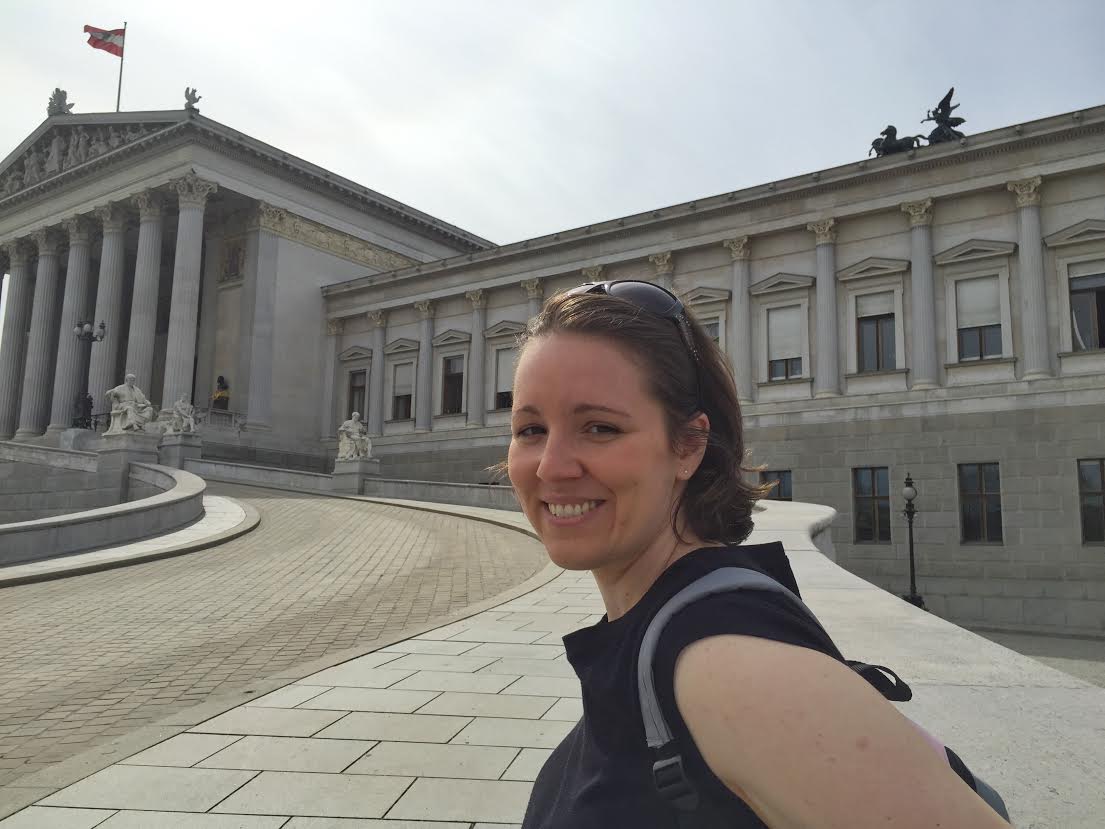 Please tell us a little bit about yourself. Who you are, where you come from, when you moved to Vienna, etc.
Hey everyone! I'm Michelle from the United States — so I'm an American in Vienna (hence the blog name!). I moved here in late June of 2014, preparing for my marriage to my Bosnian-born Austrian-citizen husband. Besides being a blogger, I am also busy as the creator and co-organizer of the Facebook group, "Women of Vienna."
When and why did you decide to start blogging about your experiences?
I started to discover some pretty amazing places and restaurants in the city and I felt like I had to share what I've found. Especially since I come from a small town in Connecticut, USA, Vienna to me felt like a new world that needed to be blogged about. I wanted to create a blog that could be used as a resource for Americans or English-speaking people to check out for what to do and see in the city. Plus I want to share with these people what to watch out for and be aware of — there are many cultural differences in Vienna in comparison to the U.S., so I do what I can to express these differences in a diplomatic way. I also find my blog to be a great way for me to practice writing skills and express myself in a creative manner.
Do you have any favorite blog entries of yours?
I enjoy all my blogs, but I suppose the most controversial and "hot topic" blog of mine was about restaurant servers and their attitudes. Because the tipping system works differently here, some Viennese servers (not all of course!) tend to have attitudes and perhaps one reason is because their income is not so much dependent on tips, so they have more freedom to express how they want to. In the U.S. the servers need to have a nice friendly attitude or else they won't make good tips and earn more money, and the tipping percentage is much higher in the U.S. than Vienna. You can read more about it in my blog.
Tell us about the ways your new life in Vienna differs from that back home. Did you have trouble getting used to the new circumstances? Did you experience culture shock?
I have been so used to driving everywhere in the States that I was not very fit for walking in a city when I came to Vienna! But now I really appreciate it because I can get fresh air and sun. Also, the convenience of Walmart is not here — so if I need to get items I may need to travel to a few stores. Oh, and having everything closed on Sundays is not that great, but this does allow the majority of Vienna to have a day off from work. It took me about 6 months to finally feel comfortable here. Culture shock was quite intense with me, considering I lived in a small town, surrounded with nature for 25 years of my life and then moving to a foreign city with its own culture, lifestyle and language. However it was blogging and participating in Vienna group events which allowed me to meet other people and feel more at home here.
Do you think you were fully prepared for what awaited you in Vienna? If you could, would you change some decisions/preparations you made?
I was not prepared for the mental and emotional culture shock and homesickness I was to experience. If I could, when I first moved here I would have joined expat groups or scheduled to meet/chat with other Americans in Vienna to connect with. Some people say you should make friends with the locals, which is cool, but there is also something very comforting towards connecting with people from your home county in a foreign country — perhaps because you can relate so much more with those people.
Every expat knows that expat life comes with some hilarious anecdotes and funny experiences. Care to share one with us?
When I first moved here I would complain A LOT to my husband about walking and how much my feet would hurt from it. It became hilarious when my husband started imitating me, but by acting and speaking like an old grandmother saying "my feet hurt…!"
Which three tips would you like to give future expats before they embark on their new life in Vienna?
Do research on the Viennese culture and Austria in general so you understand more of your soon-to-be new home.

Connect with people from your country through online expat groups or other foreigner groups in general and see if you can meet up with some of them when you arrive.

Make peace with the fact you are transiting to a new life and that there are going to be challenges ahead, but always make sure despite these challenges, you find solutions.
How is the expat community in Vienna? Did you have a hard time finding like-minded people or fellow expats?
I'd say the expat community is really welcoming — there are always events going on and people genuinely want to meet and connect with other people here.
How would you summarize your expat life in Vienna in a single, catchy sentence?
Embracing the Viennese life!