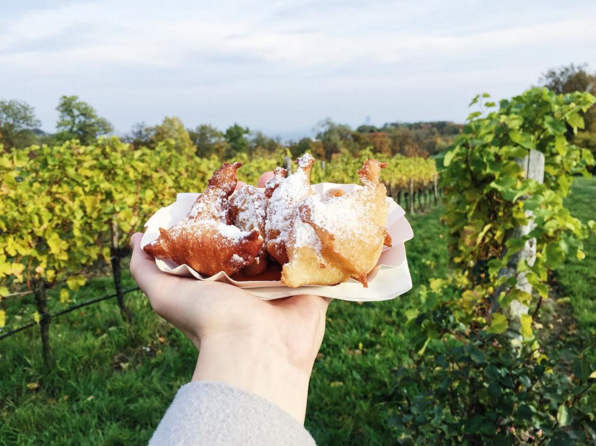 A few Saturdays ago I attended a pumpkin festival at Am Himmel in Vienna.  Such festivals give me comfort because I use to go to many in the states, so I always make an effort to come every year.  I was able to (finally) try Sturm which is a popular seasonal drink made of wine in its fermentation stage. I chose one flavored with berries and it was quite tasty. Even though I don't drink alcohol, I was curious and wanted to gain experience in this cultural drink. It was a cool experience and I wouldn't mind drinking it again next year.
The above photo is me holding up Marille-Mäuse, which are fried dough balls with apricot marmelade.  This is a treat I look forward to eat at this festival, and it's as delicious as it looks!
---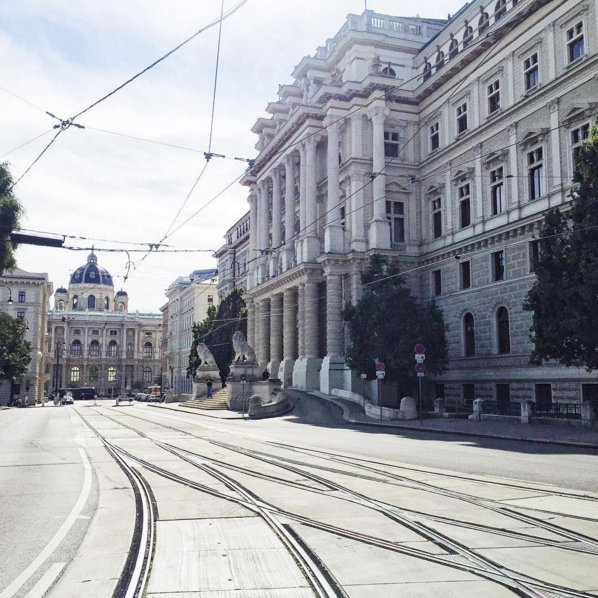 My favorite day and time to walk around Vienna is on Sunday mornings. The shops are closed, the majority of people are sleeping in, the tourists are still in their hotels, and the streets are QUIET and in some cases, completely EMPTY.
Take the photo example above. I don't know the actual street name, but this was shot on a Sunday with barely cars and people around. I really enjoy the architecture in Austria's capital and architectural photography is a new passion of mine. I really enjoy capturing this side of Vienna in my photos to share on the blog.
At the Am Himmel Festival (in late October) my husband and I walked down the street and found a playground with a really large colorful tube.  It was awesome looking and thought it'd be fun to have a photo of me jumping in it.
My husband captured this in one shot, so I didn't have to jump several times 🙂 Thanks, Aldin!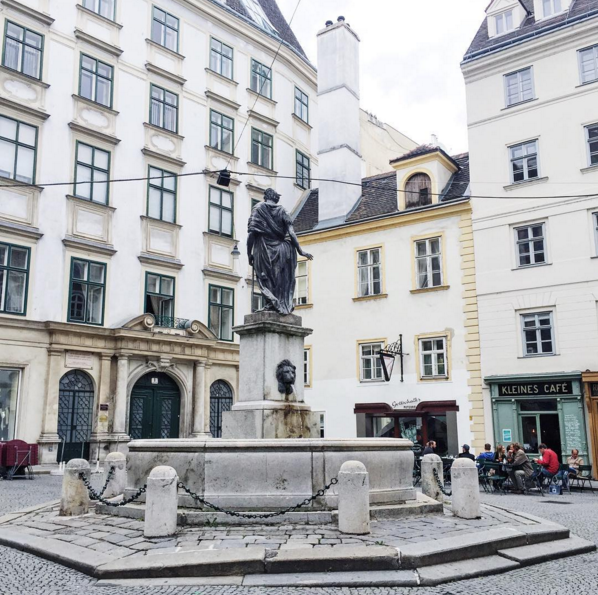 Welcome to Franziskanerplatz! Located in one of Vienna's oldest quarters in the first district, according to wien.info, its name is derived from the Franciscan Church that was built here in the 17th century in a Renaissance style that incorporated Gothic elements. Like any good city square, it also had a spring, called the Moses Spring.
This quarter is so photogenic and has one of the best Viennese cafes I've ever been to, with the best Viennese Melange I've ever had — Kleines Cafe.  I highly recommend this cafe.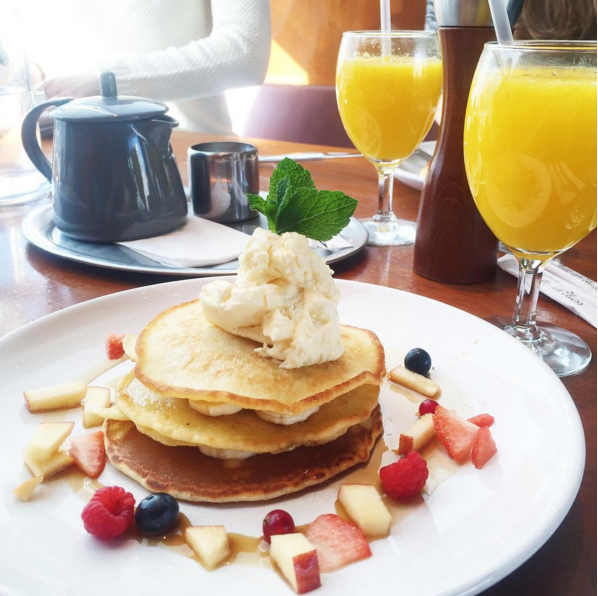 Every month the organizers of Women of Vienna and I meet for brunch to discuss ideas and plan future events for the English speaking women's community. This time we met at Motto am Fluss and spent the majority of the time talking about life. It was really nice and it seemed like it brought us more together.  
Normally I like to have protein/eggs for breakfast, but I caved into the positive reviews about Motto's pancakes and ordered them instead.  They were soft with fresh fruit on the side, bananas in between, and topped with an orange cream that I wanted more of. Total yummy-ness.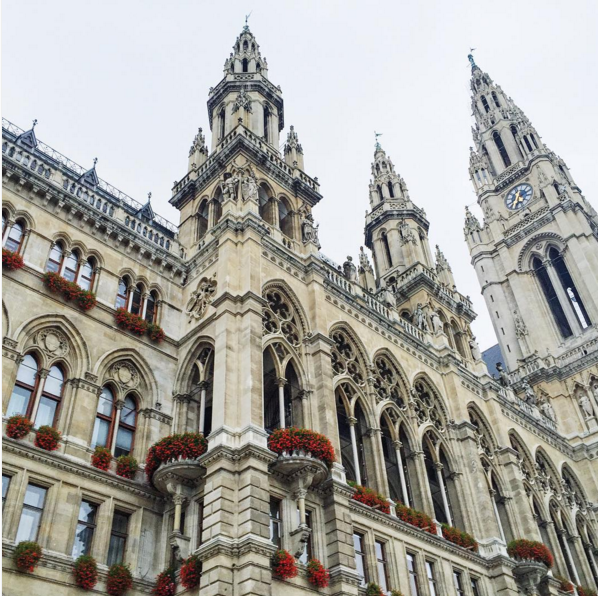 It is now November which means the Christmas markets (Christkindlmarkt) are starting up!  The first one to open is at the City Hall (Rathaus) and as you can see above, this building is already decorated with red flowers. I am looking forward to taking more photos of these markets and reporting them about it to you all!