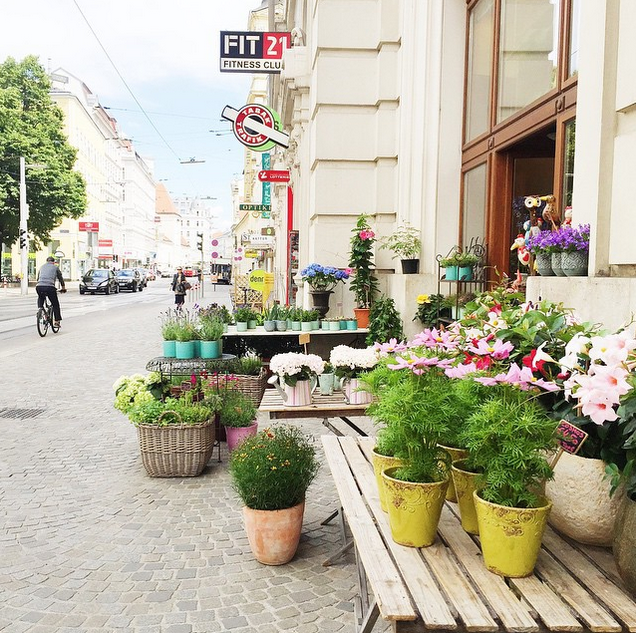 My family and I rented an apartment through AirBnB because the current place my husband and I are staying at is too small for an extra 2 people.  On a walk to the grocery store we passed by this lovely little flower shop on Taborstraße. With the colors of the flowers as well as the street itself I wanted to capture what I saw through my camera.
I've never been a big fan of buying or displaying flowers, however lately I've been reconsidering that since I'm enjoying simply looking at them, smelling the different scents and feeling the textures. I find flowers  so photogenic and a great added feature for decoration.
---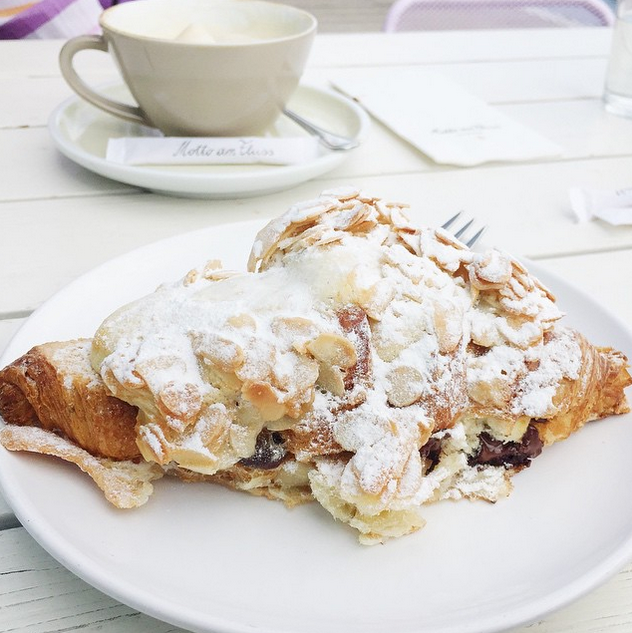 So I am not kidding when I say this, but when the server brought out Motto am Fluss's homemade chocolate almond croissant for my sister, mom and I to share, the first words that came out of my mouth when I saw it was: "Holy moly!"
I am not sure why my 1990's childhood vocabulary came through in that moment, but let's just say I was pleasantly surprised by how appealing this croissant looked like. I was actually at this cafe the week before this photo was taken and wanted to order this breakfast treat but applied discipline and told myself I will get it when my mom and sister are here so we can share this together.
Oh, and if you want to know: It tasted really good…
---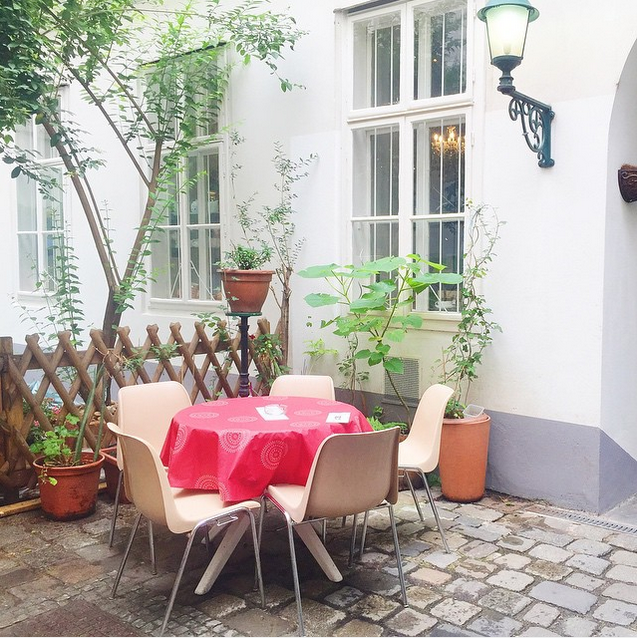 So as you walk down Mariahilferstrasse, a popular shopping street in Vienna, there is a passageway that goes down towards Naschmarkt and it is called Raimundhof Passage.  It's a lovely little walk with cute shops and cafes.
One of those small cute shops is Sir Harly's Tea, and outside is this table as you can see in the photo to your left.  Sir Harly's Tea serves and sells a large variety of exotic and high quality teas, snacks and accessories. It is worth a stop if you like tea and/or want to buy a nice gift for someone.
---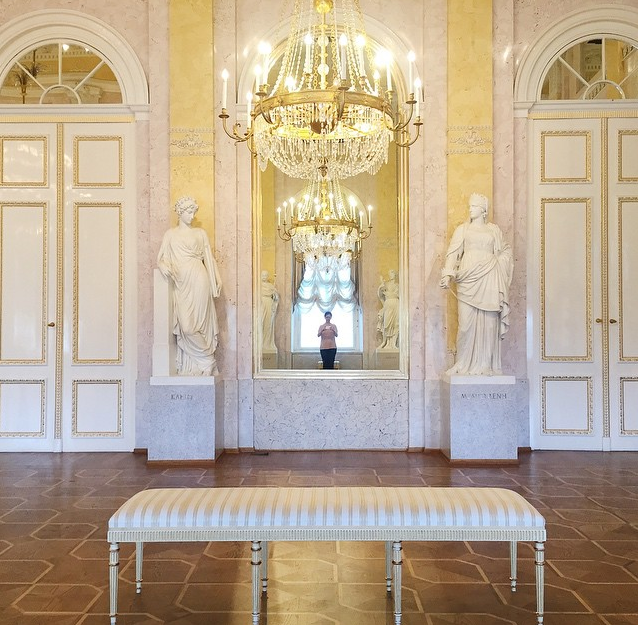 The Albertina is a beautiful museum outside and in. It houses some of the largest graphical collections in the world and currently has artwork from Monet and Picasso until 2016.
Featured here is one of the staterooms I got to walk through.  Soft colors of pink and yellow as well as Romanesque statues in this room are so beautiful in my eyes, and fortunately I was allowed to take a photo of it (some museums do not allow you to take photos, so make sure you ask the security guard or look for signs to see what their photo policy is).
---
Tichy has something unique and tasty: The Eis-Marillenknödel, an ice-cream ball made of vanilla ice cream with apricot jam center, topped with grated roasted hazelnuts. Tichy also provides other flavors of this ice-cream treat like chocolate, but the apricot-vanilla is one of their classics and one I suggest to try.
I suggest if you're a fan of ice-cream and interested in this ice-cream specialty, to go to the Tichy salon by the U1 (Ubahn/metro/subway) Reumannplatz.  Eating at Tichy is one of those places one should go to and eat at just to say "been there, done that."
---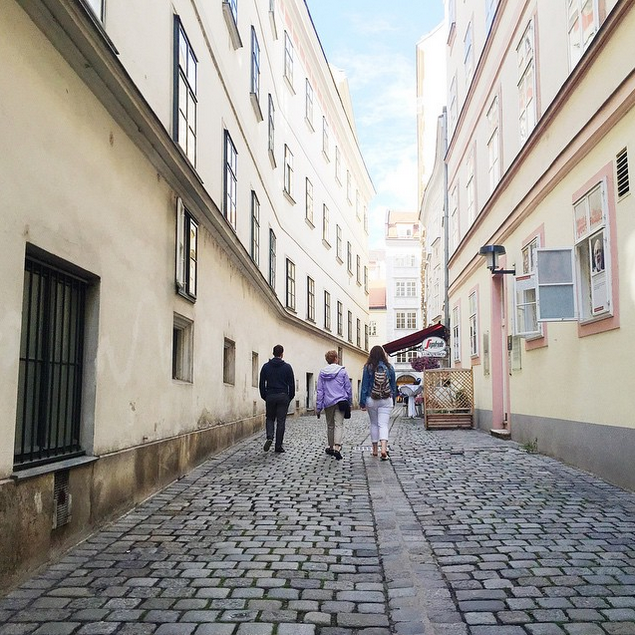 My mom and sister came over from the US to visit me and my husband for two weeks. It was the busiest two of my life — every day from 9am to 10pm we did something. Whether it was checking out the Essential Sights to see, eating a good lunch or dinner, or watching a Harry Potter movie (cause my husband never watched them — amazing huh?!), we did something, and our days were full.
I took many photos of my family, but here is one I'd like to share. This has my husband, my mom and sister in it walking down a colorful little alley in the first district of Vienna. We were all on our way to Figlmüller, a well-known Austrian restaurant serving famous Wiener Schnitzel, but we also stopped by Mozart's house on the way.
---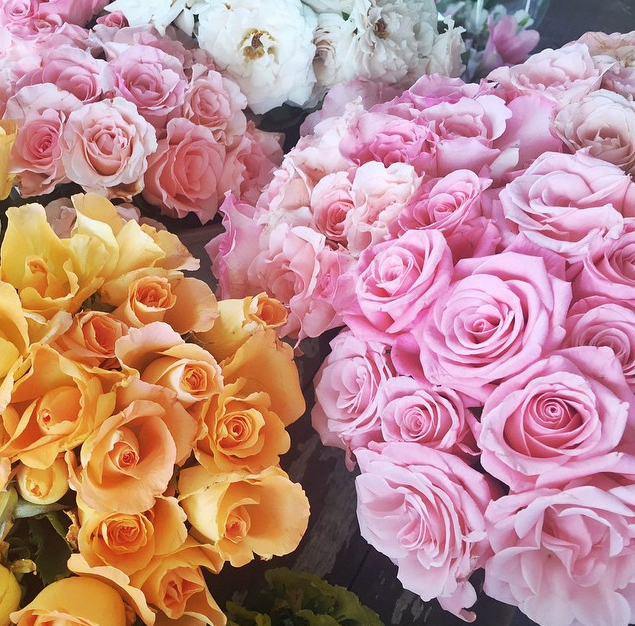 It came out of the blue and when I least expected it. After several job interviews, I finally…got…a…JOB.
Being unemployed can be very stressful, even despite being taken care of financially through a spouse, government, or through family– having to depend on another's income is different than simply receiving your own.
Needless to say I am happy with what I got and am looking forward to working. I won't publicly announce WHERE I am working but I will say it's at an International School.
By the way, this photo is of flowers from a shop at the Hietzing transportation center.