After my summer holidays in Connecticut, USA it was time to go back to work and carry on with my usual responsibilities. The month of September was cool – I did some traveling, enjoyed a special birthday dinner, got a great haircut, ate some awesome Nepalese food, discovered a new gourmet cookie store and…well you just have to read on 🙂
---
Haircut
I had the pleasure meeting Chris Yau, creative director and hair dresser at The Fringe Hair Salon. He is from Hong Kong and has been living  in Vienna for over 10 years and has a lovely, simplistic studio with pleasant music and a relaxing atmosphere. Chris worked and lived in London for many years, training for his profession, so he is fluent in English and has many clients from English speaking Embassys. This is a big plus for me since I've struggled finding good-quality hairdressers who speak English 😛 I also like how he and his staff use organic hair products (Chris added a rose apricot leave-in conditioner at the end of my cut which smelled so nice), and he really takes the time to make one's haircut precise, attractive and to one's satisfaction.
I've always enjoyed having short hair. I don't need to style my hair everyday because the hair sits nicely where it's at.  Chris did such a nice job, as you can see in the photos – thanks so much!
---
Graz
Aldin and I spent a nice weekend in Graz, Austria. This small, charming town is really perfect for a day trip or relaxed weekend visit. We hit our favourite spots like coffee at Tribeka, lunch at Frankowitsch, and the raved-about burger at Speisesaal (it was pretty dang good).
Graz is simply nice to wander around – the architecture is different than Vienna with Italian renaissance buildings and warmer colours. My favourite spot is Landhaushof courtyard because to me it's really stunning and I'm a courtyard geek. You can check out my travel guide of Graz and what I recommend here.
We stayed at a great hotel – Hotel Wiesler, in their Grand Independent suite with an awesome view of the Mur River and city. This is a hotel I highly recommend, not only for the location, but the rooms and restaurant downstairs are fantastic. Besides complimentary use of their sauna and tea room, the room was the best part – very hip and modern, or what they call "luxury re-interpreted," with this cool leather chair you could spin around in the back — it was basically our favourite part of the room.  Brunch was buffet-style and provided a real large honey comb that would ooze fresh honey when you dug your spoon into it. It was one of those wow moments for me – this hotel is one of those hotels I gush to family and friends about.
---
Birthday at Mochi 
I celebrated my birthday having dinner at Mochi, an excellent and super popular sushi place in the second district of Vienna. Aldin is really lucky because he works near this restaurant, so he can pop by their take-out store for lunch anytime he wants.
With any good asian restaurant I go to – I order the kimchi as an appetiser. I could eat this stuff for DAYS – it is so good – I am addicted! I also grabbed a homemade ice-tea and indulged in a Dragon Roll and the Hot Mochi Roll. As you can see by the photos – the food was excellent.
With Mochi, keep in mind reservations are highly recommended due to their popularity. Sometimes you have to book a month in advance so be warned!
---
Nepalese Food and The Sand Mandala
It was a Friday night, and we took a shot in the dark – Aldin and I decided to go to Yak and Yeti without a reservation, and to our amazement we got a table and the opportunity to view the making of a sand mandala by Buddhist monks from Tibet.
According to the Huffington Post article, the purpose of sand mandala's are pretty profound:
The creation of a mandala, the representation of the world in divine form, perfectly balanced, precisely designed, is meant to reconsecrate the earth and heal its inhabitants. But it is more than a picture. Sand painting is an intricate process. It requires millions of pieces of sand to make a mandala five by five feet square. It requires a team of monks working anywhere from days to weeks, depending on the size of the mandala, to create this floor plan of the sacred mansion that is life. It requires the interplay of vivid colors and ancient symbols. The monks bend over the piece for hours on end, dropping one grain of sand after another into intricate symbolic patterns. The purpose is to call the community to meditation and awareness of something larger than their own small world. But the process itself, as laborious, as precise, as artistic, as stunningly powerful as it is, is not really the message.
When the mandala is finally finished, however long it takes for the monks to deal in this divine geometry of the heavens, they pray over it — and then they destroy it. They sweep it up, every last grain of sand and give handfuls of it away to those who participate in the closing ceremony as a final memory of sublime possibility. Then they throw the rest of the sand into the nearest living stream to be swept into the ocean to bless the whole world. And that's it. It's gone. In an instant, after all that artistry, all that work, it's over.
Between sips of Mango Lassi, and eating their famous stuffed dumplings Momos, I would check in with the monks to see their progress. It was quite an experience to see these individuals within their meditative practice, knowing that they are going to eventually destroy their work as part of their philosophy.
---
Street Life Festival 2016
This special festival was for the city people of Vienna, celebrating what makes Vienna unique: Street performers, acrobats, local artisans and organisations show off their work and activities for the city folk. Concerts by local artists like Mango Street were also held on the hour, singing greatest hits. Held on a short street by the Museums Quatier, the highlight of my time there was finally trying out Kimbo Dogs hot dogs made with kangaroo meat. It tasted like any other hot dog and was pretty good!
---
La Cure Gourmande Vienna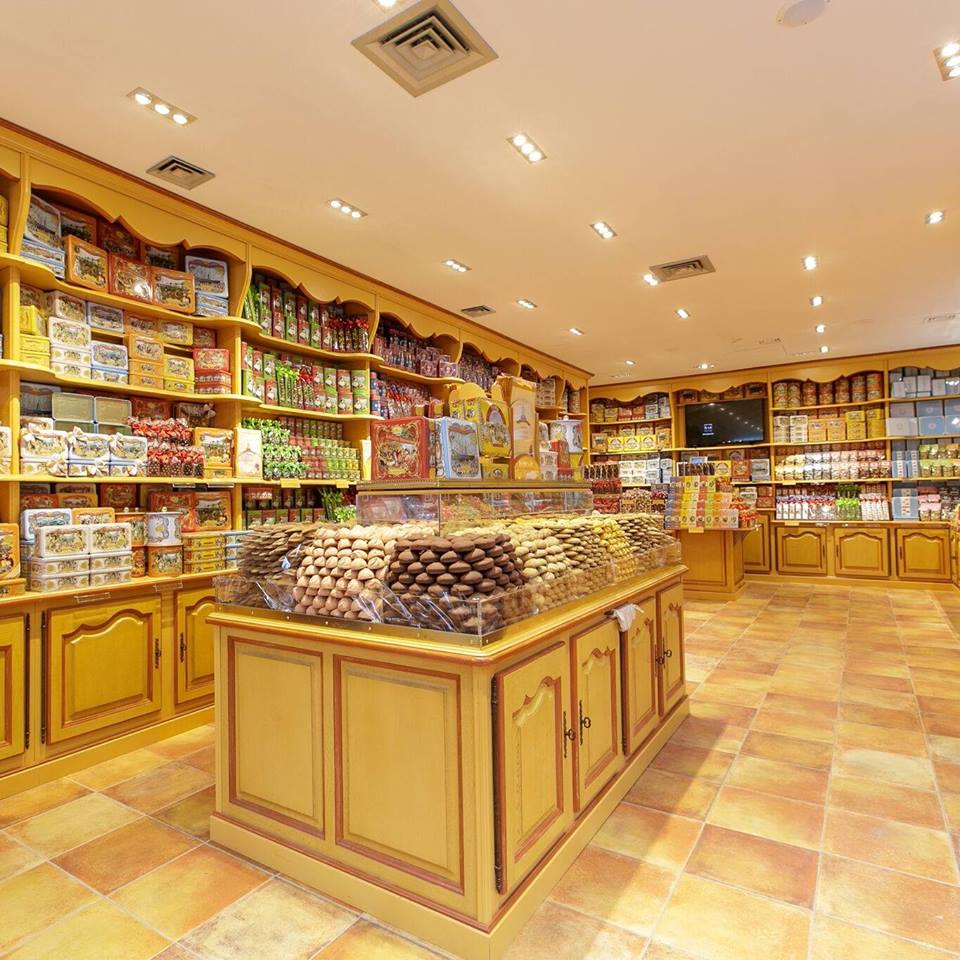 Do you ever see a place on social media and you're like "Oh that looks cool/good – I want to go there!" but you forget about it and then days, weeks or months later stumble upon it yourself? That's what happened to me with La Cure Gourmande Vienna, this cookie and candy shop I discovered on Instagram over the summer, I found while wandering through the first district.  Their products are from France, and not only look good but taste good…REALLY good – in a dangerous way. They put a lot of sugar in their products, similarly to sweet cookies and candies I've had in the US – so be warned if you find yourself unable to stop eating them and end up in a food coma!
Despite that, I now know where to get little cookie gifts for family and friends for the holidays, because their products are just so perfect for that. I enjoyed their cinnamon sugar, chocolate hazelnut, and raspberry cookies, but they also have homemade candies too. I could definitely eat their entire store so when I come back I need to watch myself…
---
Ceramics at Common Room
I had the pleasure of taking an English-speaking ceramics course at the Common Room. It was a truly fun activity – using your own hands to build and mold creations with clay. I made a honeycomb and small bowl with my beginner skills, feeling so centred and focused than I have experienced in a  long time. A few teachers are American, and overall the staff at the Common Room are super nice and friendly so I am looking forward to going to more classes of theirs!
The Common Room is a space to create and share, where community members and artists can meet and learn from each other and showcase their passion for ceramics, crafts and arts. 
---
Vollpension at Night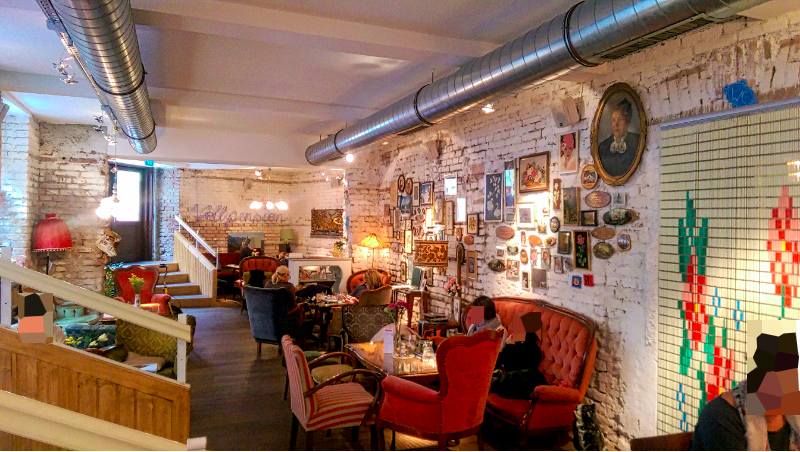 I've had Vollpension on my bucket list for long time, and finally had the opportunity to check it out one evening with some friends.  This place is super cozy – with soft antique chairs and couches, homey decor, lounge music, and actual grandma's making food for you. You actually order your food at the counter and bring it back to your spot, unlike traditional waitressing.
Vollpension is most popular for their brunch on weekends, but the evening I was there, I got to enjoy their homemade Chocolate nut Torte – which was very similar to a Sacher Torte (and very delicious!). This spot is also very popular with young adults and university students. Many people come with their laptop to just drink and chill. It's very laid back here which is why I want to go back again!
---
Pho soup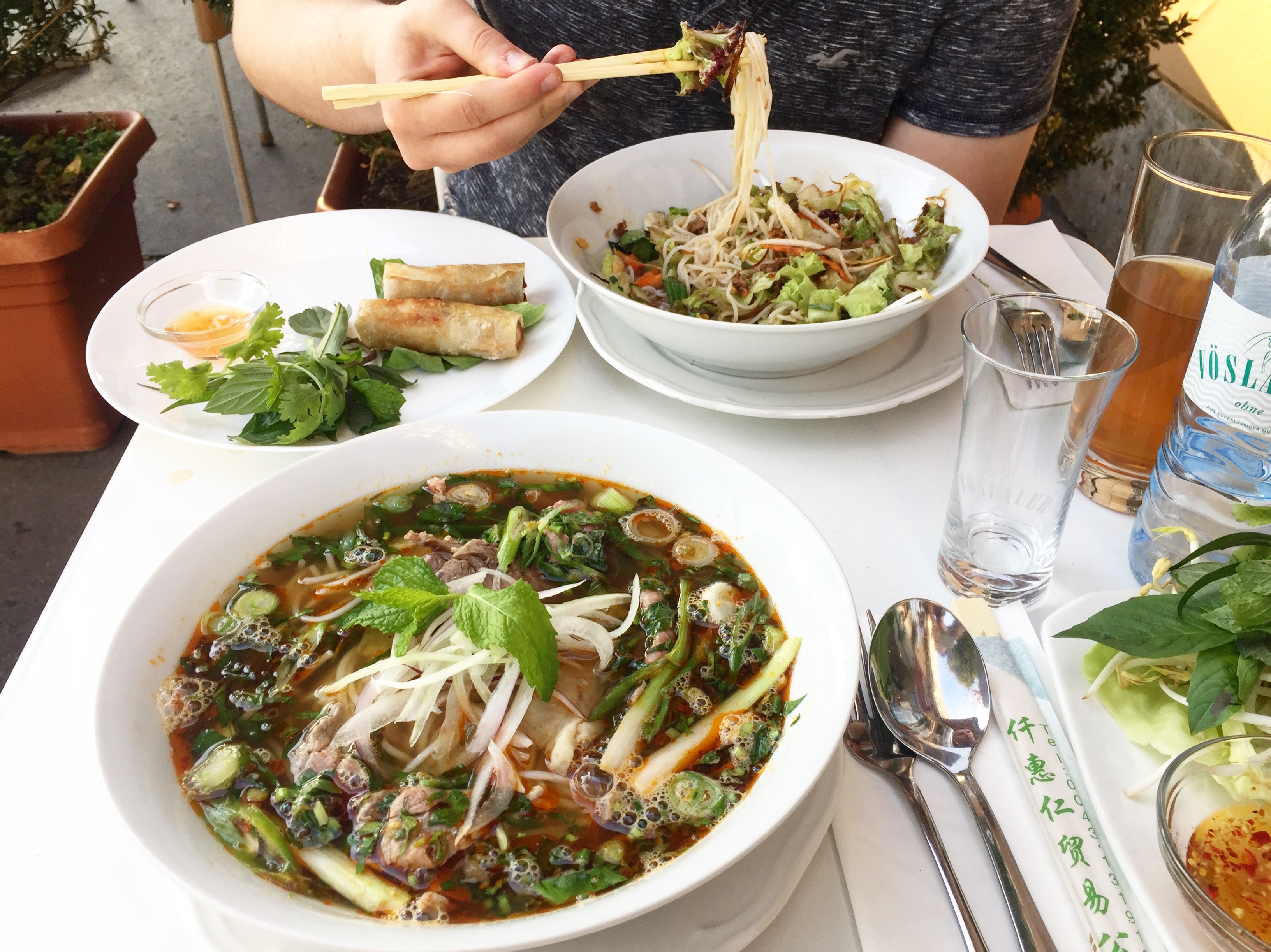 One evening my husband and I planned to take the U1 metro line to Ikea, but there were delays that prevented us from getting there in good enough time. So we decided to skip the shopping and wander around Karlsplatz. Feeling hungry, I looked on my Yelp app on what good places are nearby, specifically for asian food since I was craving that sort of food, and found Vietthao, a super popular and excellent Vietnamese and Vegan/Vegetarian spot.  When we got there right when they opened (6pm), every table had the RESERVED card but fortunately the worker allowed us to pick a table!  I ordered their spicy Pho soup while my husband got a rice noodle beef dish. We were both very happy with the food, which is the only reason why I am sharing this with you all – because if I didn't like it, I wouldn't write about it here!