My Story
In January I received an invitation to try out a cycling class at SuperCycle Vienna. I've seen this particular studio crop up on my social media network before and was captivated by the disco-inspired theme and dance choreography in their classes. Bloggers and influencers such as Vicky Heiler, Carly Hulls, and Kami would rave about the classes on their social media. They pulled me over – I had to go to check this place out — under one condition, my husband Aldin will have to come with me! This is because the first time I attended a cycling class (back in the US) I almost fainted — I was dehydrated, and over exerted myself – and basically imprinted a negative memory towards cycling. So I knew having Aldin as my exercise buddy would calm me down.
SuperCycle is a boutique indoor dance-cycling studio offering an intense and vigorous full-body workout. In our beautiful low-light space you'll find an amazing sound system, the best beats and instructors who love what they do. We promise you'll step out an hour later with your heart rate, health and happiness up! –SuperCycle's website
The day of
We signed up for the Tuesday evening class. An hour before, I had everything ready – workout gear, sneakers, tower, water bottle, and was nervous-and-excited. I made sure I had eaten and was well-hydrated.
When we got to the studio I introduced myself and said to the instructor it's my first time here. I was shown the locker rooms and how to set up my bike. The cycling room was dark with a disco ball on the ceiling. It was an awesome environment. As I sit on the bike pedaling to get use to the sensation I started to get nervous, so I did some deep breathing, stating within me I am going to take it easy, try and have fun, listen to my body, and slow down if necessary. I realized I'm only nervous because of ONE bad cycling experience and that's it. I'm not going to bring my past into this new experience.
When the instructor gets on the bike, the techno music starts, the disco lights turn on and for the next 60 minutes I have the time of my life.
The entire class is like a dance party. You move to the beat of the music, the instructor motivates you with their words, and you get some arm-workouts in too – generally being a fun, full-body workout experience from head to toe.  I made it through the class rejuvenated and looking forward to more (my husband liked the class but said cycling is not for him).
After trying out different SuperCycle Vienna classes and instructors (each instructor has their own style and genre of music), I bought a membership and now attend cycling classes on a regular basis!
SuperCycle Vienna
 is my happy place I go to now.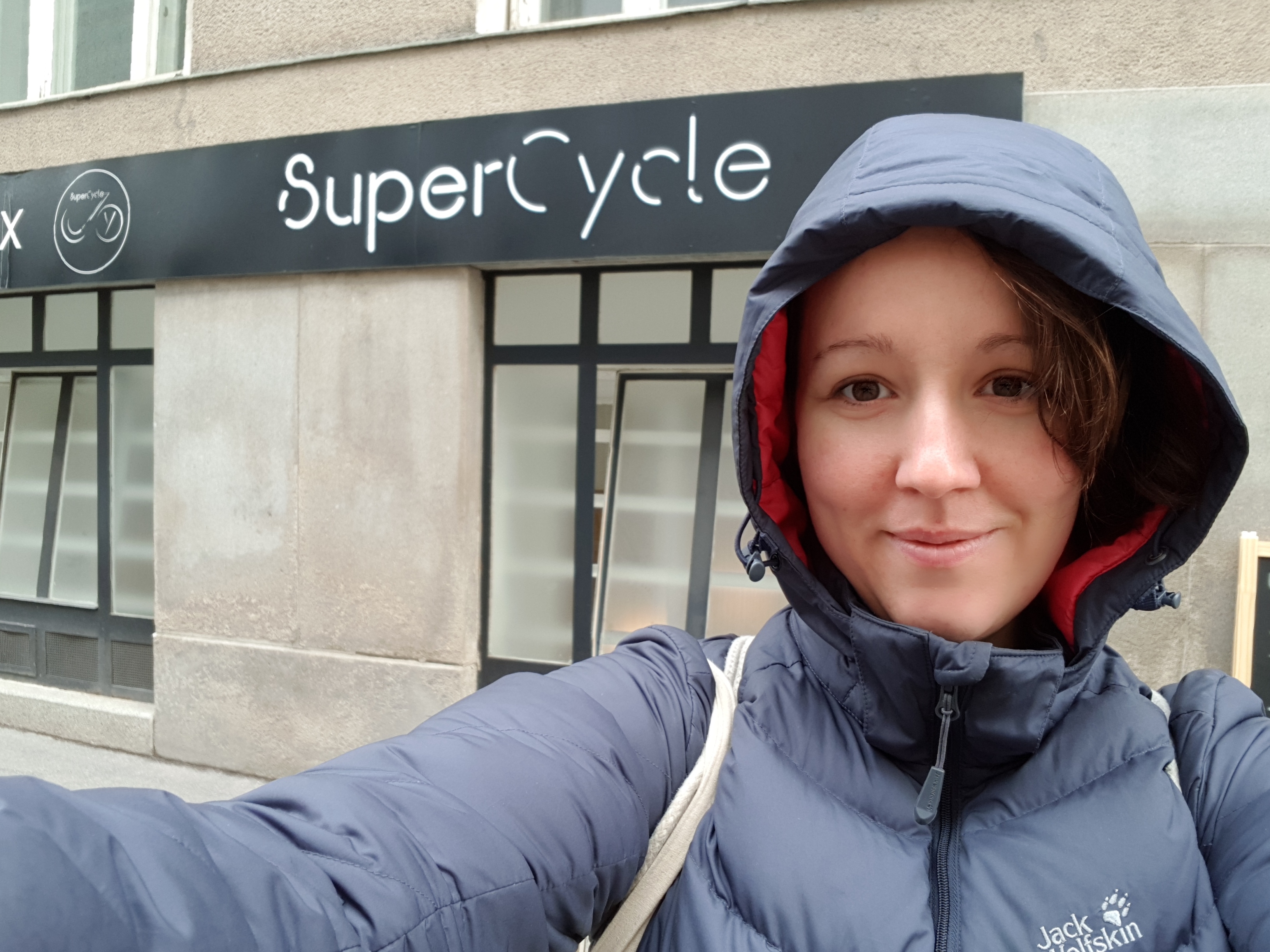 Why Else I Love Cycling:
Makes me focus on my body and my breathing in the moment. When I drop what I'm thinking and focus on the music and the body, my workout becomes more stronger and effective.

Helps me leave "everything behind" while I work-out

There are popular bloggers and influencers that go to these cycling classes. It's very humbling to see them without makeup and in typical workout gear like me. The symbolism of all of us in one room as people is really cool. We're all here for a reason — for cycling class — wanting to make the most of it and our health / well-being. We leave our egos and professional statuses behind.

I know what pushing my body to the extreme feels like, and with 10+ years of dancing experience behind me (and formally being a Zumba instructor), I realize I do naturally well with cardio workouts.

I love how there is the freedom to choose an instructor that fits you and your music choice — Each instructor has their own playlist of music and style of working out. This gives me more space and opportunity to try out every class and choose the instructors I enjoy the most!
Another awesome thing is that SuperFood Deli recently partnered with SuperCycle Vienna – they are Vienna's first ORGANIC açaí, smoothie, porridge and nice cream bowl shack, serving 100% natural, fresh, raw, vegan & sustainable food & drinks. So now I can get a ginger shot before class, and a protein smoothie after 🙂
Conclusion
Cycling is not for everyone but I implore if you do have a hint of interest, to check out a class!
For newbies: Before you get there you prepare yourself accordingly:
Workout clothes

a towel

water bottle

trainers / sneakers

(If using their showers after) Clean clothes and another towel
Then when you get there inform the instructor it's your first class, and learn how to set up your bike. As class begins, try to find a way of taking it easy, but push to see how far you can go. Focus on being aware of your body and making sure you don't over-exhaust yourself! See how you feel and how your body feels and whether you can continue doing it. 
AND most of all – HAVE FUN! Enjoy the music and the new experience! 
And if you see me at a class, please say hi! It would be nice to meet you!
For more information on the SuperCycle Vienna experience, please:
+ Read this wonderfully thorough & honest review by Carly of Austrian Adaptation:How to Survive Your First Class
+ Listen to this Podcast by Tova of Operation Tubetop with SuperCycle Vienna Co-Founder Rhana
---
**This post was in collaboration with SuperCycle Vienna**