Alright, Il Sestante.  I'm going to be honest and admit that I hesitated writing a blog post about this place because this is one of my favorite Italian restaurants in Vienna, and a part of me wanted to keep that secret, but then I realized the point of my blog American in Vienna is to share with EVERYONE my recommendations on great places to see and eat in Vienna 🙂 So, enjoy this post!
---
Awarded Italian Restaurant:
Il Sestante won the Marchio Ospitalità Italiana Award for its authentic Italian food, hospitality and using the highest quality of Italian products.  The majority of workers here are Italian and will typically greet you and say goodbye to you in their language.  
I've been to this restaurant several times and treat it like a gift: I only come here on special occasions, or when I want to indulge in excellent pizza.  I also bring visitors here, and my mom and sister are huge fans of Il Sestante.
Interior & Exterior: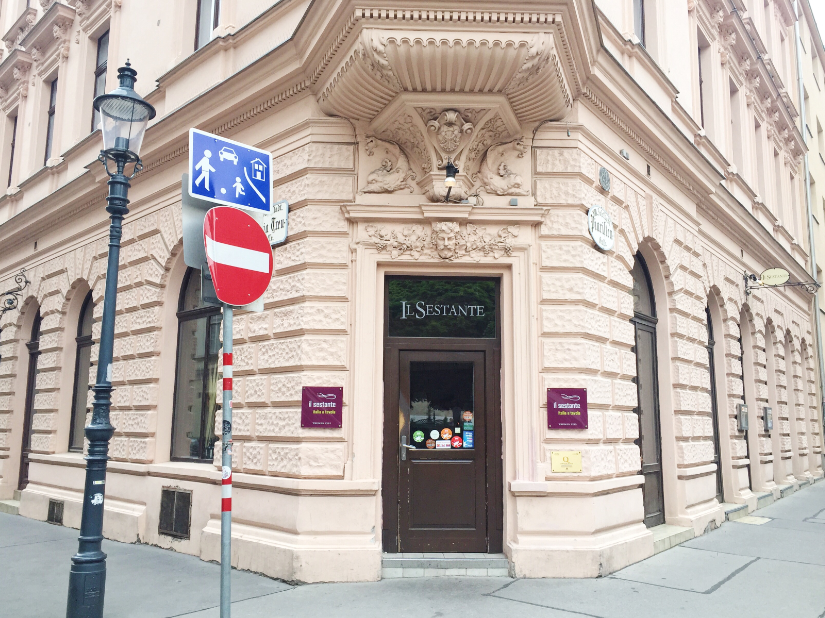 Set alongside the corner of Piaristengasse and painted in pastel pink, Il Sestante sits across from the beautiful baroque Maria Treu Church. If it's warm out, you have the option of eating outside in front of this church (it is lovely and I highly recommended it).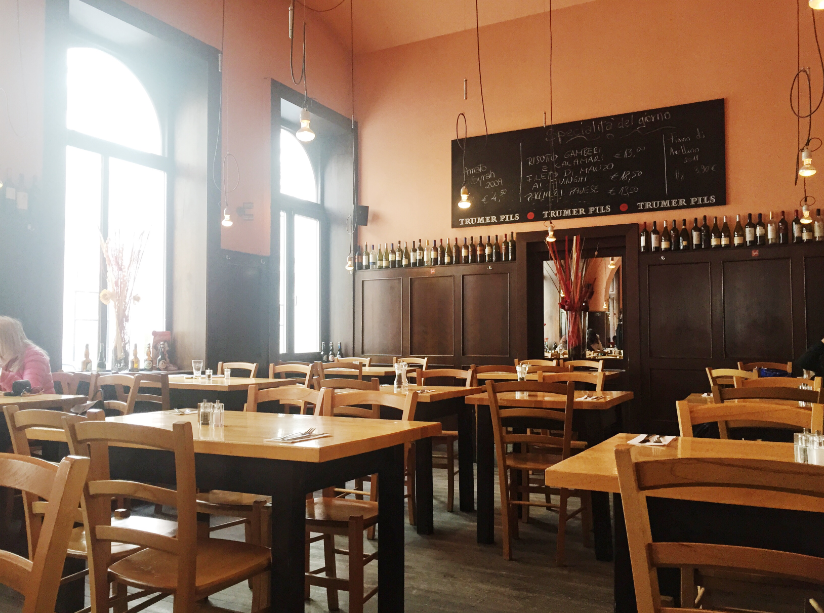 Inside the restaurant is large, yet cozy and warm with accented colors of dark brown, pink and black.  Wooden tables and chairs are provided for the diners, and hanging from the ceiling are dangling light bulbs.  The atmosphere is relaxing, as if encouraging people to dine for several hours (which is what I think Italians do anyways).
Excellent Food Choices:
For appetizers: I have yet to try Il Sestante's antipasti dish, but sometimes I like to get their bruschetta: three slices of toasted bread served with olive oil, chopped tomato, onion and basil.  What my husband usually gets is their tomato soup: With tomatoes, cream and a touch of basil, this soup is excellent and tastes similar to my (late) Italian grandmother's tomato sauce.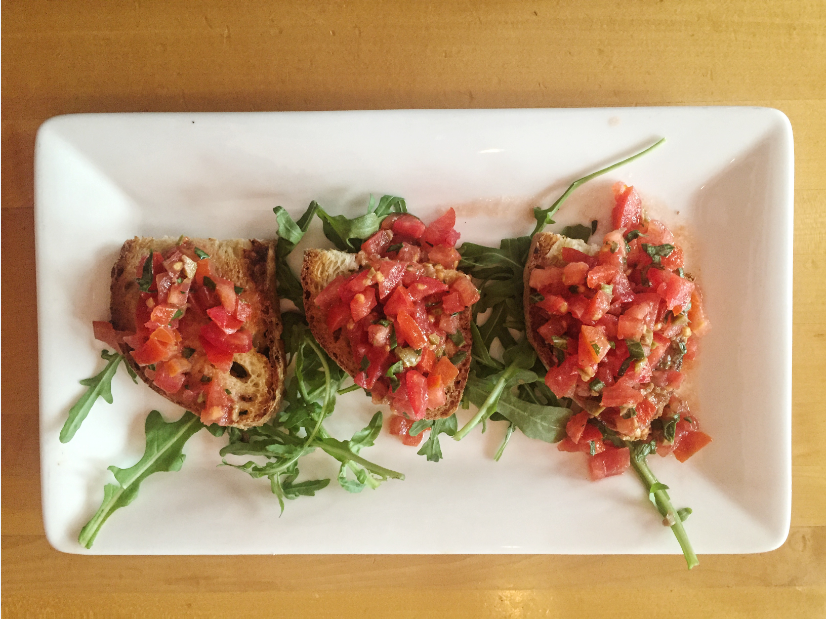 Let's get to the pizza:  Il Sestante's pizza is made from the hand of Italians, with fresh sauce and toppings and put into a wood-fired oven.  What comes out of it is nothing short of amazing, and sometimes I can't get enough of their bread stick-like crust (hard on the outside, soft on the inside — it is so tasty!).  My favorite pizza of theirs is the Primavera, made with tomato sauce, buffalo mozzarella and cherry tomatoes. So simple, and yet so good!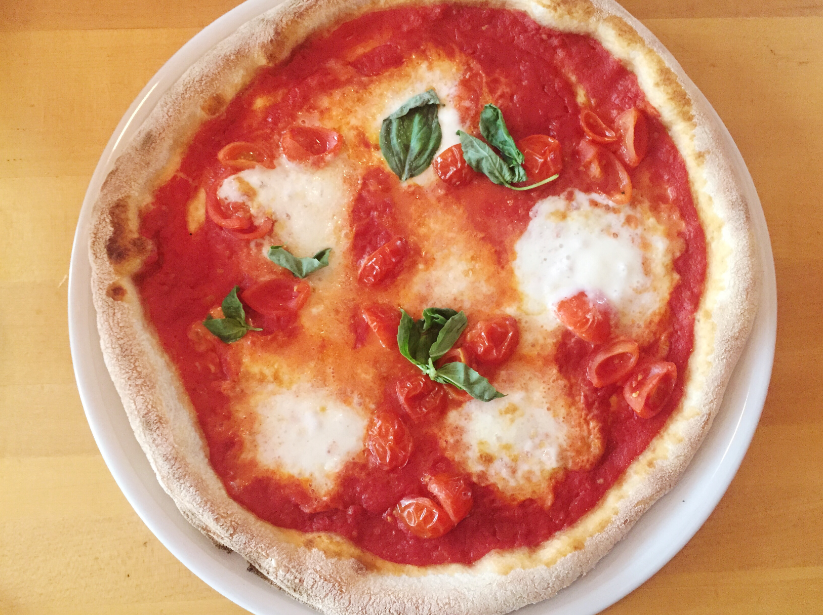 Il Sestante's gnocchi sorrentina is also a favorite of mine: large soft chunks of potato-pasta served in tomato sauce with large dollops of mozzarella cheese in the middle. Delicious.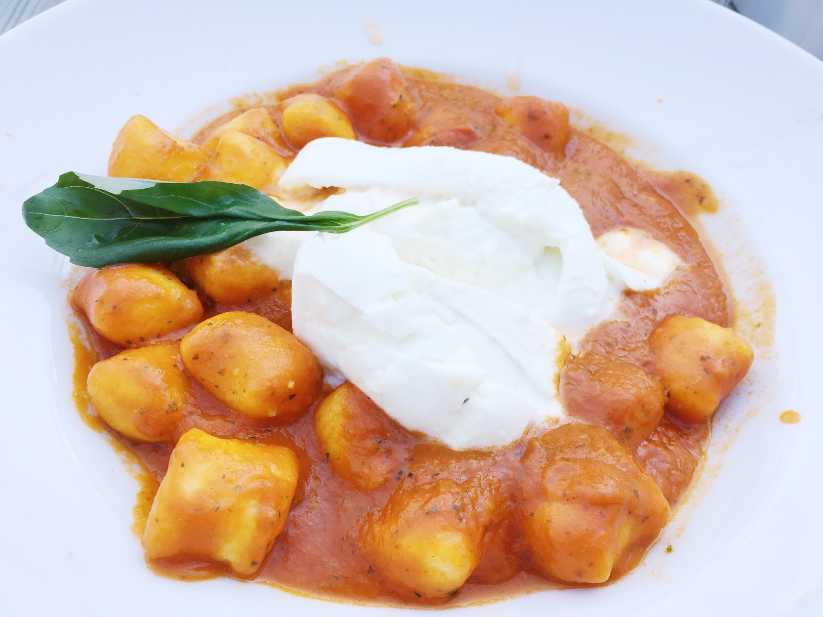 Their pesto spaghetti garnished with pine nuts is not bad either 🙂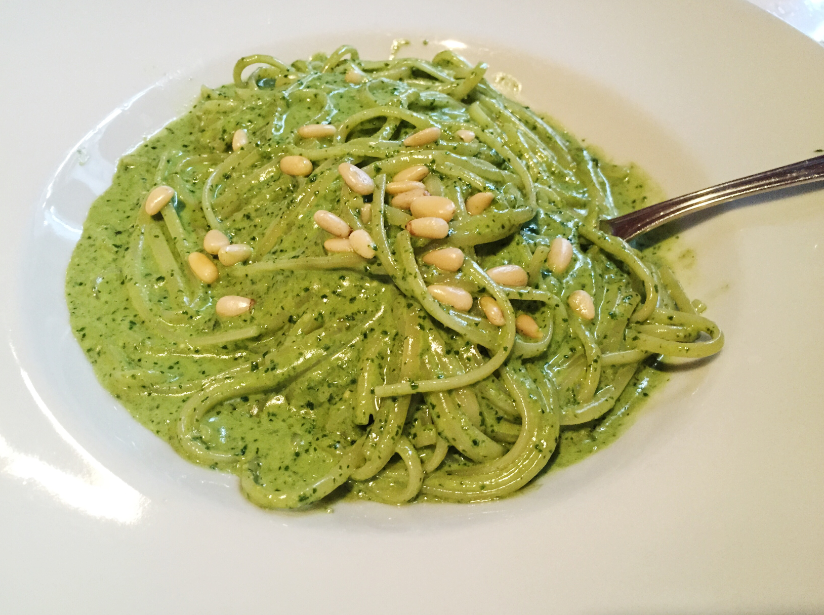 Additional Notes:
A reservation for Friday, Saturday and Sunday are highly recommend.

While I don't like writing negative comments about restaurants, I do want to mention the service: it's not perfect. The first time I came here the server forgot to send our food order to the chef, so we waited a long time before I asked him where our food was. Another time my husband received his meal a good 10 minutes before I did, so his food was getting cold and he had to eat without me.  These are only two negative instances and in general, the service is usually fine (plus the food makes up for it), but it is important for me to let you all know about this.
Overall, I recommend Il Sestante. It's my favorite Italian restaurant in Vienna and there's a good chance you'll see me there.
Il Sestante
Piaristengasse 50
1080 Wien