Whether you're a workaholic and need a break, want a relaxing getaway for a day, or a personal day off, I can highly suggest visiting Vienna's Die Therme Wien. I went here in early February as a treat for myself and chose the Relax! One Day Holiday package. It was my first time using the package and visiting the area, and I can honestly say I had a wonderful time – so much so, I'd like to share my experiences and tips if you ever want to do this, too…
---
Preparing for your 'Relax! One Day Holiday' at Therme Wien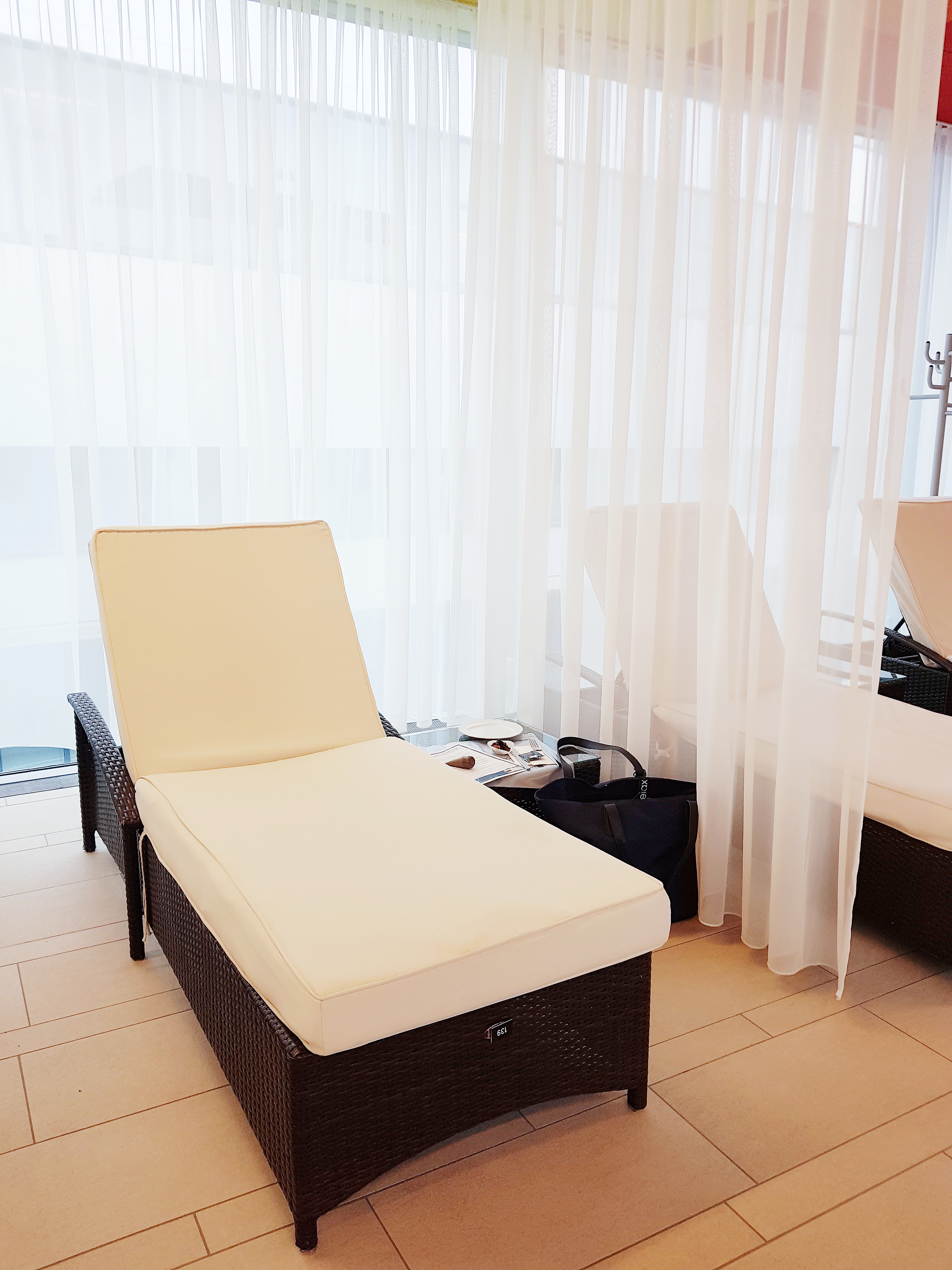 Making your reservation online is the best thing to do because you can choose your lounge chair for the day, and the staff is prepared for your arrival. Once you reserve your name, you will receive an email to print out and show on the day you enter the Therme Wien. You don't have to pay just yet (payment happens at the end of your time there).
Then once you snag your lounge chair online, you need to prepare for your relaxing one day holiday! Here's my take on what to bring:
Pack a bathing suit and 2 pairs of clothes. One pair to be light loungewear – shorts, t-shirt, undergarments to wear while you're lounging and don't want to be in a wet swimsuit during the day. The other pair is what you wear when you enter and leave Therme Wien (i.e., your outside clothes).
For the ladies: Bring your makeup, moisturizer, and any hair items, since swimming and going into the sauna/steam rooms will take off whatever you put on your face.
If you wish to shower – bring your shower gear and any soaps you want to use. Otherwise, the place will provide you with towels, flip flops and shampoo/body soap.
Bring an empty or reusable water bottle. You get two bottles of water with the holiday package, but it won't be enough. There are water fountains around the area if you need more.
Bring your bathrobe and flip flops if you are unsure or particular about the ones Therme Wien will provide for you
Bring reading material, magazines, or anything you would like to keep yourself busy with during the day.
---
What is included in 'Relax! One Day Holiday' at Therme Wien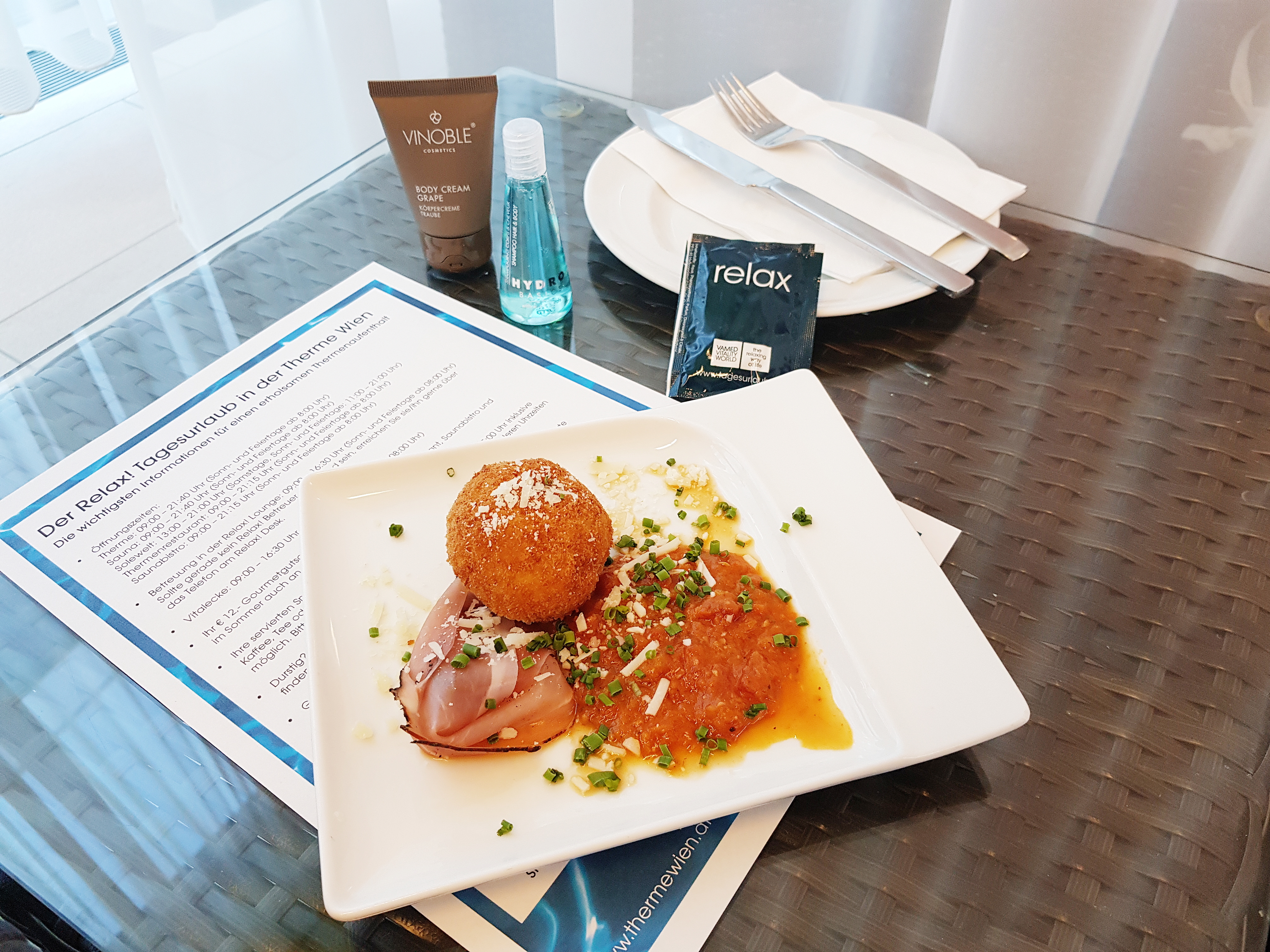 For €85, here is a list of what Therme Wien provides for you at the 'Relax! One Day Holiday' at Therme Wien (info subject to change, please see their website for updates):
Spa day ticket with a changing room
Access to sauna area and Solewelt salt world
Relax! Check-in (no need to wait in the long admission line)
Relax! Pool bag to use for the day that includes a white robe, two towels, two water bottles (one sparkling water, one plain/still), a pen that says RELAX, shampoo/body soap, a bag for your wet swimsuit. For flip flops, you need to request them at check-in
Access to (German/Austrian) magazines and books in the lounge area
Two snacks (morning and afternoon) and a hot drink
Voucher/Gift Card worth €12 for food at the cafeteria
Voucher/Gift Card worth €5 for your next Relax! One Day Holiday
15% discount on all treatments at the spa massage suite and the spa shop
Free garage parking and WiFi
---
Settling in at 'Relax! One Day Holiday' Therme Wien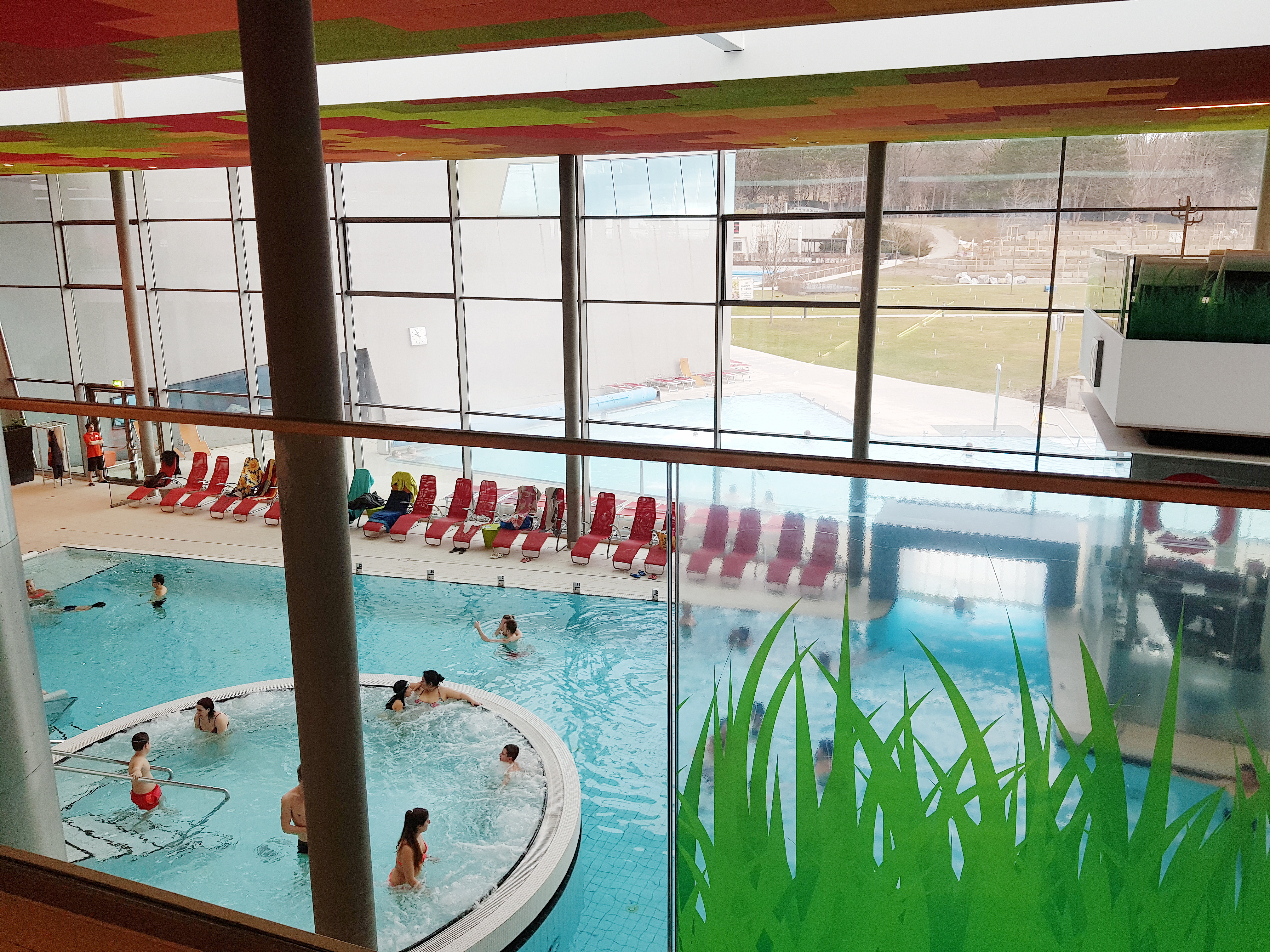 Taking regular breaks from your everyday routine has a positive impact on your health, general wellbeing, and physical and mental state. In fact, it is not the length of the holiday itself that matters, but how often you take a break. Similarly to sleep, relaxation is not something you can catch up on later. Regular time out from your normal routine is a critical element of lasting good health. This means remembering to schedule in a day off once in a while to get away from it all. -Die Therme Wien
I skipped the long waiting line and entered through a side door where I was personally welcomed and asked if I needed flip flops. The staff gave me directions on how to find my changing room while having a waterproof bracelet strapped on my wrist. My changing room/cubicle was number 23. I followed the signs to the changing area, found my room, and opened it by pushing the top of my bracelet against the knob. It made a click, I entered the room, and there was a large beach bag waiting for me, with all the supplies noted above.
My changing room was large enough to fit a family of 4. It was pretty spacious for an individual like me, so I did the necessary changing and put on my swimsuit, flip flops and the white robe (which to be honest, was a bit scratchy, but whatevs, right)? If you are picky on flip flops and robes, I do recommend you bring your own! I saw many people at the Therme wear their own robes and swim shoes.
I walked two massive flights of stairs to the VIP Relax! Lounge area, which was on the top floor. Immediately, as I entered the swimming pool area, moist, warm air hit my body. By the time I got upstairs I was already sweating a little. Walking to the lounge was quite the exercise (they do have elevators if anyone wants to know)!
I made my way to the center desk to make them aware I was here. The staff spoke a little English and assisted me in letting me know I have access to their books, magazines and Bluetooth headphones. They will be serving me two snacks today – one at 11:00 and one at 15:00. A hot drink of my choice (coffee, tea, hot chocolate) will be served at 15:00. They also provided me a paper with the WIFI password and other information (in German). They escorted me to my lounge chair situated in a quiet area next to flowing white curtains. When I saw my set-up, I felt relaxed. I could stay here as long as I want, reading and doing nothing. I made sure I put my phone on silent and kept in the bag as much as possible. The phone and its sounds can trigger stress!
---
Wien Therme's Interior – What's Inside
I settled in a bit and, when I was ready, I explored the downstairs area. Therme Wien has one main swimming pool, and directly outside are three pools. There is a tunnel area that connects the main pool with the outside pool, so when you transition you either feel a gust of cold air or warm air. As you continue to walk to the left, they have this fantastic dark cave-like swimming area, for adults only. It's got a cool atmosphere with dim-lighting, and glowing colored lights. Unfortunately, this water area is a hot spot for couples and because people are more open in showing affection in Europe – well, couples can get a little frisky and make you uncomfortable there.
There are an additional two other indoor pools inside, one of which has two small waterslides and a play area for kids. Upstairs are the sauna rooms and a salt room where you can breathe in Himalayan salt crystals that help your respiratory system. But keep in mind, if you enter in these areas you must be nude! Of course, you can bring a towel, but overall, you need to be ok with nudity (both with yourself and others) if you genuinely wish to experience these two spa features.
On the right side of the Therme Wien are two steam rooms, each with their mix of essential oils. I visited the Eucalyptus steam room which was so pleasant and calming. The mosaic stone seats complimented the serene environment of the steam room. The room was so quiet that any movement or sound made could be heard by everyone. Additionally, there is a beauty salon where you can get your nails done. Upstairs, there is a spa area where you could get a discount on a massage through the 'Relax! One Day Holiday' package deal.
In regards to food: The first snack I received was like a breaded Italian cheese ball with tomato sauce. It was gourmet food at its finest! The second snack was a piece of vanilla walnut cake, and I had a hot chocolate with that. For lunch, I was able to get a salad, bread and drink just under the €12 I received as a voucher. The lounge area also had a table with dried fruits and nuts to snack on throughout the day.
---
Other Things to Know and Be Aware of
Getting to the Therme Wien is relatively straightforward if you're using public transportation: Take the U1 metro to the station Oberlaa and walk down the long ramp until you see the entrance. Easy peasy.
Because the inside of Therme Wien is quite moist and warm, wear light clothes if you're not planning to be in your bathing suit. The place seems to open up your pores with its type of air inside.
It's important to stay hydrated and consume electrolytes. You're going to be sweating, whether you're lounging around or swimming, so make sure you have an electrolyte drink to replenish fluids. I got a headache at the end of the day that I cured after I put some salt in my water.
Get used to the staring: In Vienna, it's common to have people stare at you/look right at you in the eye as you walk by or are swimming (it's cultural), so accept it.
You can get by with English, but it would help to say your Dankes and Bitteschöns.
If you go to Therme Wien during school breaks, it can be a little chaotic and loud with kids (unless you're ok with that) – but you can always escape up to the adult-only lounge!
Make sure when you leave you to have proper payment (they accept card and cash), and that you return the bag and items they rented to you (you can keep the flip flops – yay!)
---
Overall Impressions for 'Relax! One Day Holiday' at Therme Wien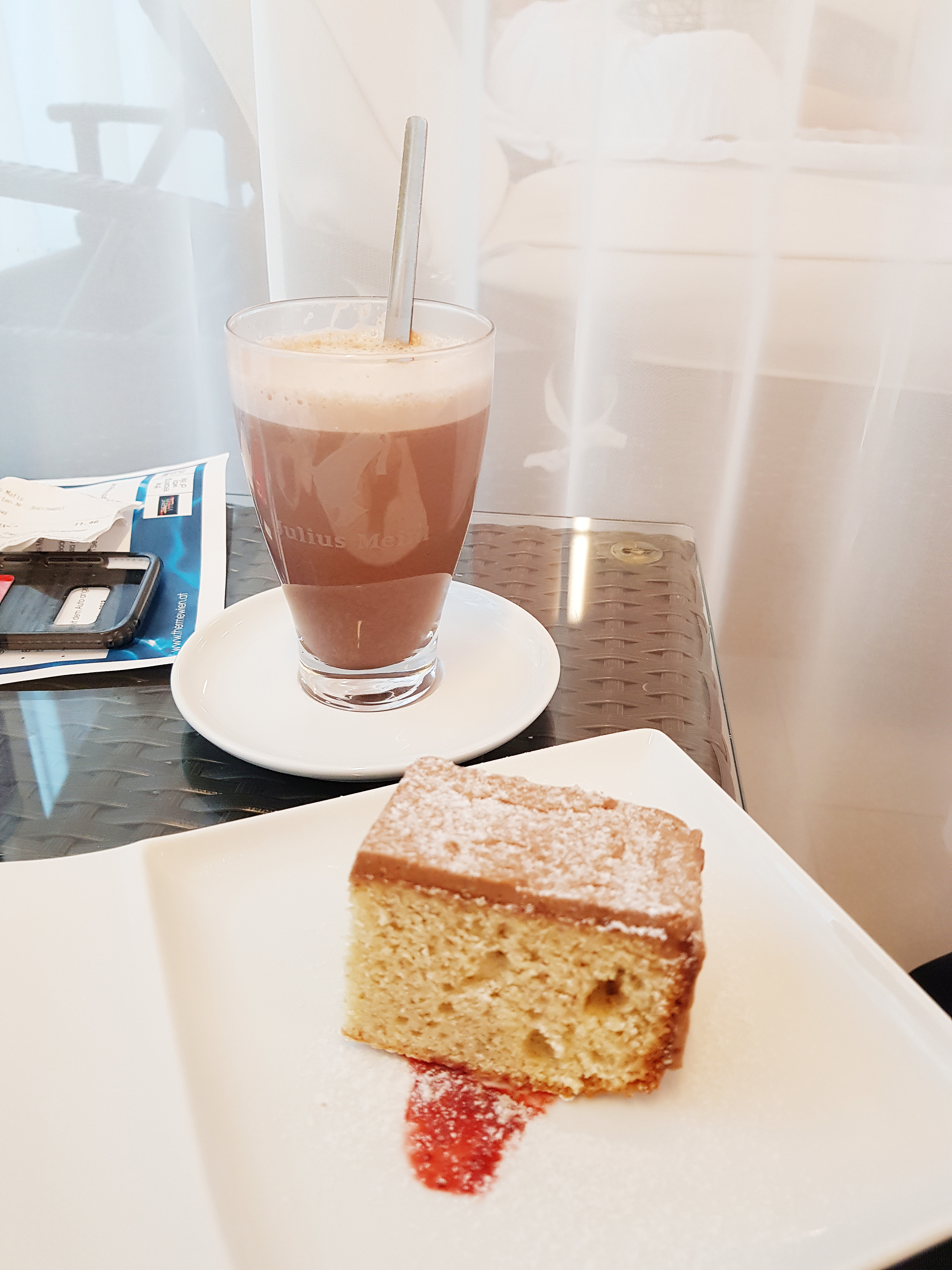 Generally, I balanced my day doing swimming, lounging in the steam room, and reading upstairs. I liked how I could decide what I wanted to do at the time I wanted to do them. Plus, I felt no pressure in having to do something or be somewhere. Additionally it was great how no one bothered me, and just let me be in the VIP lounge. It was Adults Only (no kids allowed), so everyone kept to themselves. You could literally just sit and read all day if you wanted to – it was awesome.
Overall, I was very impressed with the experience at 'Relax! One Day Holiday' at Therme Wien. Not only was it incredibly convenient to travel there, but I loved how everything was prepared for me when I got there (i.e., check-in, changing room, lounge chair). Everything was very efficient, and the staff was friendly and courteous. I especially enjoyed the VIP lounge area where I could relax and do nothing all day.
It felt like I wasn't in the city, so it was a pleasant getaway experience for me. I definitely will be coming back, and making 'Relax! One Day Holiday' at Therme Wien my mission to return consecutively and make it a part of my self-care practice.