Here's something funny: During my first year of living in Vienna, my mom asks me one day over Skype did you do your (US) taxes yet?'' Whattttt. No. Am I suppose to? #enterpanicmode. Yup – it turns out I had NO idea I had to report my US taxes while living in Vienna Austria, even if I was working in an Austrian school. I was in a state of ''ignorance is bliss'' living abroad – thinking just because I'm in Europe I don't have to do anything with US taxes anymore.
Boy was I wrong. It turns out if I make a certain amount of money abroad (reaching a filing threshold) – even if it's not US-sourced – I must file to the IRS every year.
I mean, I didn't learn much about taxes in school – nor received a manual that explained everything on what to do if I'm a U.S. citizen living abroad.
Even though it does technically say in US passports we must file our worldwide income every year living and/or working abroad – such info can be easily looked over or forgotten if you're caught up in expat life.
---
What I Found Out on Filing Taxes Abroad
I found out that U.S. citizens living abroad get an automatic extension to file their taxes by June 15th. I mean, it does give us some air to breathe, and saved my @$$ a couple of times when I missed the April 15th deadline.
"When it comes to taxes, there are two types of people. There are those that get it done early, also known as psychopaths, and then the rest of us." – Jimmy Kimmel
However, I found out that expats can extend their filing date even longer – to October 15th if they wish. They just need to submit the extension form by June in order to be approved by it.
Receive 20% off your tax package!  Click here and your discount will be automatically applied.
Plus, I found out that penalties can happen if American expats do skip out on filing US taxes every year. Failing-to-file for many years can be seen as criminal behavior for the IRS, and can trigger penalties of paying 10k or more. It's just what we need when living abroad … added stress, right?
However, if you innocently have forgotten to report your taxes to the IRS, you can apply for the Streamlined Procedure. It's a pardon for expats to catch up on their forms without double-taxation or penalties.
---
An Expat Tax Solution for Americans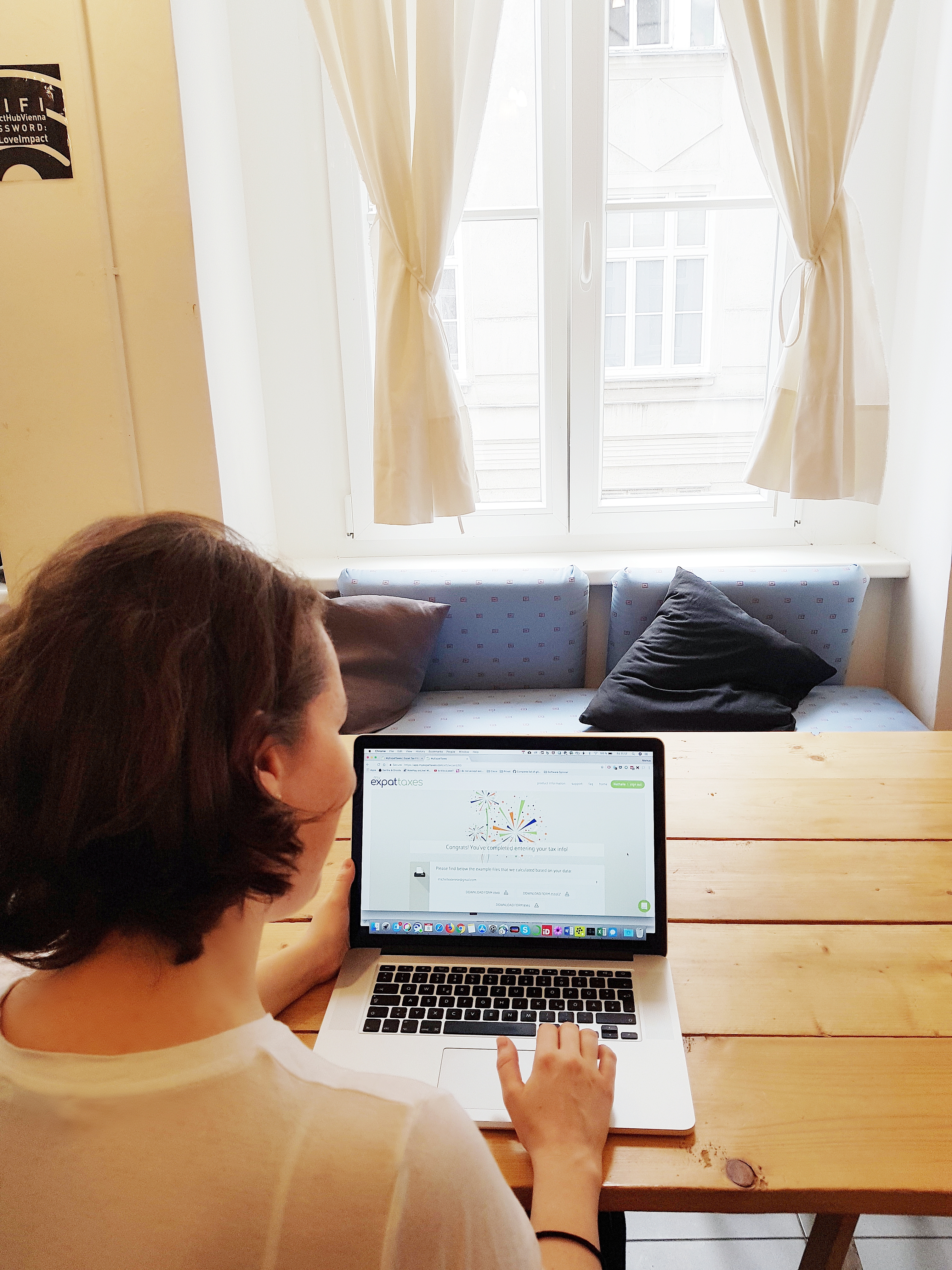 One thing I love about living in Vienna, Austria is the network of international people who are here.
I remember meeting Nathalie Goldstein a couple of years ago at a Christmas party. A driven young beauty from Silicon Valley, Nathalie shared about something she was building with engineers Markus Finster and Joachim Niederreiter. They essentially were going to revolutionize US taxes for the 9 million Americans abroad. To me that sounded like quite a feat for a small team.
And what to do you know, the next year MyExpatTaxes was born – an innovative product from their startup company, Software Spinner – that changed a stressful, money-sucking expat tax obligation into something simple and affordable.
This is an expat tax solution I found to be smoother than I thought. From my tax profile, I qualified for their software. I simply plugged in my information and numbers into their software and voilà. Their software pumped out everything I needed to send to the IRS. Plus, it took me under 30 minutes to file my taxes.
Background info on MyExpatTaxes: Their system is backed up by a wealth of research and labor from expat tax expertise. Nathalie herself is an enrolled agent – a title and certification that the IRS awards professional tax consultants – that prove their knowledge in individual and business U.S. tax laws. It's the only certification in the world that is 100% devoted to the U.S. tax code. This means she has unlimited representative rights in front of the IRS. As acting CEO, she frequently updates herself on international and US tax laws to make sure her product is aligned to current tax standards.
So, if you are interested in learning more about the MyExpatTaxes startup business founded in Vienna, you can read more of their story here. Otherwise, you're free to Like, Follow, and read reviews on their product through their Facebook page.
---
MyExpatTaxes Voucher ♥
Receive 20% off your tax package! 
Click here and your discount will be automatically applied.
---
**This post is sponsored by MyExpatTaxes.com**