Fasching is a pre-lent season celebrated in Germany and Austria that starts in November and ends the day before the Catholic event of Lent — so it's basically Carnival, or Mardi Gras extended for a good 3 months. Then the day before Lent (Fasching's Dienstag), it's typical for people (especially children) to dress up as if it's Halloween and eat Krapfen, the delicious symbol of the season.
A Krapfen is basically a fried stuffed donut, filled with marmelade, chocolate or vanilla, and sprinkled with powdered sugar. It's found in all of Vienna's bakeries because — well, it's a big deal.
According to research done by Vienna's English magazine Metropole:
The recipe for Krapfen was published in a 1485 German cookbook that was printed on the Gutenberg press. Though these delicious sugary treats have been around for a while, they only achieved widespread popularity in Vienna during the 19th century, when the cost of sugar became significantly less expensive. 

Today's Krapfen resemble the old recipe but modern Vienna has created a set of standards that must be met to be deemed worthy of the name. They must contain apricot jam – in fact at least 15% of the doughnut must be filling. And bakers must use six fresh egg yolks for every kilogram of flour used. The penalty for not adhering to the regulations: a visit and a fine from the MA 59 Inspectorate. This group of magistrates is responsible for ensuring the quality of food and food safety standards in the city, and this means the Krapfen as well.
Because I love food, I took on the challenge (with pleasure) to taste test the top 5 Krapfen in Vienna according to first and second place results by Falstaff, Metropole and the facebook group Women of Vienna.
On Saturday morning I left the apartment at 9 to get to all the stores when the Krapfen were freshly made. When I got home my husband made us coffee and eagerly joined in on the test.
We rated the following by Dough, Filling (Apricot Marmelade), Price and Overall Taste.
Keep this in mind: Each rating is subjective and according to each person; everyone has their own preference, so the results and observations of the Krapfen are from me personally, and can simply be used as a reference, but not as an absolute! Besides, it's more fun for you to taste test and decide for yourself 🙂
---
Felber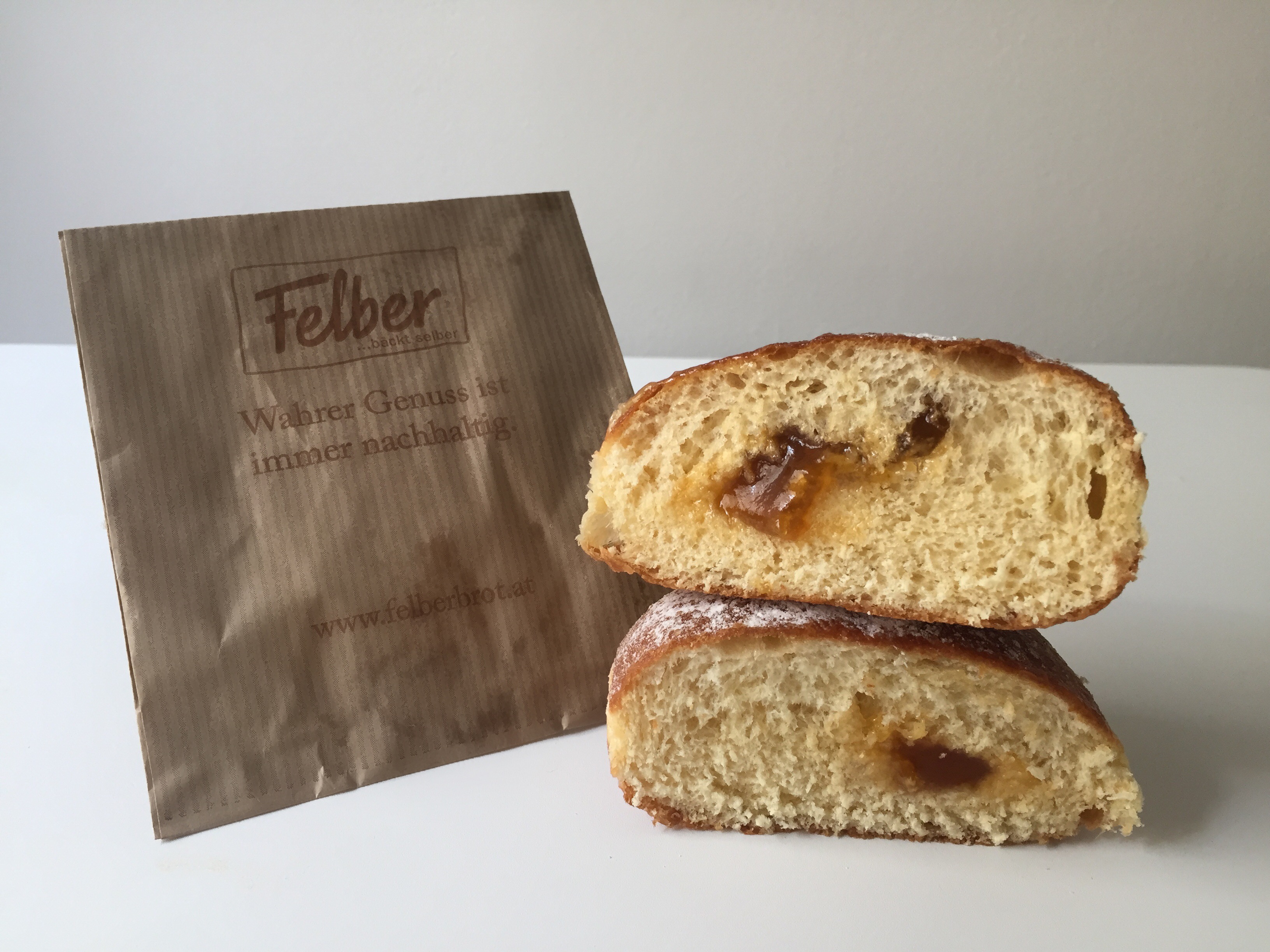 The dough was thick/plump, but a bit dry. The marmelade was perfect – nice and sweet for my taste! The price was adequate (€1.10) and overall I really liked this one.
Hofer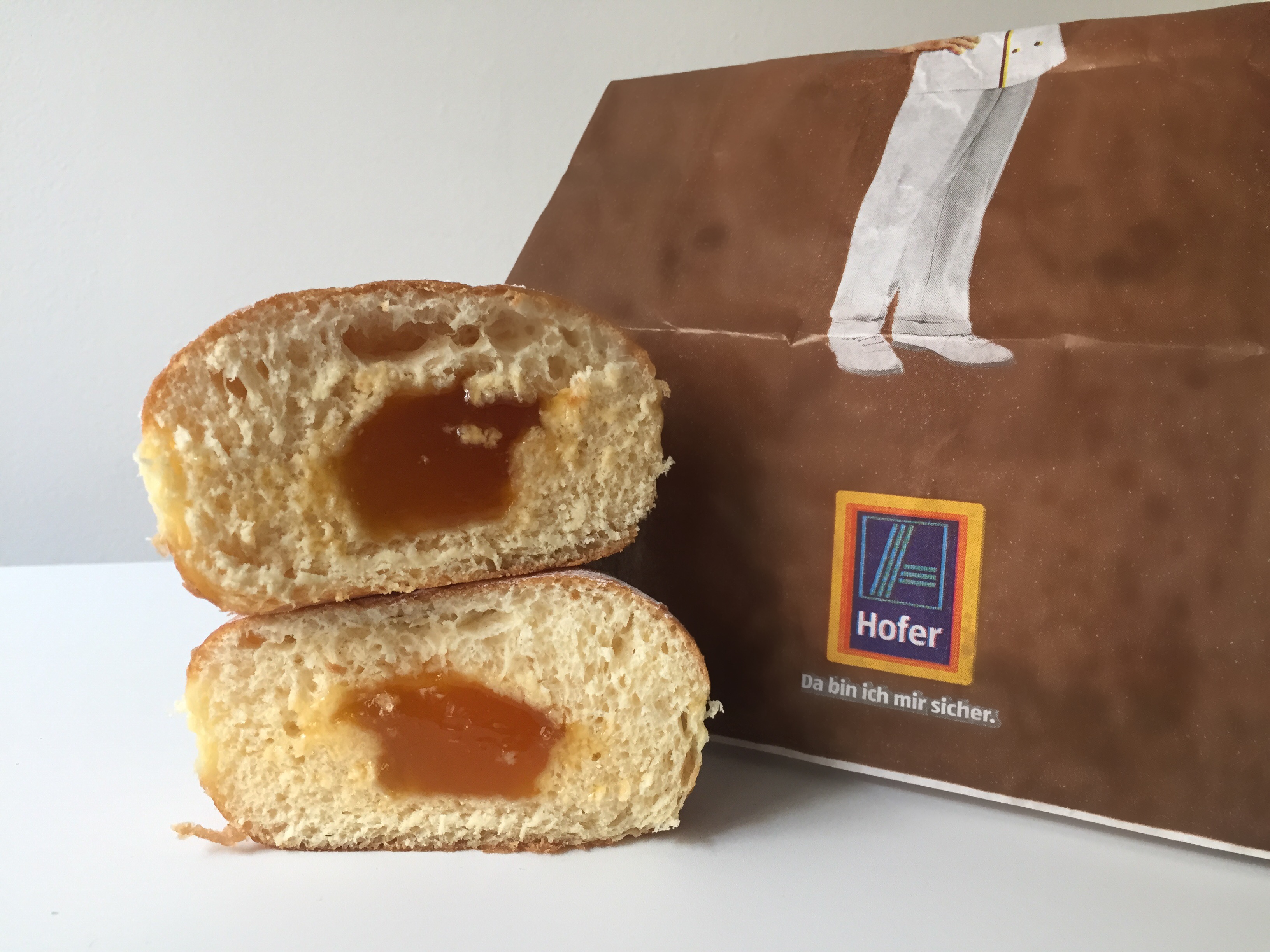 This was probably the biggest Krapfen of them all! The dough was "good" but not fresh. There was LOTS of sweet filling, and the price was excellent (55 cent each!). Overall this is a good purchase if you want a nice tasting Krapfen at a low price.
Oberlaa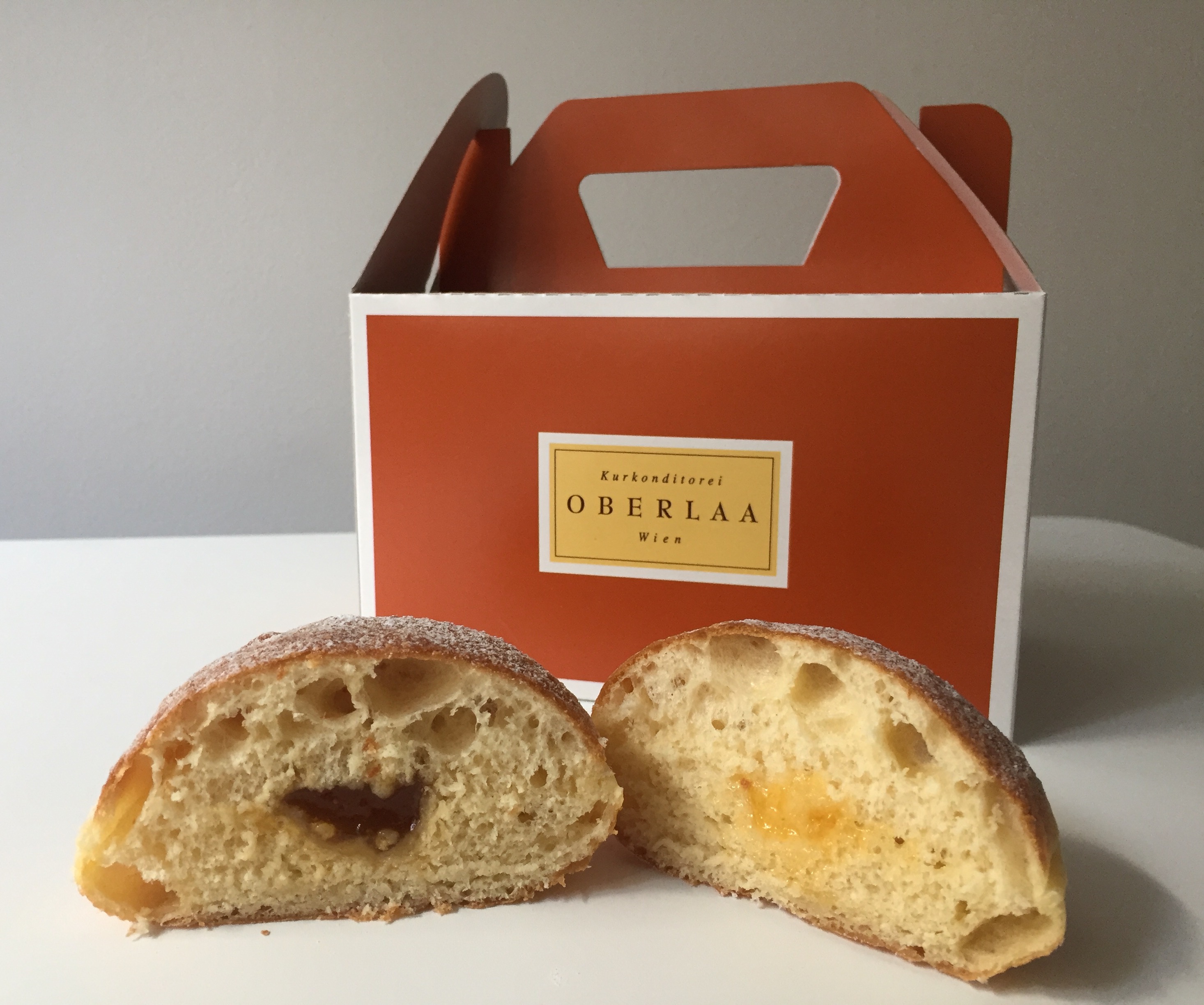 This was a dissapointment. While the dough was soft and fresh, the filling was — according to my husband a "catastrophe." The price was a bit high (€1.90) and overall for me – not worth the buy.
Demel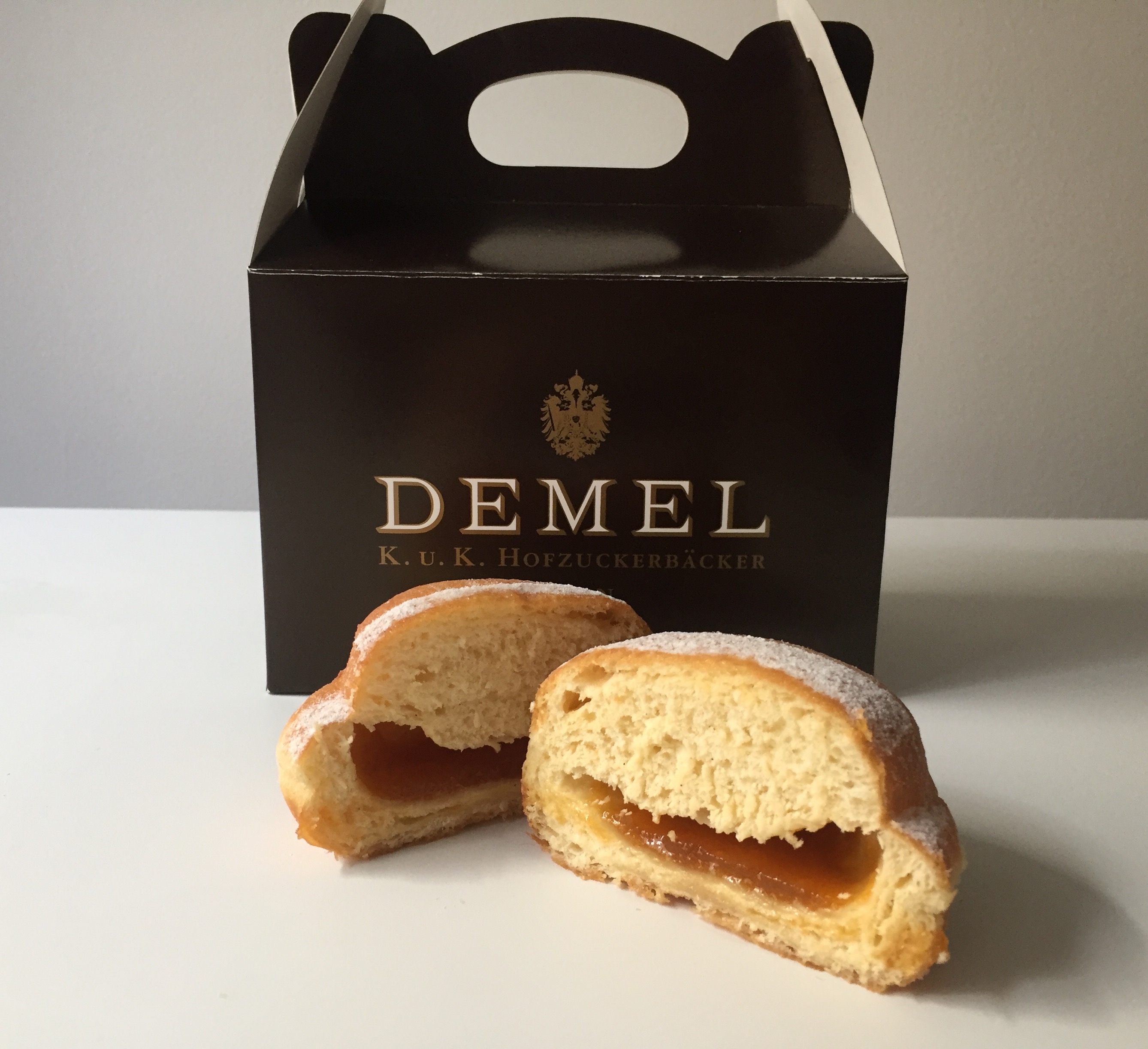 The dough was spongey and fresh, and on the inside was a light layer of sweet filling. Despite the high cost (€2.20), my husband and I couldn't get enough of this one. To us, it was excellent.
Groissböck: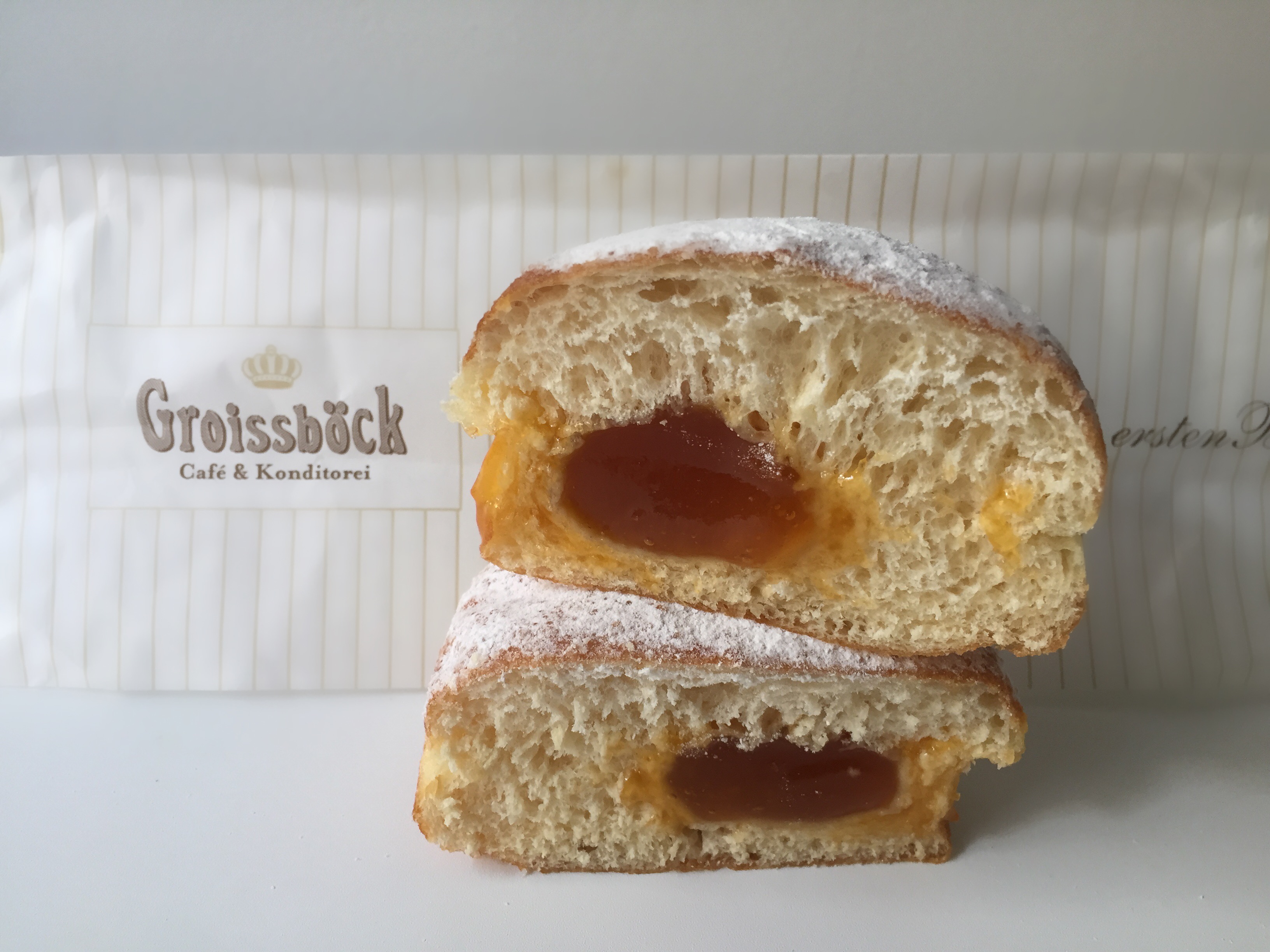 Americans may be familiar with fried dough found at festivals – well, Groissböck's Krapfen really tastes JUST like that — the dough has a special depth of flavor and fluff unlike the other Krapfens I tried, yet the filling has a slight hint of alcohol to it (which to me, I'm not a fan of). However, I read that this alcohol hint is actually typical Viennese filling for the Krapfen. The price is reasonable (€1.30), and overall I was impressed – so impressed I went back the next day and ordered a vanilla Krapfen (which was fantastic and thick with vanilla creme…).
The Winner…
It was a struggle between Demel and Groissböck — they both provide high quality Krapfen that is good in fluffy texture and flavor.
But overall I choose Groissböck for the dough, overall quality and reasonable price!