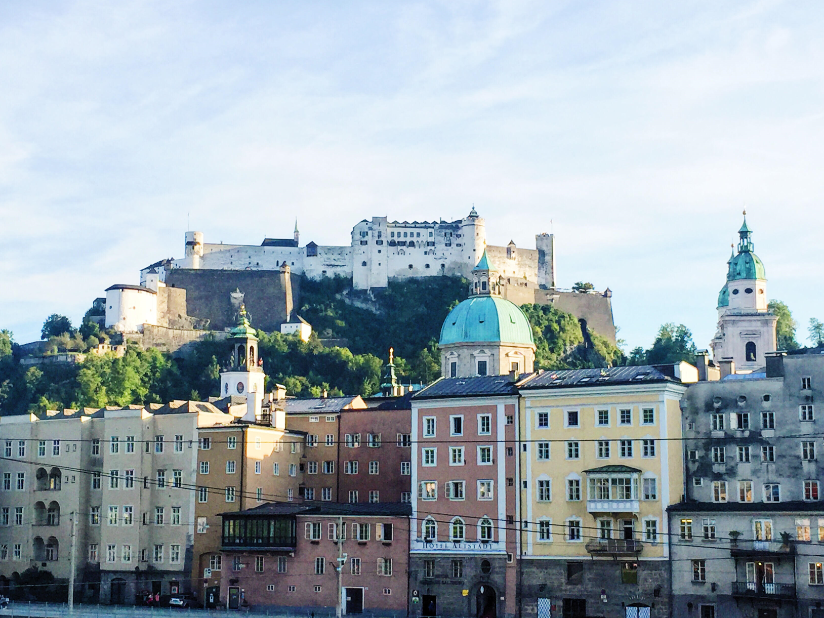 Ah, Salzburg. I had the opportunity to spend my 28th birthday weekend in this picturesque UNESCO World Heritage Site city. Translated as "Salt Castle," Salzburg is bordered by Germany and the Eastern Alps. Some people may connect Salzburg to where Mozart was born, while others know of "this old city'' from The Sound of Music movie.
Together with my friend Undine (who also happened to live in Salzburg), we created this getaway guide for you to have a fabulous weekend stay in Salzburg.
---
Where to Stay:
In terms of where to stay in Salzburg, that depends on you.
If you are on a budget, Yoho Hostel is the our number one recommendation in terms of low rates and awesome benefits – like getting discounts on tours and being able to watch The Sound of Music every night in their comfortable lounge.
For those wanting their own apartment, AirBnB is always a good idea. For a hotel room, we used this Booking.com link to search for one. My husband and I snagged a hotel room at Mecure Salzburg Central, and enjoyed the stay in our clean, modern and comfortable room.
Recommended Places to Eat:
220 Grad – Rated as one of the best breakfast spots in Salzburg, and known for their exceptional coffee, a reservation is a must to get a table at this popular restaurant. A yummy scrambled egg dish with a Brazilian espresso or Indonesian latte may just make your day. 
Afro Cafe – This is a stylish and alternative cafe that happens to be affiliated with Red Bull. Decorated in African decorations and designs, Afro Cafe has amazing breakfasts. The "Breakfast for Two" includes yogurt with fruit, croissants, couscous with figs, and a cheese platter that is quite delicious. Plus, their rooibos Mombassa tea made with lemongrass, elderberries and herbs is (according to Undine) ''to die for.'' Watch out: A reservation is a must to get a table at this popular place!
Cafe Tomaselli – founded in 1700, this is the oldest cafe in Austria. Nestled in the old city, one can relax, have a drink and indulge in one of their traditional cakes. While there are mixed reviews on the service, Tomaselli is still a popular place. If you're lucky enough to get a seat, try not to drool over a tray full of sweet treats that the servers bring around to you. Hello apple strudel!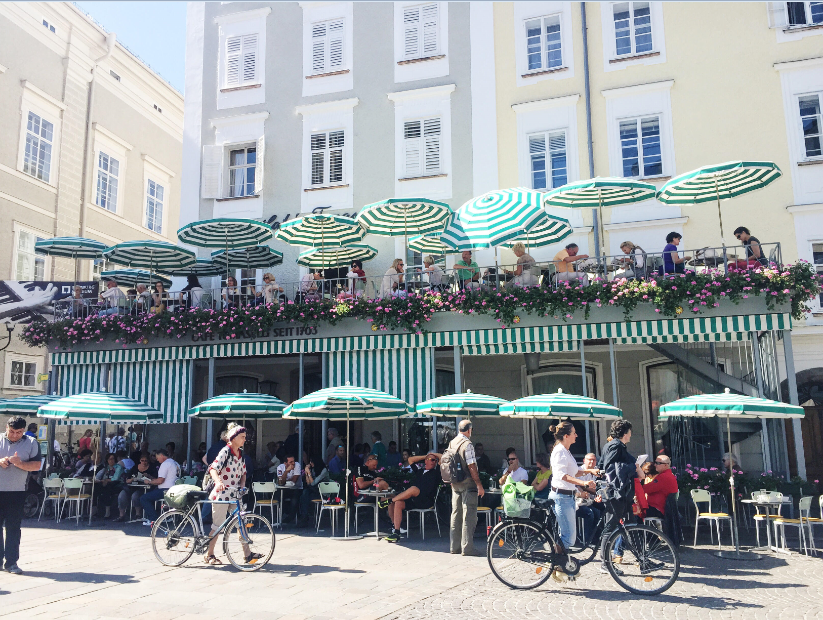 St. Peter Stiftskeller – Famous for being the oldest restaurant in Europe (since year 803!), experience high-quality Austrian and international cuisine in an elegant atmosphere. Suckling pig, prime cut beef, and the traditional Wiener Schnitzel are highly recommended. Then, if you can fit dessert in, the Salzburger Nockerl shared with company is a must: A large golden souffle that will certainly please your sweet tooth.
Steinterasse – This is a fancy cafe that sits on top of a fancy hotel right in the middle of the city. The view is like a postcard of Salzburg and it is especially nice to be there when it's warm outside. While meals are pricey, only ordering a drink is perfectly ok . The servers are super friendly, but keep in mind the opening times may be tricky and change constantly, so try for a table reservation to know what time to come in.
Must – Sees:
Mirabell Palace and Gardens- Built in the early 1600's, take a stroll around the lavish palace and geometrically arranged gardens. Pass by Mozart impersonators posing for a picture, and Greek mythology-themed statues. Move among fellow tourists, admiring the royal area. Around Christmastime, their charming small Christmas market in front of the palace will certainly warm your heart.
Getreidegasse – Known as Salzburg's most popular shopping street, walk with the locals down the narrow alleyway, window shopping and buying souvenirs for loved ones. Get lost in one of the city's romantic courtyards or try on traditional Austrian wear (like a Dirndl dress or Lederhosen) just for the fun of it.
Mozart's Birth Home – Also on Getreidegasse, the birth home of the honored musician and composer cannot be missed;. Mozart was born in 1756 and the distinct yellow building with the Austrian flag usually has a large crowd of people standing before it, taking snapshots and looking up at the 5-story building. Tours inside to see Mozart's belongings are available for those interested.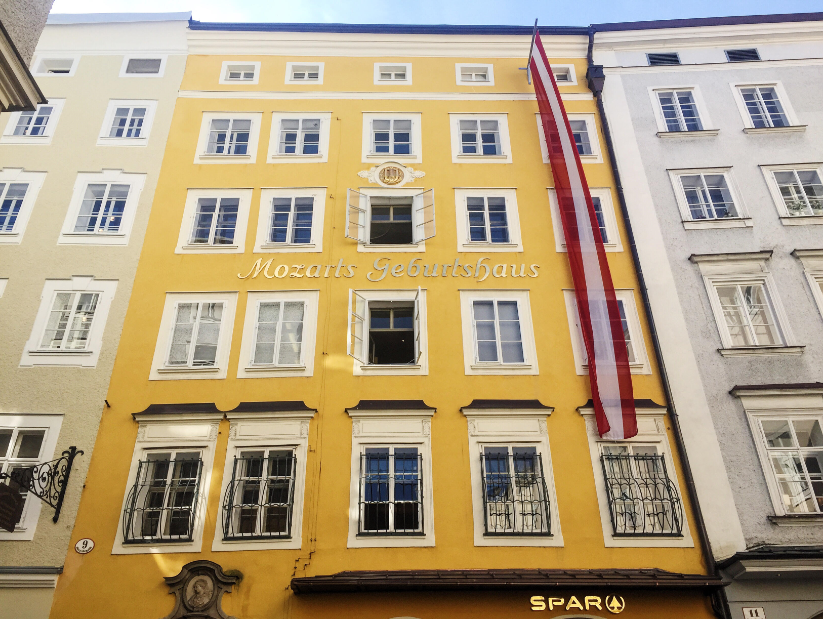 Mozart Square – Walk through the heart of Salzburg's old town and take photos of the memorial statue of Mozart. Mozart's two sons were present at the 1842 opening of this memorial. A piece of history: 1842 was a difficult time for Salzburg, their government was secularized only two decades earlier, and they were still suffering from the devastation of the Napoleonic wars.
Residence Square – This square holds one of the most important historic buildings of Salzburg – The Residenz Palace. For centuries, the Archbishops of Salzburg resided here and now it is an impressive museum featuring paintings from the sixteenth to the nineteenth centuries. In the middle of the square is a magnificent fountain considered to be one of the most significant baroque monuments in Europe.
The Domplatz (Cathedral Square) – Founded by Saint Rupert in 774 on the remnants of a Roman town, this cathedral was completely rebuilt in the seventeenth century to what it looks like today. A popular and attractive spot, Salzburg's charming Christmas market is here, filled with stalls selling delicious punch, sausage, and cream-filled donuts.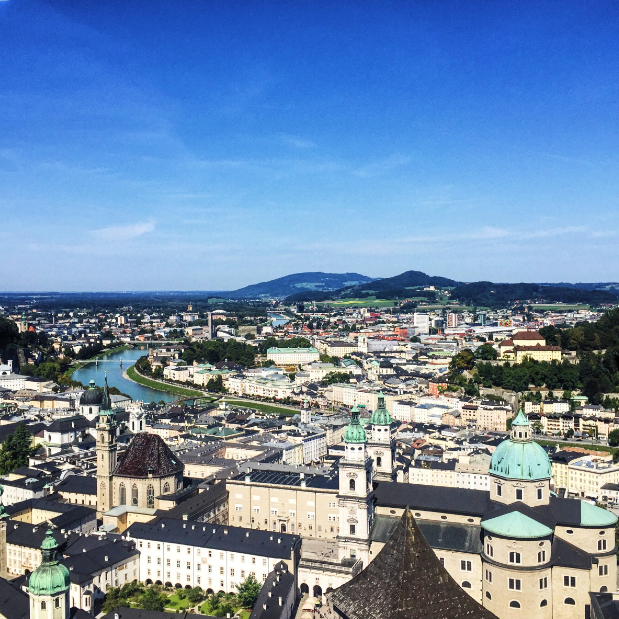 St. Peter's Monastery & Cemetery – This Benedictine monastery was founded in 696 and is considered to be the oldest monastery north of the Alps and in the German-speaking world. Petersfriedhof (Peter's cemetery) has some of the oldest preserved graves from 1288 and 1300, and a walk through this fascinating area is a must. For a small fee, one can tour the caves in the cemetery, which were meeting points for the pagans (before Christianity came to Salzburg.)
Hohensalzburg Fortress (Salzburg Castle) – sitting prominently on the hill, the Salzburg castle is one of the largest medieval castles in Europe. You have the option of hiking or taking the cable railway up to the top to walk along the fortress's various wings, chambers and courtyard. Views of the city below, as well as the incredible Alps, will take your breath away.
Hellbrunn Palace – Settled in the southern district of Salzburg, this palace was once used as a the Archbishop's summer day residence. But, what this attraction is most known for are the it's Trick Fountains. Featured during the summer months, these water fountains (created by a man with a keen sense of humor), showcase water spurting out of stone seats, a dining table and in other hidden areas around the palace. You'll be in for quite the treat visiting this place!
St. Sebastian's Cemetery – Located on Linzergasse, it this cemetery is very similar to St. Peter's; however, here one can find the grave of Mozart's father, mother and sister, and as well as his mother's family. Also present is a monument dedicated to the people who died in the 17th century when a part of the Monchsberg mountain suddenly fell on and crushed their village.
Additional Info: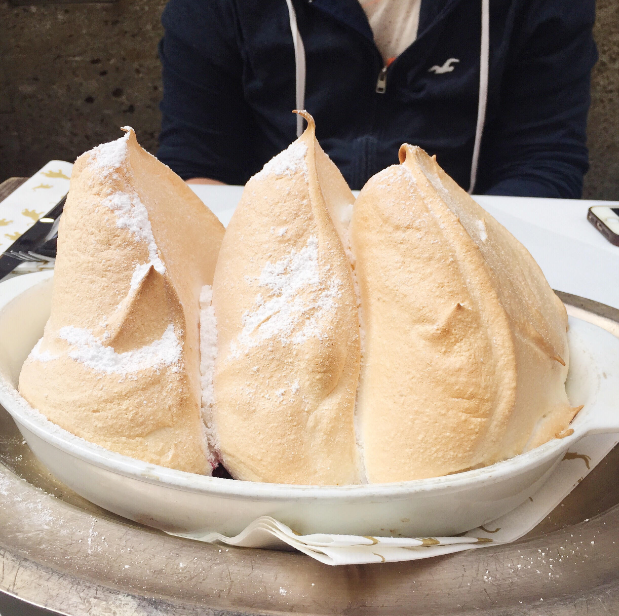 Of course any time of the year is fine to visit Salzburg, but a fun time to go is during the Christmas season. At that time, the Christmas markets are open and the Krampus parade is on–a big deal in the Alpine region where people dress up as the devil and smack people on the head (no joke! Google it).
Salzburg Tourist Center & Info
Don't want to walk around? Salzburg City offers special tours: Sightseeing Bus Tour, Sound of Music Tour, Bike Tours, Walking Tours, Dinner & Mozart Concert Tour, Segway Tours and More!
Have Fun!
---
**This post contains affiliate links. If you purchase something through one of the links, you won't pay a penny more, but I'll get a small commission that helps keep this site running. Thanks!**