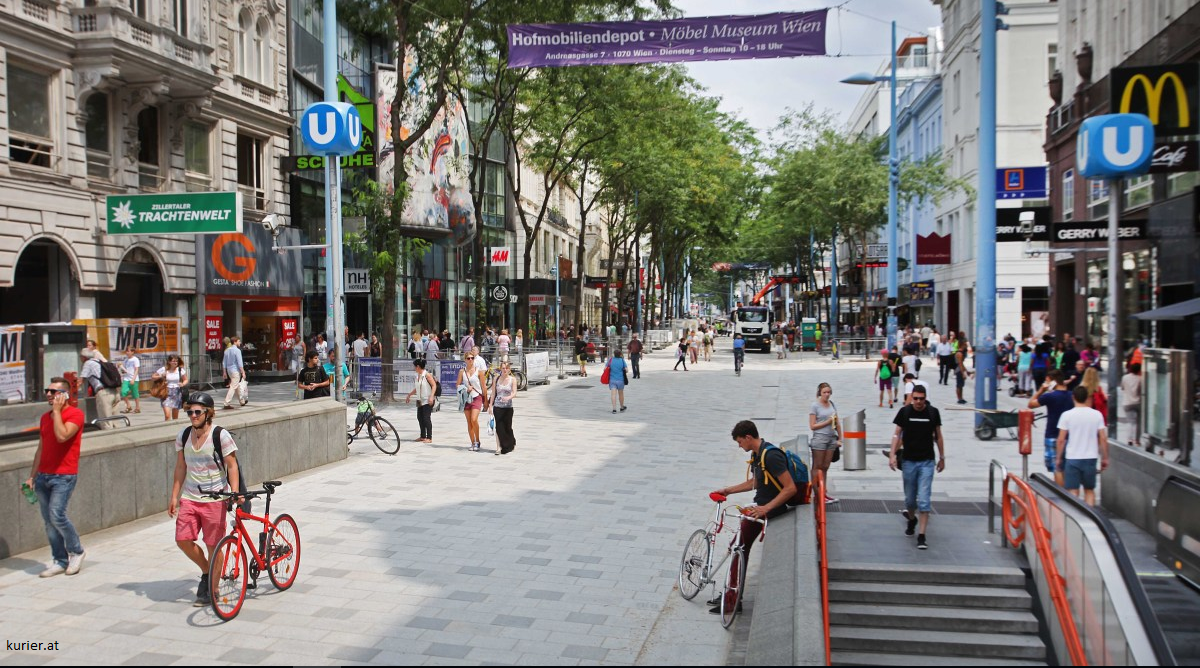 Mariahilferstrasse (Mariahilferstraße) is Vienna's longest and most popular shopping street. It has a special place in my heart because this is the street I am most familiar with and have many memories of: This mile-long lane was where I walked and explored the most during my first year of Vienna, when my husband was at work, and I was unemployed and wanted do something with my time.
Some memories I have when being on this street are: Eating gelato with my family for the first time, getting my nails done at a salon the day before my wedding, the grand opening of American Dunkin Donuts, writing and publishing my first blog post about a cafe on this street, taking a late night summer walk with my husband… the list can go on. I have done, seen, explored, and eaten so much on this street, and so it's about time I write about it on my blog!
Mariahilferstrasse is the number one street where I get my clothes and shoes. They have basically every store providing every material item you need – clothes, home goods, shoes, furniture, sports products, home decor, vegan products you name it. This street also has several pharmacies (Apotheke) and tobacco shops (Tabak), Banks, Post office, a technical museum, Mall/General Center, and an English movie theater I frequent.  Not to mention — several great restaurants and cafes, and the ever-so-favored gelato shops are there.  During the Christmas season the lane is beautifully decorated with lights that ensures an attractive walk.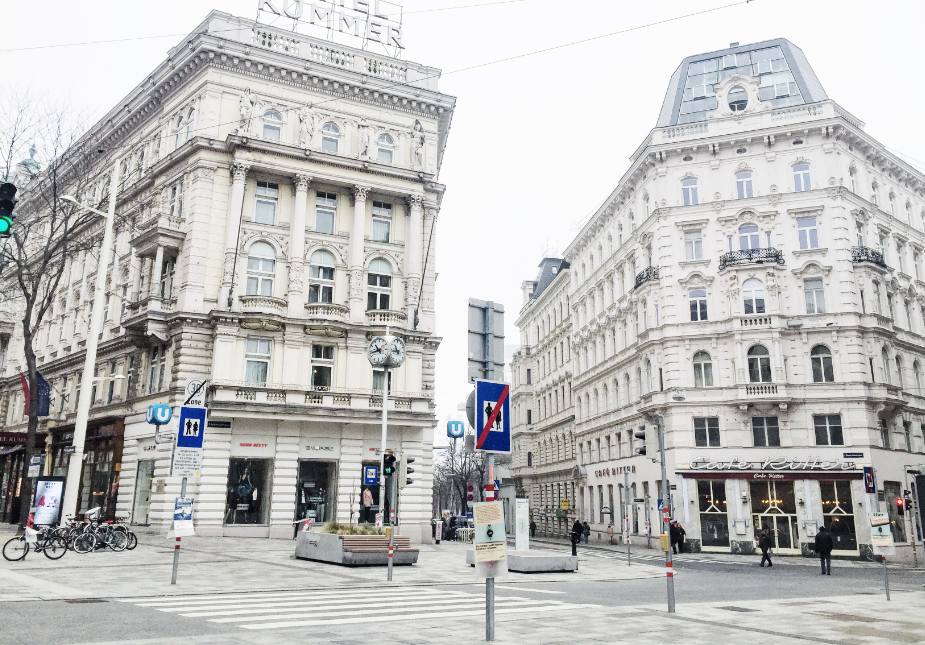 One of my favorite stores on Mariahilferstrasse is the five-story tall Peek and Cloppenburg: P&C is a German-owned international brand and store operated by various independent companies, and to me, it's similar to Macy's from the United States. Peek and Cloppenburg is a retail chain store providing high-quality clothes and products from a selection of designer brands. This company strives to provide their customers goods only produced under humane conditions, with attention to environmental protection, and has a strict product safety requirement to make sure their clothes and products are safe for customers to wear.
Whether you are looking for business attire, a formal dress, or clothes for a casual comfortable look — P&C has it. My husband, who is not a shopper, and has to force himself to buy clothes twice a year, always makes a stop to P&C because he likes buying from certain brands like Reward and SuperDry. For me, I shop here when I want to buy a special dress or a nice blouse, and because they have such a large selection of these items, I have confidence I am going to find something I like. I also find it really cool how P&C includes vegan brands like Matt & Nat and Ragwear into their selection, emphasizing their support for the environment and different lifestyles.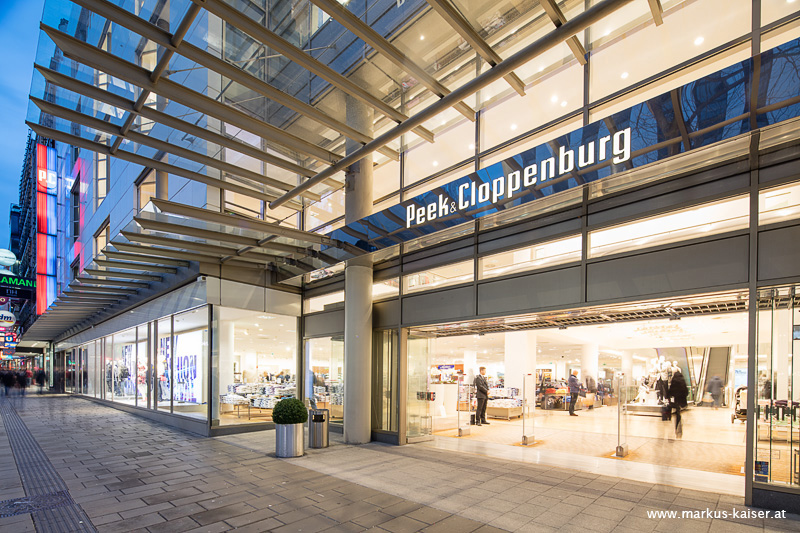 Occasionally Mariahilferstrasse has street parades, or events that are held on the grounds, but usually you will see the typical street performer and beggar hanging around. One end of the shopping street is the Museums Quartier (The MQ) while the other end of the street is Westbahhof Train Station (though the street does continue past the train station, where it eventually ends close to Schönbrunn Palace, the most popular lane is between Westbahnhof and MQ).
This shopping boulevard also has gives great access to the U3 metro/subway line which takes you easily into the inner district. This is also why I recommend hotels and apartments near Mariahilferstrasse because of the stores and easy access to the main sights in Vienna. The street use to allow cars on its lane, but only last year (2015) changed into a pedestrian-only boulevard with a few exceptions of taxis and certain vehicles.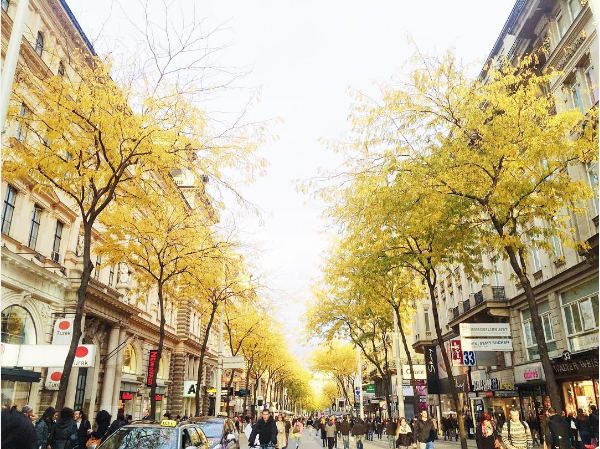 To those new or interested in exploring more of this street, I also suggest you wander off onto Mariahilferstrasse's side streets where there are local shops (Wald und Wiese Honey Shop), interesting cafes (Raw Food Bakery and Vegan Burger Swing Shack) and the famous Naschmarkt to check out.
Overall I can't say enough about this street — there is so much to do here — you can literally spend days just shopping, exploring and eating at different places. I encourage visitors new to Vienna to take a walk and do what interests you. The workers on this street speak English so have no fear if you think you need to know German!