Vienna, Austria is home to some of the most amazing features like Schoenbrunn Palace, the Ringstrasse, and the Vienna State Opera. But some of us (like me) tend to forget or miss out on little Vienna activities – like seeing the Third Man at Burg Kino.
To me, watching the movie was one of those quiet-but-famous attractions you most likely would find if you do extra research. It for sure is not as grand as the attractions I listed above, but seeing The Third Man at Burg Kino is one of those things you got to do when you're living in Vienna.
---
About Burg Kino: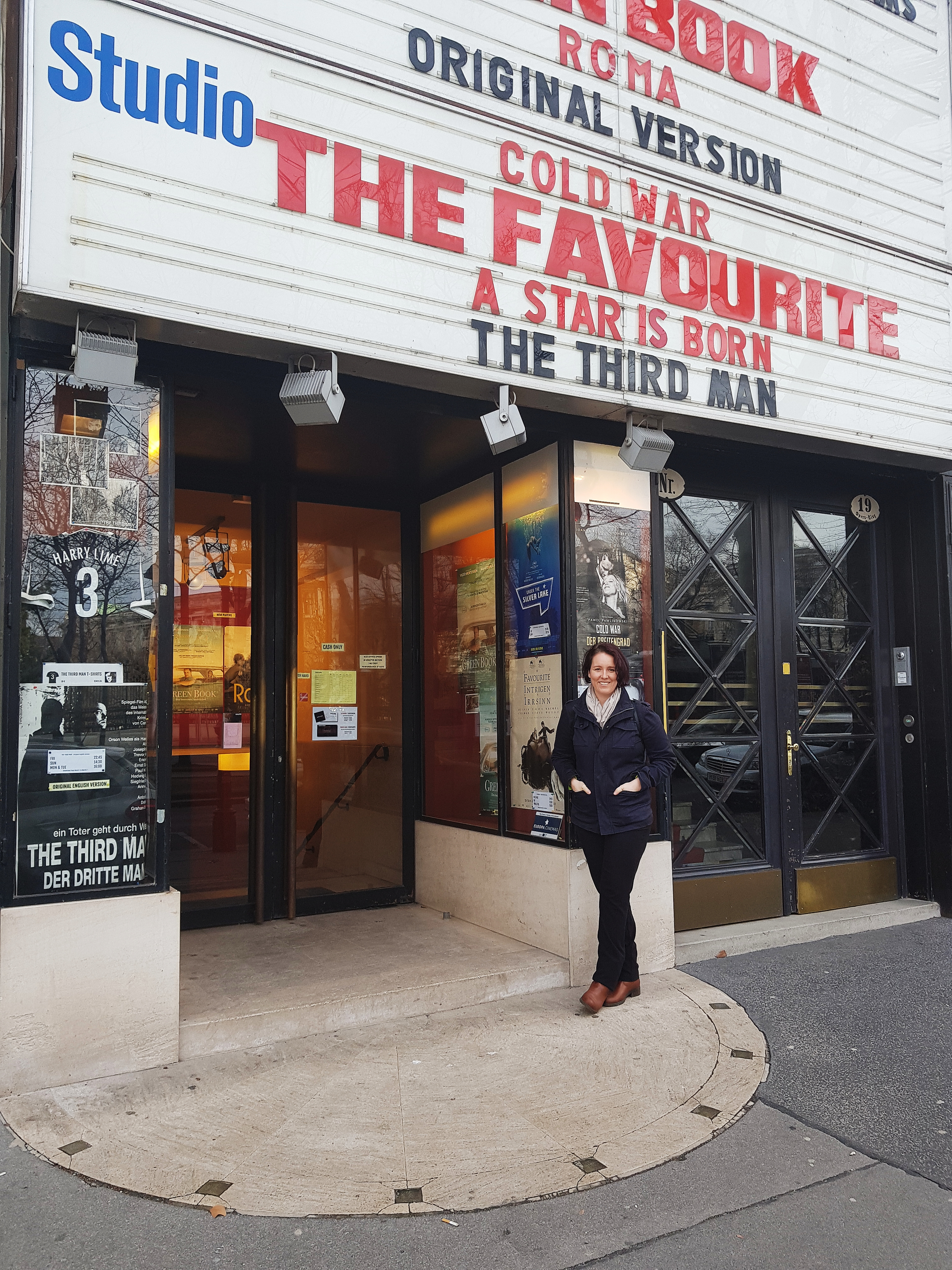 Known as the ''Vienna's oldest original version cinema presenting the latest, most interesting movies on the big screen,'' Burg Kino is known for showcasing ''The Third Man'' three times a week. For a price of €9 you can spend a rainy day or slow afternoon seeing a film at this movie theater. Keep in mind, Burg Kino is full of character – it's old school and takes cash only.
There is a bar/snack area on the ground floor, with friendly English-speaking staff and the access for you to get all fancy and order yourself a gin and tonic (if you so wish).  Aldin and I grabbed a big box of popcorn and waited for our movie in their lounge area.
Once the doors opened and we walked in, we noticed how the movie theater was quite large. The room had two levels, with a large screen. The seats, albeit old, were soft and relatively comfortable. It brought back memories of my former local movie theater in Connecticut.
---
About the Third Man:
Directed by Carol Reed, The Third Man is a British film set in post-World War II Vienna. It's about an American man Holly Martins going to Vienna to take on a job given by his friend Harry Lime. However, once he arrives in Vienna, he is informed his friend is dead, and the entire film becomes a mystery case. The locals are not giving Holly all the answers, and Harry's death becomes suspicious; the more it becomes investigated.
It was quite astounding to see Vienna post-war. The film, shot in black-and-white did nothing to make the city look as pretty as it is today. Within the film, I could see mountains of rubble and dirt and a damaged Stephansdom. It was shocking and strange to see the destruction at first. The city recently voted 'The Best Quality of Life' 10 times in a row, use to be in such distress…
Interestingly enough, the Viennese actors, who I assume were locals, made my husband laugh. The old woman who was bickering and complaining reminded him of something; of the elderly ladies he encounters in his day. The main actors – Orsen Welles, Joseph Cotten, and Alida Valli were fantastic. They were so intense in capturing the emotions of grief, confusion, and determination to get the answers they need.
Additionally, there is a Third Man Museum and a Walking Tour where you can visit the underground sewers that played an essential part in the movie.
---
Overall – My Personal Take
Overall, I recommend seeing The Third Man for the following reasons:
As an experience to check off your Vienna bucket list

Have an interest seeing post-WWII Vienna in film

Like classical movies

Into suave English men in suits and hats

Want to kill time and do something in Vienna
Have you seen The Third Man? I'd be happy to hear your thoughts in the comments below!