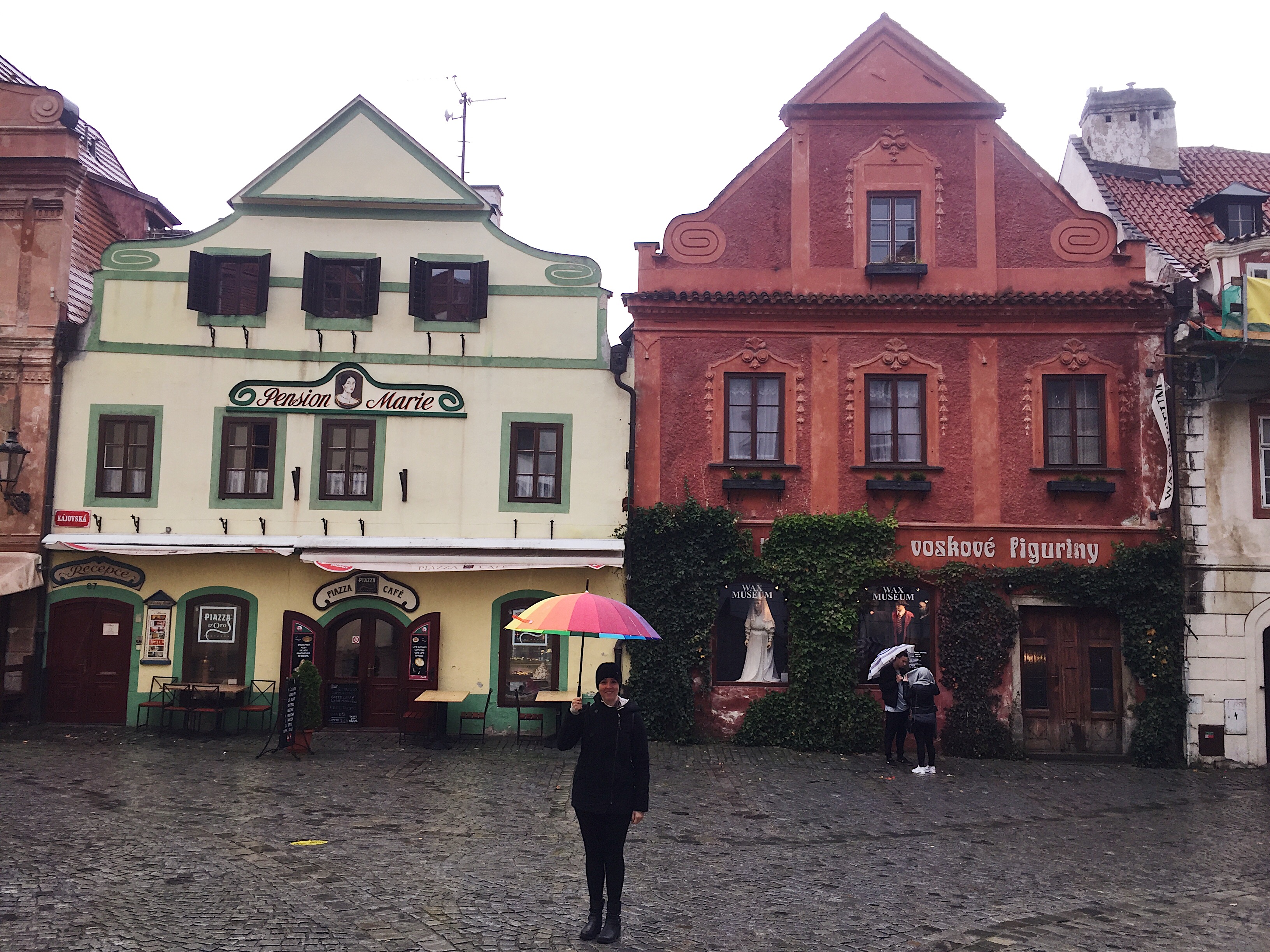 Cesky Krumlov is a small medieval town situated in the south of the Czech Republic, built in the 13th century. It's a UNESCO World Heritage Site (which means it holds big cultural significance in this world) with a meandering river that curves along the town, and its architecture has remained intact for centuries.
My husband I visited this town in rainy October, 2017. We came to Cesky Krumlov because we'd heard positive reviews of this place – both through friends and other travel bloggers. Considering it's fairly close to Vienna and a good weekend getaway trip, we decided to pack our bags and explore this Bohemian spot.
It's been a couple of months since our visit, and let me tell you: To me, Cesky Krumlov is Pinnochio's Town – it has whimsical shops, thick cobblestone streets, and colorful buildings. There's something about it that makes me go soft when I think of my time here, and now I know why travel bloggers say it's easy to fall in love with this city (and why the tourist board names it Cesky KrumLOVE).
The following information (coming from hours of research and personal experience exploring the city), is what I believe to be the best and most friendly recommendations for you. Enjoy! 🙂
---
How to Get There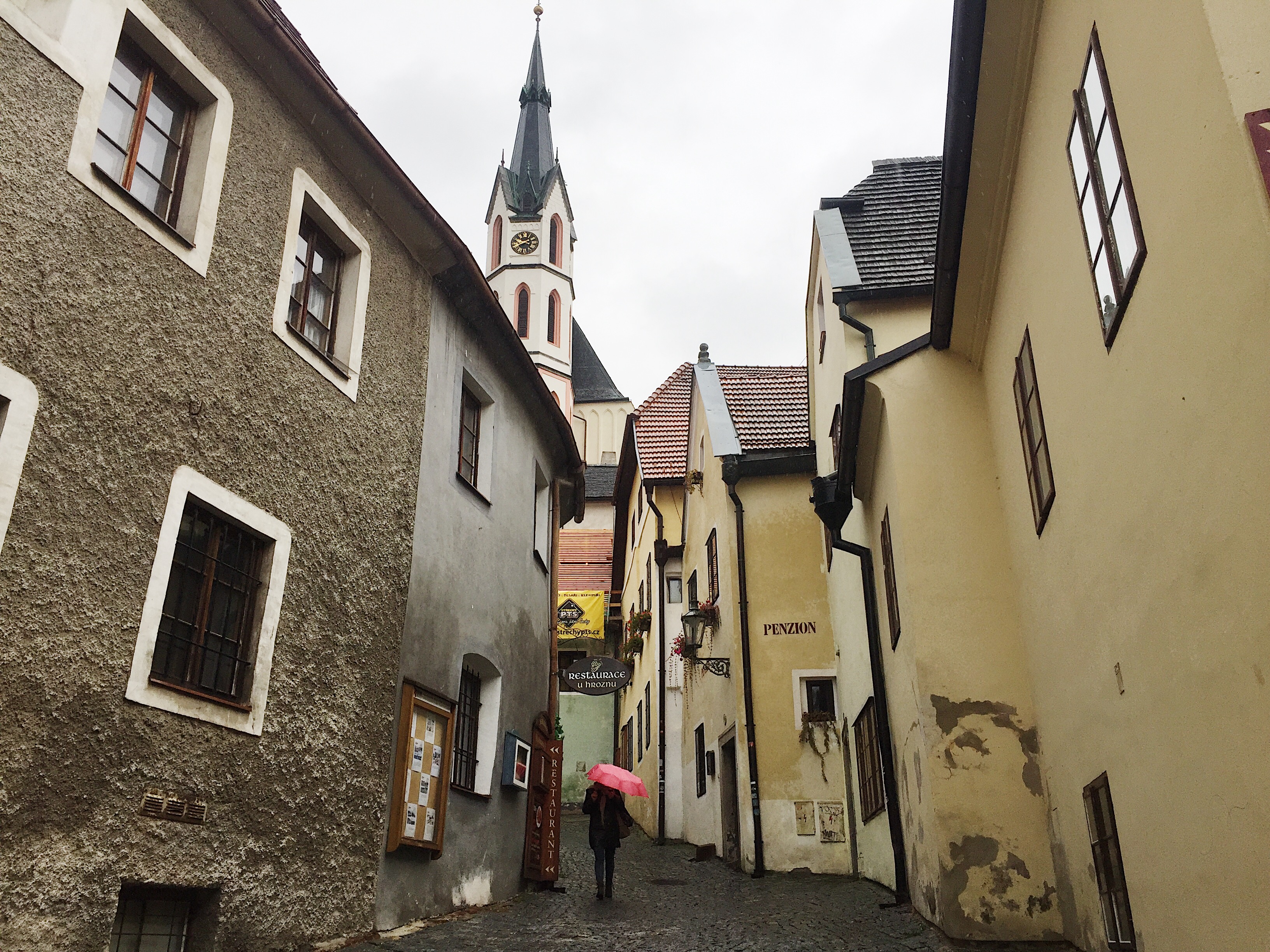 Having a car and driving there is the best option, but if you can only use other forms of transportation there are a couple ways to get to Cesky Krumlov:
Taking a shuttle van through the CK Shuttle company (this is what we took).  We made sure to reserve our seats a couple of weeks in advance, and found this company to be friendly, affordable and safe to use.  I'm actually planning to use them again in the Springtime to visit Hallstaat (CK Shuttle also goes to other destinations like Prague and Salzburg).
You can also take the train from Wien Westbahnhof to Linz, and then take a bus into Cesky.
Using either the shuttle van or train + bus will get you to Cesky Krumlov in about 3.5 hours.
---
Where to Stay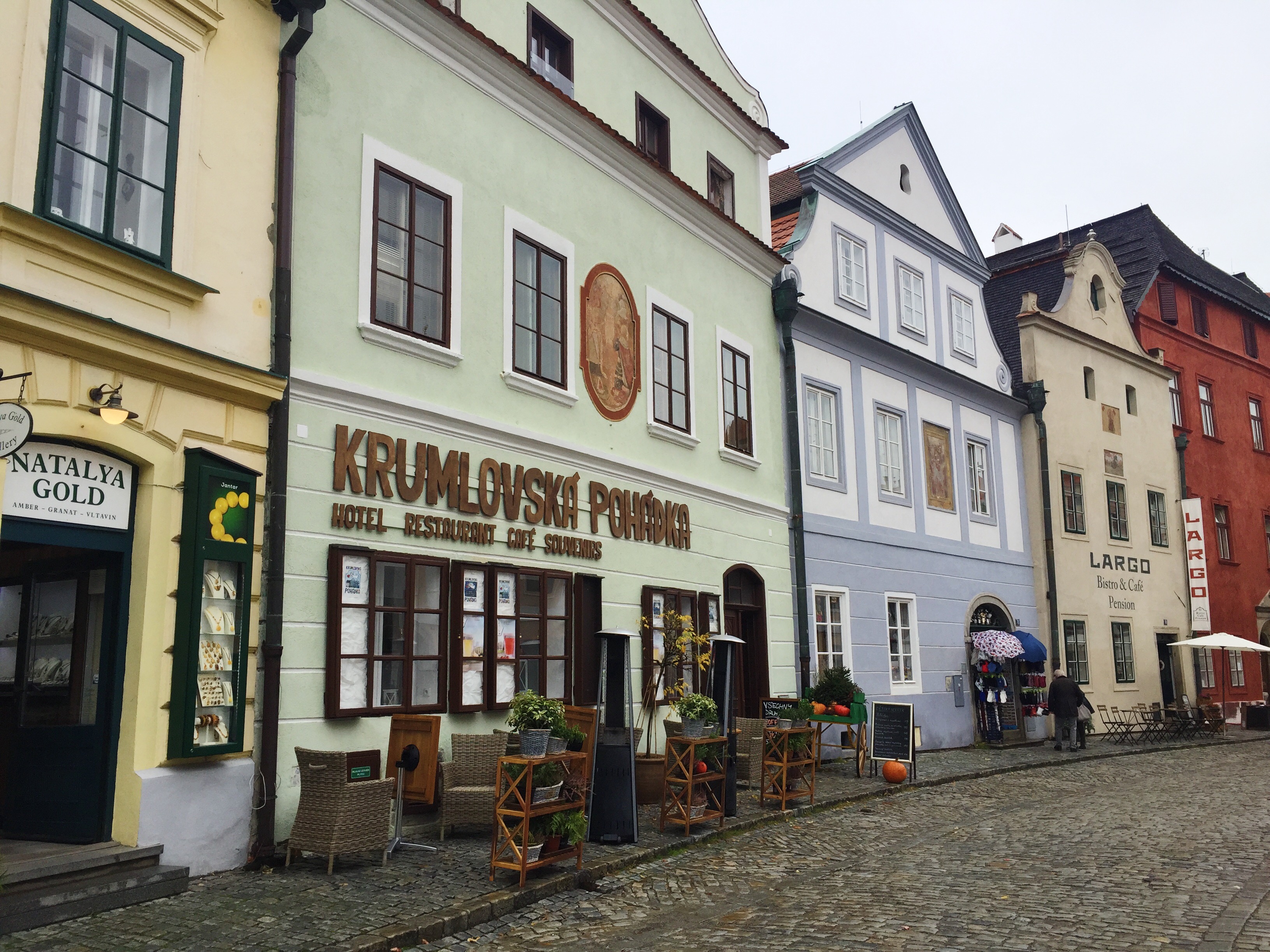 Cesky Krumlov hosts a large variety of Pensions – Bed and Breakfasts – all throughout the town. We found ours through this Booking.com link at a reasonable rate.  Pension Adalbert for us was a comfortable accommodation furnished with furniture over 500 years old! 
AirBnb's and Hotels are also available in town, but they are not as popular and their rates are not as good as BnB's.
---
What to Do
The Wiseman Walking Tour 

is a free (donation-based) tour for those who want to stretch their legs and get historical insight into this UNESCO World Heritage site. Our tour guide was charming and funny, giving us restaurant and activity suggestions along the way. I definitely recommend taking a walking tour with this company, especially if you want to get a good feel of what the city has to offer!
A famous icon of Cesky Krumlov is the colorful

castle tower

.

Y

ou have to buy tickets to tour this castle, but it's worth the investment if you want to gain a panoramic photogenic view of the city and castle courtyards.
Two places that are unique and recommended to visit are the

Baroque Theater

and

the Open-Air Theater.

 

The Baroque Theater is the only preserved Baroque theater in the world, so it's quite the gem found in Cesky Krumlov.  The

Open-Air Theater

is a one of-a-kind theater

with a revolving auditorium, which you can view for free.
There is a large array of shops in Cesky Krumlov, to the point where you can dedicate an entire day to just shopping!
Many of these shops feature art and products from local artists – think ceramics to stone sculptures to graphic art
Jewelry stores selling moldavite (a type of rock formed 15 million years ago from a meteorite) is a popular attraction in the city – there is even a

museum

for those interested in learning more about this precious stone
Vintage shops (my favorite!) are scattered around Cesky Krumlov, selling everything from clothes to furniture. My favorite purchase from the shop

Never Ending Storey

are candle holders that look like dragon eggs (these made me think that they were from the popular tv series "Game of Thrones").
Cesky also holds a few music bars – specifically jazz clubs that are open late into the night, one of them bein

g Zapa Bar

.
---
Where to Eat
Satlova – 

Satlova provides an authentic medieval experience for its diners within their reconstructed renaissance building. Imagine sitting in a dimly lit, cozy, medieval tavern, listening to people shouting and clinking their glasses of dark lager; and as they toast the evening, the smell of fire-roasted pork wafts in the air.  A reservation here is a MUST.
The Two Marys –

This is another authentic and fantastic tavern with creaky floors, a cozy atmosphere, decorative objects from ancient smiths, and excellent Czech food (such as garlic soup, trout with potatoes, and smoked meat with barely). Another must-eat spot with reservations recommended.
Restaurant Na louži

–

a small local family restaurant and pub serving only the best Czech food and beer to its diners. Our tour guide's father owns this restaurant and heartily recommended the place.
Trdelnik –

this popular Czech treat is a hollow, cylinder shaped fried dough; it is typically rolled with cinnamon and sugar, but can also be stuffed with chocolate or vanilla cream. There are many stands and shops selling this delicious, light delicacy, one of them being

MLS Crêperie.
Medovnik – a.k.a. Honey Cake is a lightly sweet graham-cracker-like cake that I always get when in the Czech Republic. It's available in many Czech bakeries and cafes, and goes well with coffee.
---
Additional Activities & Excursions: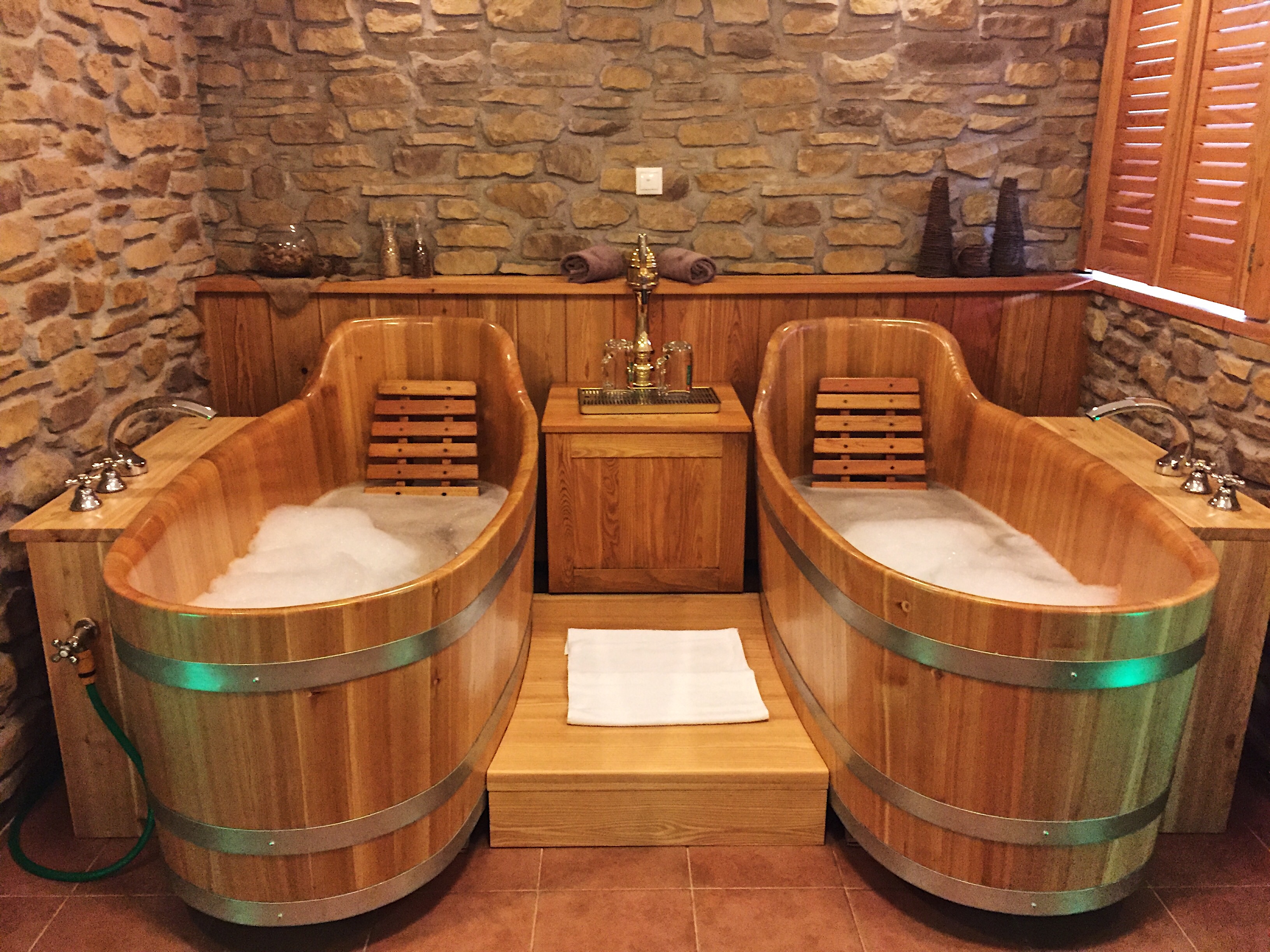 Beer Bath Gloker

–

Svachovka Hotel & Spa

has exclusive beer baths with their own brew (

Glok

) in larch tubs.  These tubs are in private rooms with a shower and deckchairs for 2.  According to their website, beer baths warm your joints, help your muscles relax and treat a variety of skin diseases. The spa adds live cultures of brewer's yeast to the bath, which is a natural source of protein, carbohydrates, and vitamin B. My husband and I used their beer bath; it was truly an enjoyable and relaxing experience 🙂
The Wiseman Free Ghost and Legend Tour –

Come join in on a donation-based tour where "you will enjoy the spirit of the medieval town while listening to its stories and legends.'' According to the company, no one will jump at you or scare you during the Ghost Tour – they want you to learn and hear the mysteries, legends and tales from the darker side of the eerie Český Krumlov. All the stories and legends are fully authentic and none of them are made up for the tour!
The Horse-Riding Club of Slupenec

offers horseback riding opportunities for beginners and advanced riders (including children) through the forests and meadows of Cesky Krumlov. It's a great way to enjoy the country scenery, and is something on my bucket list for next time.
---
Tips
Many stores (and even some cafes) can close as early as 7pm, so make sure you check times if you plan to go out at night!
The currency of the Czech Republic is the Czech Crown / Koruna, so make sure you exchange your Euros!
Cesky Krumlov is a popular tourist destination – so it is best to make a reservation to any and all restaurants and activities you wish to do in the area.
Basically, getting by using the English language works, but you may run into a local or two who doesn't speak or understand English well, so be prepared to use your hands and facial expressions to get your point across!
---
**This post contains affiliate links. If you purchase something through one of the links, you won't pay a penny more, but I'll get a small commission that helps keep this site running. Thanks!**