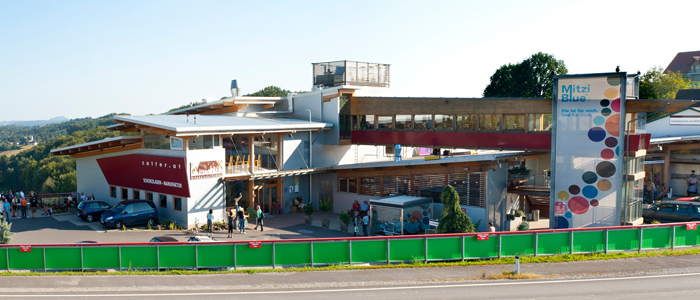 The Zotter Chocolate Factory is a family-run business and farm located in the small town of Riegersburg, Austria. This family owned company is run by the whimsical chocoletier Josef Zotter, who's smiling, chocolate-covered face is on their official website. Worldwide, they sell hand-made organic and fair trade chocolates with both care and consideration.
What makes this factory "amazing" is the choco-tour, an elaborately designed and entertaining family-friendly tour where one can sample an unlimited amount of Zotter's chocolates and products. And I mean A LOT: There are over 16 different stations to taste and indulge in the factory's organic and fair-trade delicacies, and each station may have 3-6 products to try. However, I warn you that despite the initial excitement upon beginning the tour, (where the temptation of eating large quantities of their chocolates is so strong), use your willpower and start slow and small! The more you walk through the tour, the more variety of products to taste await you. The worst thing that can happen is for you to become too full of chocolate halfway through the tour – where you can't possibly enjoy more!
Go ahead and do yourself a favor — reserve a ticket to visit this factory! 
---
How To Get Here:
The Zotter Chocolate Factory is a 2 hour drive from Vienna, or a 1 hour train ride from Graz to the town of Feldbach (and from there you can take a taxi or bus that's only available during the school season).
The best time to go to the Zotter Chocolate Factory & Tour is during the warmer months.
What to Expect on the Tour: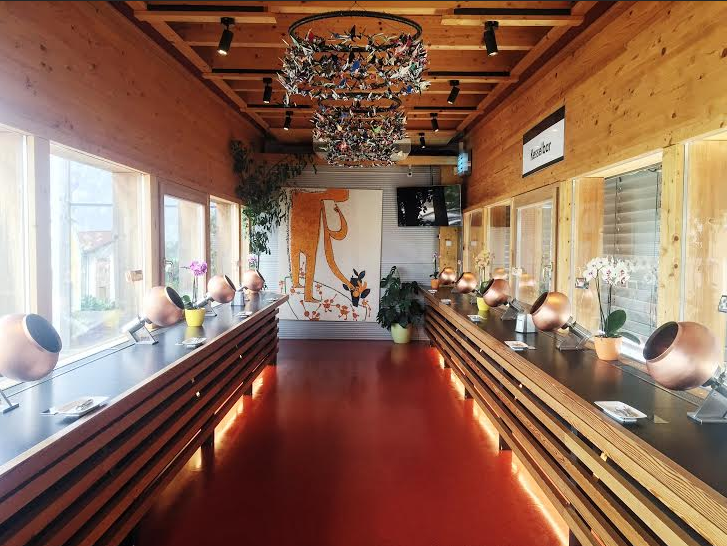 After receiving your ticket, walk over to their movie theater and watch a short film about the "chocoletier" behind the products. You get to learn about his past, his passion for the cocoa delicacy and the fair-trade process that goes into creating the chocolates.
Josef Zotter is one of the few independent bean-to-bar producers in Europe and the only one to produce solely in organic and fair-trade quality. Many new chocolates are created and 18 million euros are invested annually to process the chocolate directly from its source.
Once the film is over, you can now enter a tasting expedition with chocolate! Here are some features you will experience (from Zotter.at):
Bean-to-Bar-Manufacture & Cocoa Roasting Facility – Here you get to witness all the steps to making chocolate from the roasting, to the fine milling, and finally to the conching (refining the chocolate). Experience the creation of chocolate with your senses and taste many cocoa beans from around the world.
Nougat-Spoon Fountain – Try out liquid nougat creations from fountains along a hallway.


Smelling & Curiosity Cabinet – "Guess the aroma" game and show of ingredients.

Lollytop-Stairway to Heaven – Chocolate lollipops lined along a stairway for kids, teens (and ok, adults!).
Drinking Chocolate online – The smallest cable car of the world serves you liquid chocolate drinks (the cinnamon honey drink is delicious!)
Mitzi-Blue Turntables – Sample a variety of Zotter's MitziBlue chocolates on spinning record players
Balleros Roulette – Nibble on chocolate Balleros balls placed in copper kettles
Running Chocolate – Hand-scooped chocolates wind themselves around a glass panorama on a conveyor belt.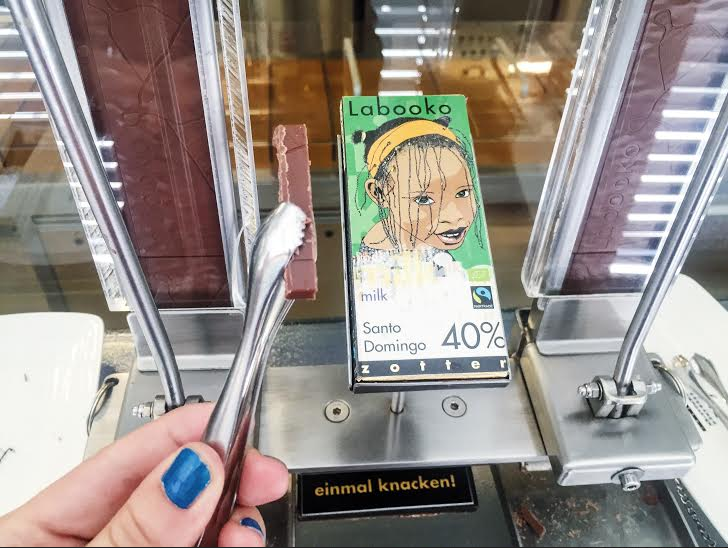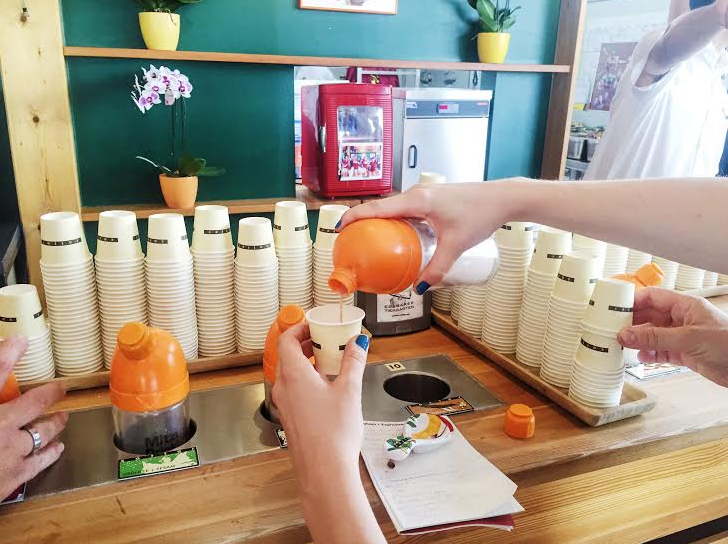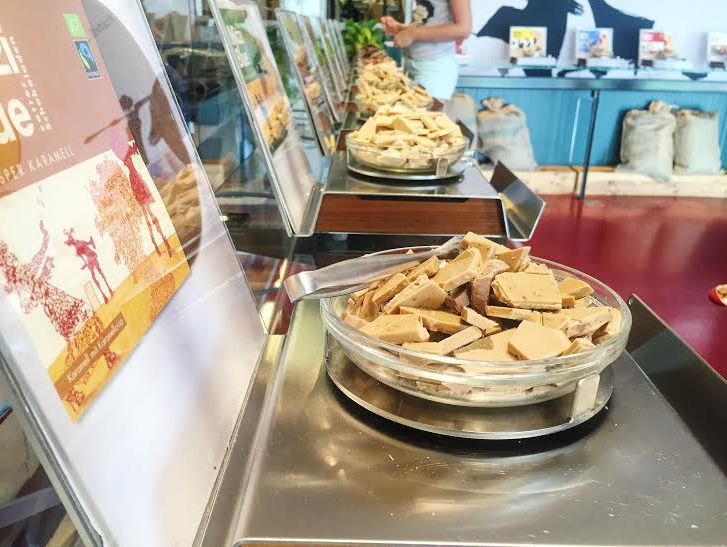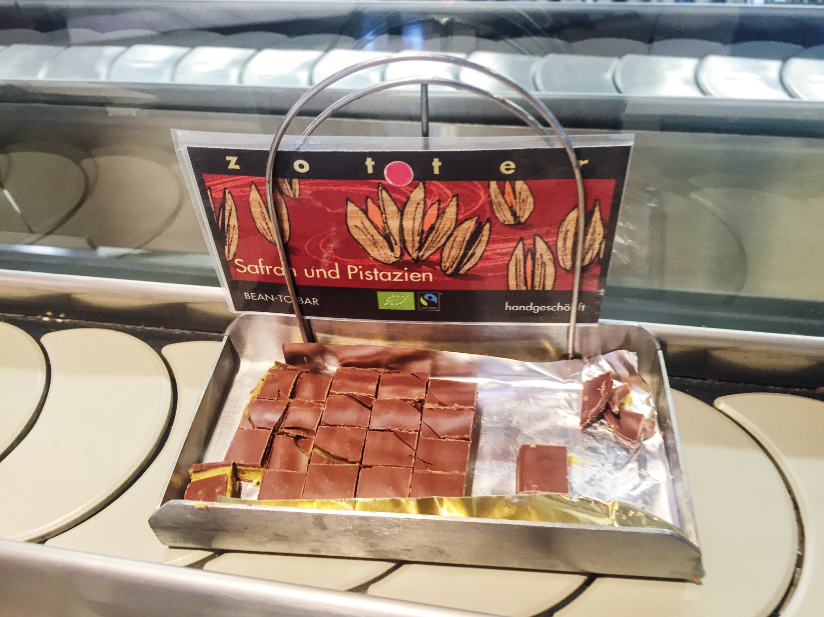 Special & Creative Chocolates:
Many of Zotter's products include hand-scooped and filled chocolate bars. This means that each bar is formed by hand, and 6 different layers are combined and coated around with chocolate. The final result is a rectangular bar without the typical dents that one uses to break off a piece. This is definitely a unique feature, and you even have the option to personalize your own chocolate bar!
In addition, Zotter provides the most creative flavors I've ever heard of. These chocolates come in alcoholic and non-alcoholic flavors and there are vegan options too:
Their "crazy" labeled chocolate bars:

 Balsamic Orange, Basmati Rice with Saffron, Cheese-Walnut-Grapes, Bacon-Bits, Pink Coconut and Fish Marshmellow, Tequila with Salt and Lemon and many more…

Their seasonal chocolate bars: Spiced Marizan and Cinnamon, Muscat Wine and Grapes, Cinnamon Apple and Honey and more…
Original Dark Chocolate: Pear Cardamom, Chili "Birds Eye," Plum Brandy, Pistachio and more…
Milk Chocolate: Nougat, Cashew & Pineapple, Toasted Nuts & Lavender, and more…
Michelle's Favorite? I love their Butter Caramel chocolate!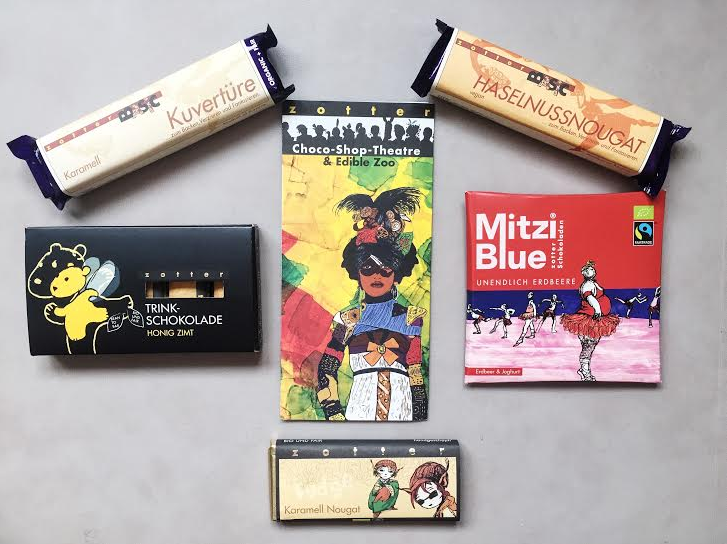 See the hundreds of chocolate flavors on Zotter's website page here. 
Zotter's Edible Farm & Restaurant: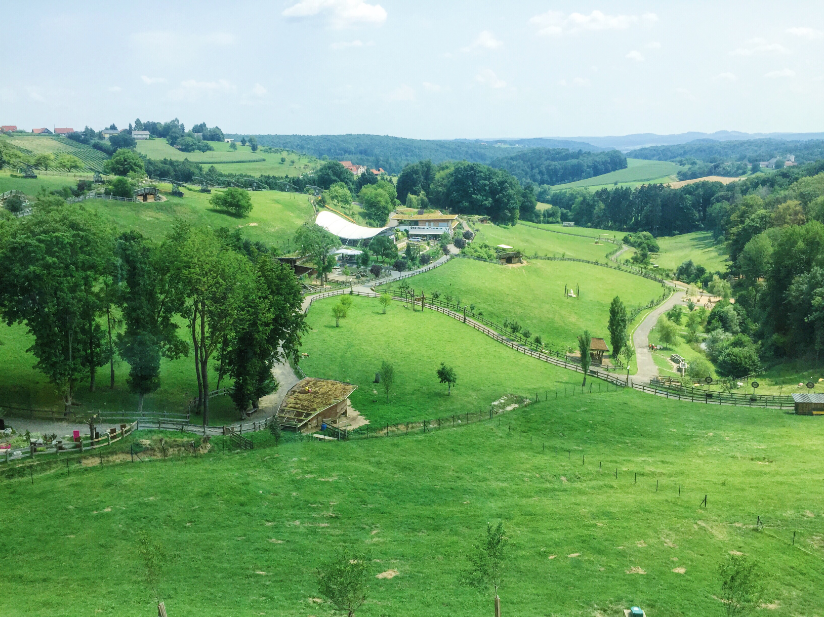 Don't forget to visit Zotter's "Edible Zoo" which is included in your ticket! Walk through the organic farmland, where you can "look food in the eyes:" 
Animals and plants are creatures and no products. Therefore we intend to treat them with love and respect. Being self-sufficient and autonomous had always been Josef Zotter's dream. With the Edible Zoo, he has made his dream come true. Now he asks all visitors to take their places, in order to enjoy what is thriving in the Edible Zoo. Species-appropriate animal husbandry on 68 hectares (27 hectares are directly behind the manufacture), with numerous farm animals threatened by extinction, energy-autonomous, and a closed ecological cycle. – Zotter Website
The Edible Zoo places an emphasis on transparency, sustainability and innovation, and their restaurant Essbar allows you to enjoy food directly from their own meadows and gardens in the midst of nature.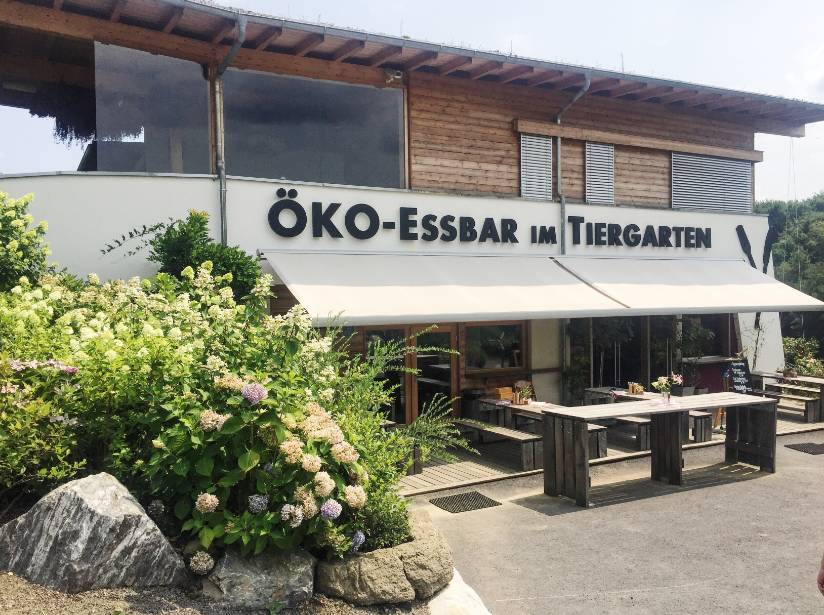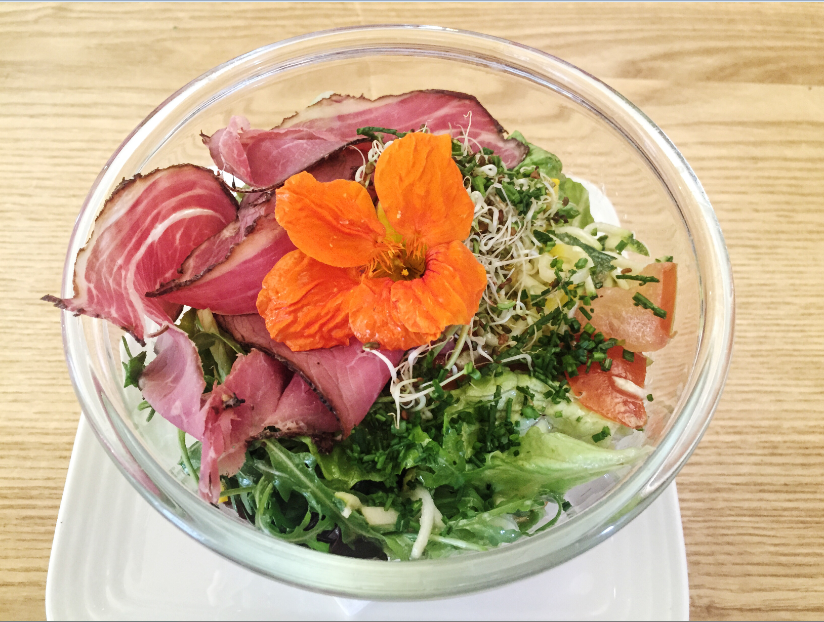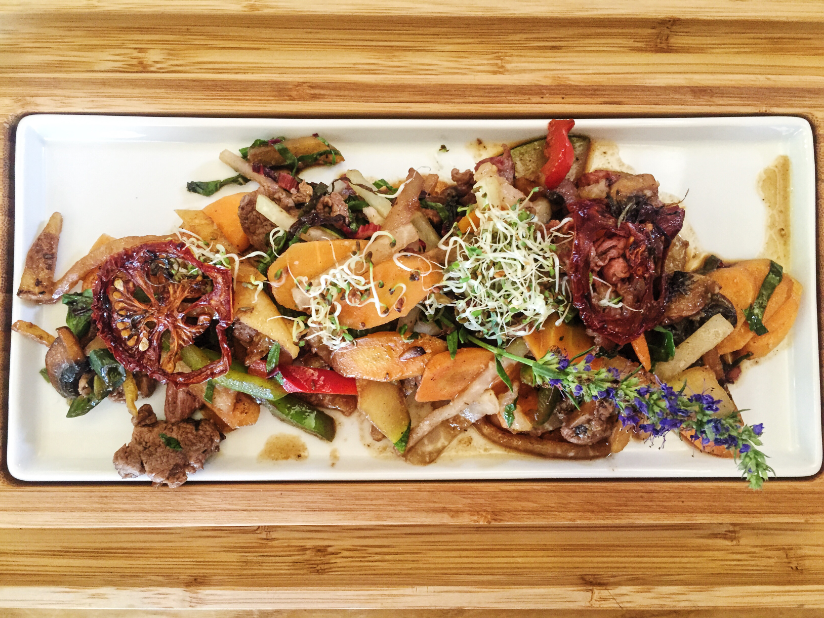 Zotter's farm also includes the chocolate cemetery where unsuccessful flavors like "Banana Curry" and "Red Cabbage and Caramel" lay to rest. Walking around the farm is quite an enjoyable and entertaining experience.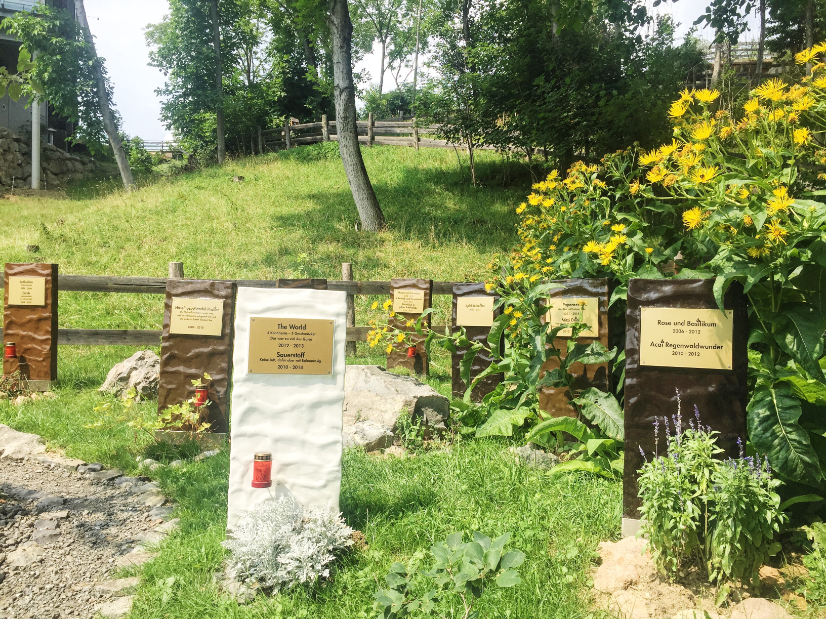 Is it Worth It?
For the chocolate-lovers willing to make the trip, this is absolutely must-see (or must-eat)!